Which Features are Best for Your Telecom Business?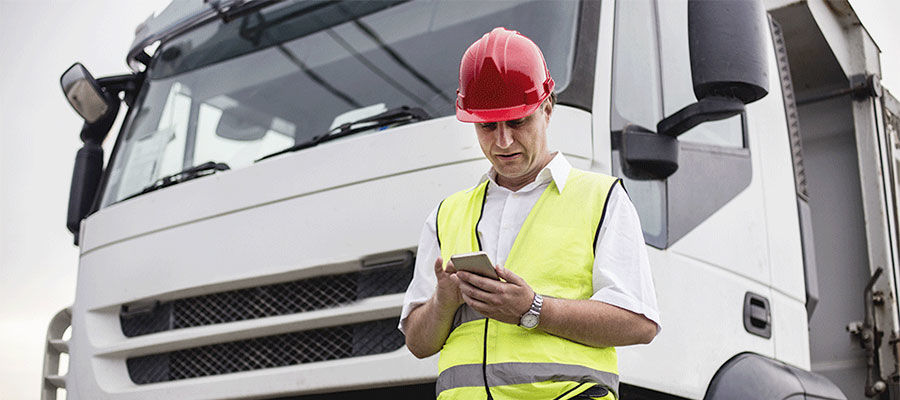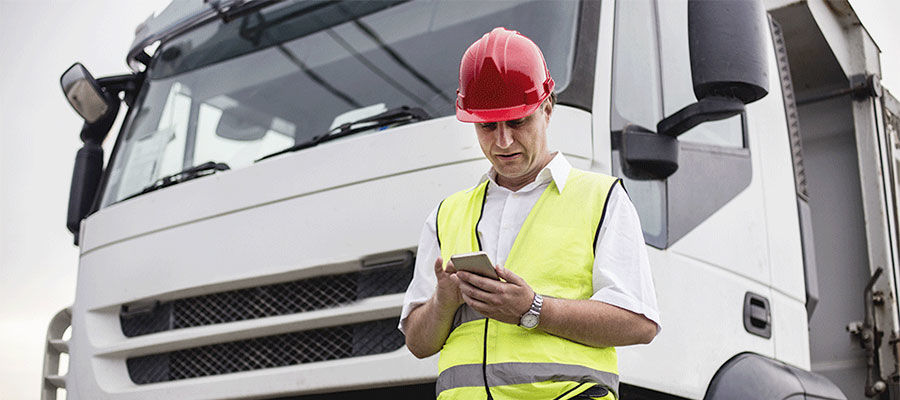 Which Features are Best for Your Telecom Business?
Share
LinkedIn
Facebook
Email
Copy Link
Running a telecommunications cable construction company requires a fleet of very specific vehicles. Different body types are needed depending on the type of work the company specializes in. Weather and terrain are also very important factors. Companies operating in different parts of the world need to protect their workers and equipment from a range of different environmental conditions. Two cabling companies from different parts of the country--Southwest Florida and central New Jersey describe what they use.
High to reach places become more convenient with a ladder rack.

Even higher to reach places, like utility poles, call on bucket trucks, or cherry pickers.

Your work truck is a mobile tool box, so secure storage is a must.

Cities, mountains, snow:  your work environment is an important consideration for your business.
Easy Access to Ladders for Telecom Contractors
Bron, with RWL Communications in Florida, is a regional contractor hired by Comcast. RWL Communications specializes in small-scale work, like cabling the inside of homes and businesses. Bron and his team often need ladders to access and service the cabling. Bron's truck, a Chevrolet Silverado 1500, is equipped with a Kargo Master EZ Drop Down ladder rack, which features a long detachable lever that allows him to effortlessly lower the ladder from the roof of the truck to the side of the truck in one smooth motion, where it can be easily lifted off of its mounts and removed for use. These lower the strain and chance of injury when technicians are regularly accessing ladders.
Ford F-550 Bucket Trucks
TeleCable in New Jersey is a utility contractor that does large-scale infrastructure projects such as running cables underground, beneath roads and parking lots, along power lines, on the sides of mountains, or over bodies of water. Sometimes drive-up access to the work site is limited, and the team at TeleCable needs to use a bucket truck to reach these areas.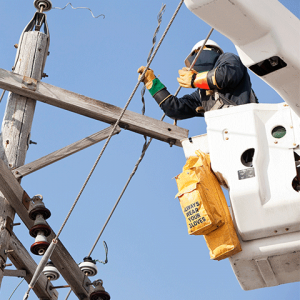 TeleCable's bucket trucks are equipped with Altec AT40M truck bodies, and cherry pickers with a working height of up to 40 feet above the ground, or up to 30 feet from the side of the truck. The Altec bodies have seven cabinets that are accessible from the sides of the truck and are installed on a Ford F-550 extended-cab chassis capable of seating five workers. TeleCable's job sites require a crew of specialized technicians, including "mechanics that have full-time responsibility to assure every piece of equipment is properly maintained and available when needed."
Jim from TeleCable explained that their fleet is split between Ford F-550 Altec bucket trucks and Ford F-550 Super Duty box trucks. These box trucks feature LDX model bodies manufactured by Morgan Truck Bodies of Morganville, Pennsylvania. The bodies and chassis are put together to make a finished product at Dejana Truck Equipment in Kings Park, NY, where TeleCable purchases them. These trucks are equipped with air compressors to run equipment for underground work, such as jackhammers and directional drills. This equipment must be stored onboard the truck when not in use, making the enclosed box a necessity for weather protection.
Equipment Storage for Telecom Businesses
Bron's truck is equipped with an ARE ToolMaster Truck Cap, an absolute must-have in Florida where unpredictable downpours are an everyday occurrence during the summer. The ToolMaster truck cap features a separate compartment with shelving that can be accessed by a flip-up door that runs along the driver's side, which is completely closed off from the rest of the truck's cargo area. The main part of the truck bed can be accessed through a flip-up door on the back along the truck's tailgate, or through another flip-up door that runs along the passenger side of the truck cap.
Inside the bed of Bron's truck sits a WEATHERGUARD Pack Rat pull-out storage drawer, which occupies the width of the bed and extends four feet into the bed from the tailgate. The drawer can be accessed from the back of the truck with the tailgate open. The storage drawer stands at 13 inches tall, so additional cargo such as cables and large tools can be laid on top of it. The drawer also comes with 24 dividers which allows a nearly endless combination of compartments for organizing small parts. Corrosion-resistant steel and cylinder locks add extra security. Lastly, the drawer mounts to the inside of the truck, making it difficult for a burglar to remove.
When asked if there was anything about the way his truck is set up that makes his work inconvenient, Bron noted that the cargo area just behind the driver's side of the cab is very hard to reach, due to there being no opening in the topper on that side. The space between the back of the storage compartment and the Pack Rat storage drawer is very narrow, and it is difficult for Bron to try to reach through to retrieve things that frequently fall in. Bron felt that this setup does not make full use of the pickup truck's cargo floor length.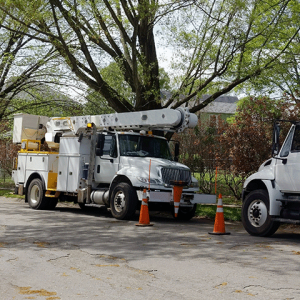 Consider Terrain When Choosing a Work Truck
TeleCable's trucks, unlike RWL Communications' trucks, need to be able to tow heavy machinery such as  Ditch Witch trenching machines and Comstar wire reel trailers loaded with spools of cable weighing up to 14,000 pounds, in addition to any tools and equipment stored or installed onboard. These trucks need enough power to haul this heavy equipment to job sites in the mountainous regions of northwestern New Jersey and eastern Pennsylvania while keeping up with highway speeds. For TeleCable, V8 engines are a necessity and their bucket trucks are all equipped with PowerStroke diesel engines and four-wheel drive, which comes in handy in the harsh East Coast winters.
RWL Communications services a largely flat, suburban area where most of their travel is on paved roads, and weather conditions are favorable. Bron told us that all RWL Communications' trucks are two-wheel drive and relatively light-duty, meaning they have a much lower GVWR rating than the types of trucks TeleCable needs. Most of the company's fleet is split between Chevrolet Silverado 1500 pickup trucks, and Nissan NV Cargo and NV200 vans, all powered by gasoline engines. The Chevrolet pickups and Nissan NV Cargo vans are equipped with rear-wheel drive and V8 engines, and the smaller NV200 vans are front-wheel drive and come with four-cylinder engines. Bron also noted that other RWL branches use Chevrolet vans instead of the Nissan vans, which are larger and are equipped with V8 engines.
Published on: August 16, 2019
PREVIOUS ARTICLE
5 Features Telecom Contractors Need When Choosing a Work Vehicle
NEXT ARTICLE
The Lift is a Key Feature on a Used Work Truck for a Telecom Contractor