What are Mack Trucks?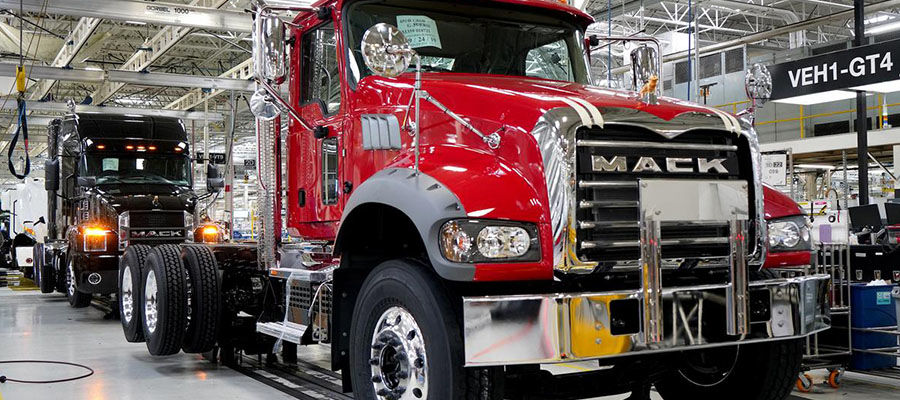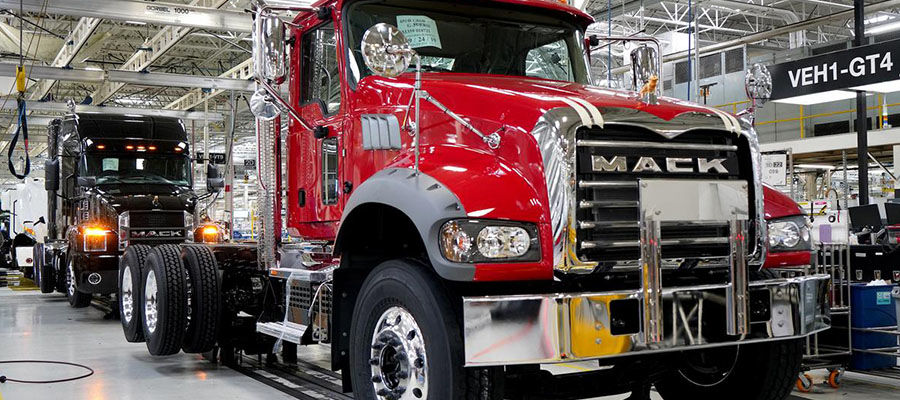 What are Mack Trucks?
Share
LinkedIn
Facebook
Email
Copy Link
Mack Trucks are an American heavy-duty truck manufacturer whose brand has become synonymous with size and power. Their oversized big rigs have led to common idioms such as "built like a Mack Truck" for large, sturdy objects, or someone who is ill saying they feel like they've been "hit by a Mack Truck."
Mack Trucks are used in a variety of commercial industries like highway transport, construction, garbage removal, and the military.
The History of Mack Trucks
The history of Mack Trucks began more than 125 years ago in Brooklyn, New York. In 1893, the company's founder, John "Jack" Mack, and his brother Gus purchased a carriage company called Fallesen & Berry. A third Mack brother, William, joined the other two as they transitioned Fallesen & Berry from being a carriage manufacturer to a fledgling automaker. In 1900 they sold two 18-passenger sightseeing buses to a tourism company, and by 1902 they rebranded as "The Mack Brothers Company."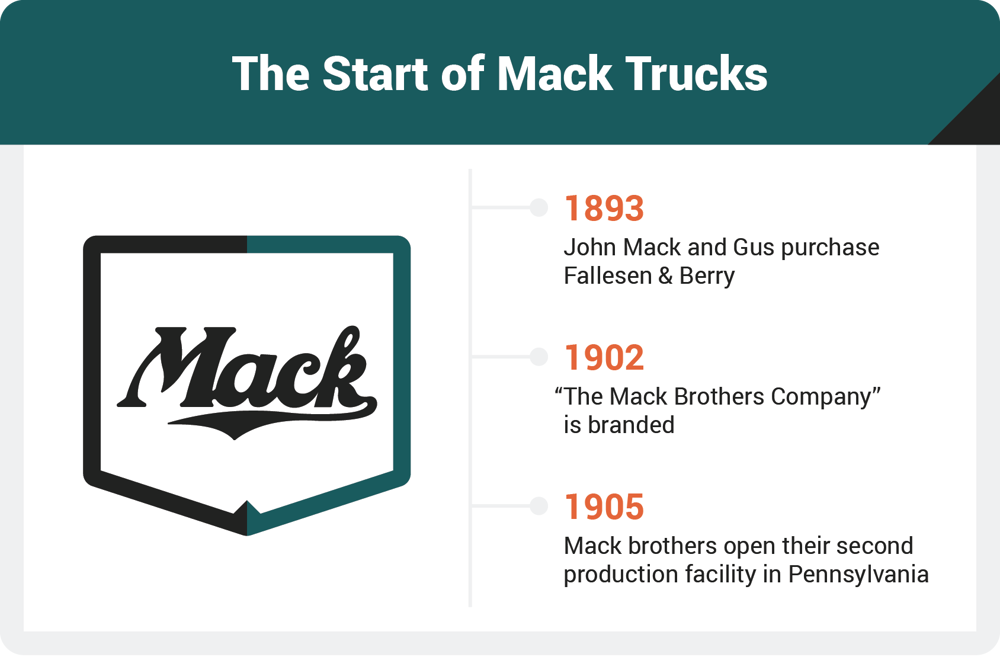 During this time the company advertised with the slogan "The first Mack was a bus, and the first bus was a Mack."
The Mack Brothers Company continued to grow, and in 1905 they opened a second production facility in the Lehigh Valley region of Pennsylvania. During the first year that the Allentown factory was opened, the company produced 51 vehicles. Two years later, in 1907, the original factory in Brooklyn was closed, and all of their production was shifted to the Allentown location.
Mack Trucks introduced innovative features like mounting the driver's cab above the engine to increase visibility and handling, an innovative gear mesh system that prevented gears from being stripped while shifting, and a transmission that allowed the driver to skip past gears and quickly shift from high to low or vice versa.
Mack Trucks Go to War
Mack provided 6,500 AC trucks to British and American troops stationed throughout the UK. The AC's rugged durability exhibited during World War I made Mack Trucks renowned throughout the globe, cementing the brand's reputation for power and reliability.
Amazed by its strength and durability, British soldiers nicknamed the Mack AC the "Bulldog." The AC's hood was blunt and sloped down like a bulldog's nose, which also contributed to the comparison.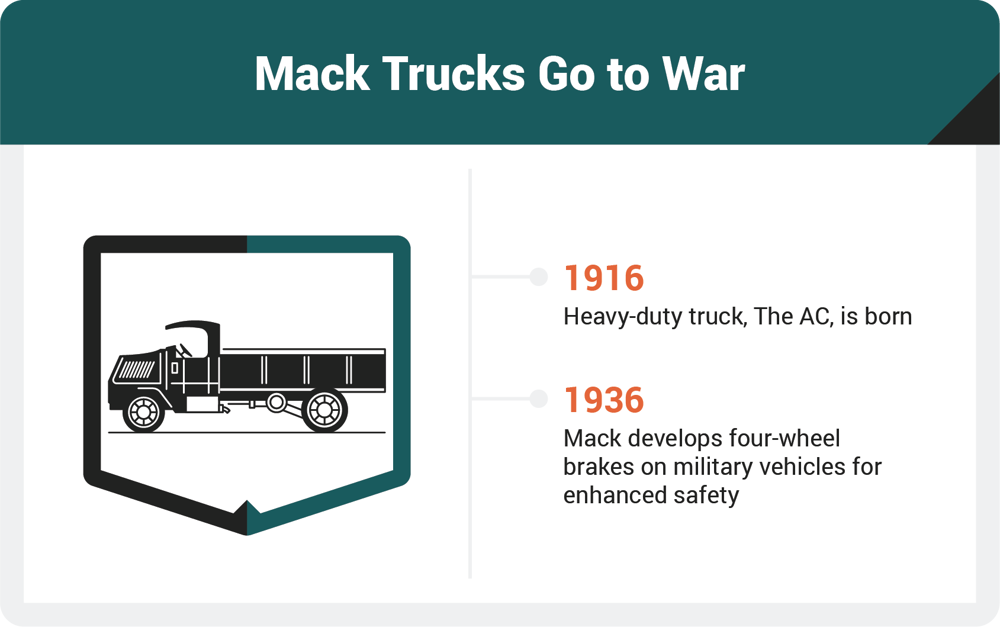 Mack made a much larger contribution to the war effort in World War II. Their production of civilian vehicles was temporarily suspended so they could focus on manufacturing vehicles for the US military. Mack provided a total of 32,000 vehicles of various models and functions and in 1936, they manufactured 4,600 powertrains that were used in military tanks. During this time, Mack developed four-wheel brakes to increase safety and reduce stopping distances.
The Mack Bulldog Emblem
The British had dubbed the Mack AC "The Bulldog" during World War I, and that nickname didn't just stick — it later became part of Mack Trucks' corporate identity.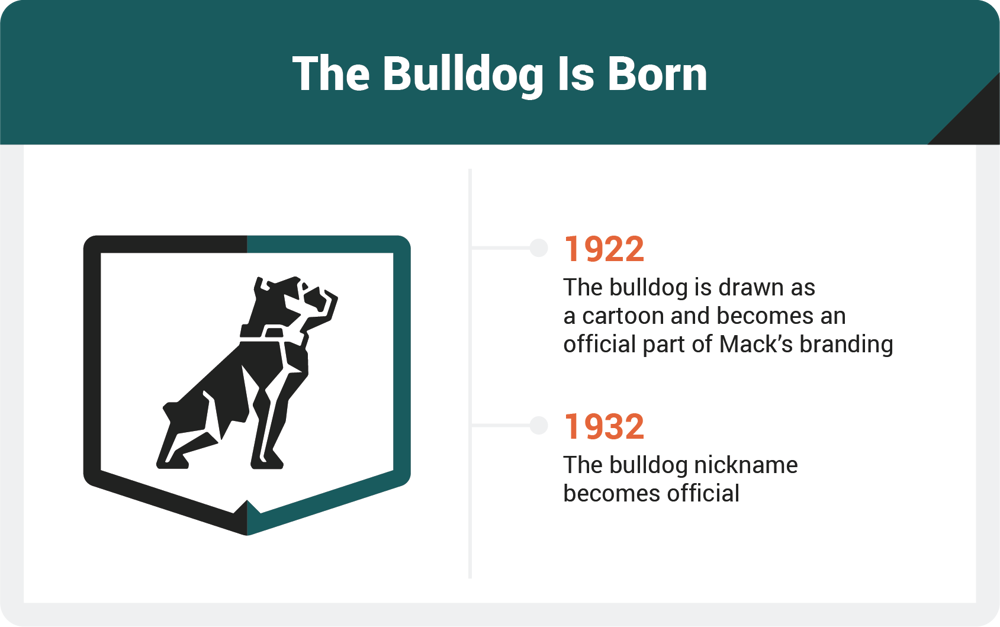 In 1922, the bulldog became an official part of Mack's branding, when a cartoon drawing of a bulldog chewing up paperwork labeled "hauling costs" was added to the side of two production models.
It wasn't until 1932 that the bulldog nickname became official. Alfred R. Masury, the chief engineer at Mack, carved a small bulldog sculpture out of soap while recovering from surgery. A year later, Masury's sculpture had been patented and was attached to the radiator cap of the Mack AB. Drivers would hold the bulldog to unscrew the cap for access to the radiator.
When exposed radiators were repositioned, the bulldog changed its purpose as well. Now the bulldog is used as a handle to tilt the hood forward to access the truck's engine.
Bulldog Ornament Colors and Meanings
Mack hood ornaments are predominantly silver or gold. Originally, the gold hood ornament signified that the truck was made from 100% Mack parts. In 2007, that definition changed, and now the gold ornament means that the truck has an all-Mack powertrain (Mack-made engine, transmission, and axles).
● Gold: Means the truck has an all-Mack powertrain
● Silver: Means the truck is made from a combination of Mack and third-party parts
● Copper: Means the truck is an all-electric vehicle
● Black: Only appears on the limited-edition Black Mack Anthem model
Modern-Day Mack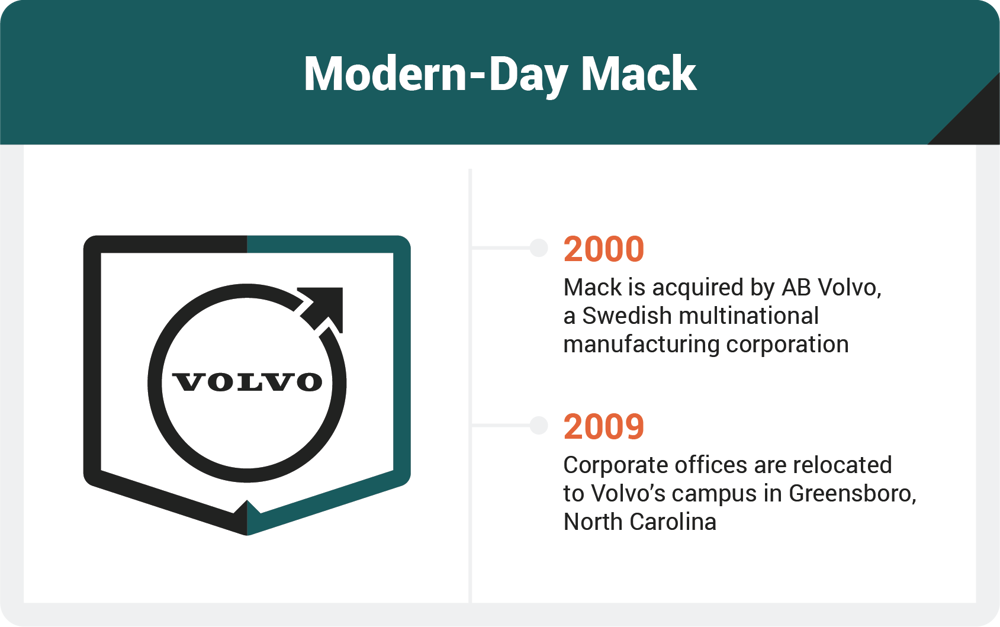 Since their humble beginnings in Brooklyn, Mack has gone through a number of acquisitions and mergers, until finally being acquired by AB Volvo in 2000. In 2009, Mack's corporate offices were relocated from the Lehigh Valley to Volvo's campus in Greensboro, North Carolina. At the same time, all of Mack's production was consolidated into the plant in Lower Macungie Township, Pennsylvania. Mack Trucks is the largest employer in Lower Macungie Township, with nearly 2,000 employees.
Mack continues to innovate their vehicles, recently introducing an electric "idle-free" cooling and ventilation system for sleeper cabs, along with delivering specially designed dump trucks for use in the US Military and making trucks that can run in zero-mission mode while still providing an excess of power.
In their more than century-long existence, Mack Trucks have become an important part of transportation in the US, continually improving their products while serving America's domestic commercial needs and military efforts abroad.
Mack Trucks FAQ
What does Mack Truck mean?
Mack Truck is a brand of heavy-duty trucks that was founded by a man named John Mack. Mack Trucks are large, powerful vehicles and used in comparison to large objects by saying that something is "Built like a Mack Truck."
Why is it called a Mack Truck?
Mack is the brand name for the company that it shares with its founders, the Mack brothers.
What are Mack Trucks used for?
Mack Trucks are frequently used for transport. You'll often see Mack Trucks on the freeway hauling cargo from city to city.
Who owns Mack Trucks and what country are they from?
Mack Trucks were purchased in 2000 by AB Volvo. Although AB Volvo is a Swedish company, Mack Trucks sold in North America are still manufactured and assembled in the United States.
Is Mack Trucks owned by China?
No, Mack Trucks is owned by AB Volvo, a Swedish carmaker.
What is the EATS system on a Mack Truck?
"EATS" is an acronym for Mack's "exhaust aftertreatment system" which filters and reduces exhaust emissions.
What does a gold dog on a Mack Truck mean?
A gold bulldog hood ornament on a Mack Truck means that the truck has an all-Mack powertrain, consisting of a Mack engine, transmission, and axles.
Published on: November 19, 2021