Welder Trucks: The Foundation of Custom Metal Work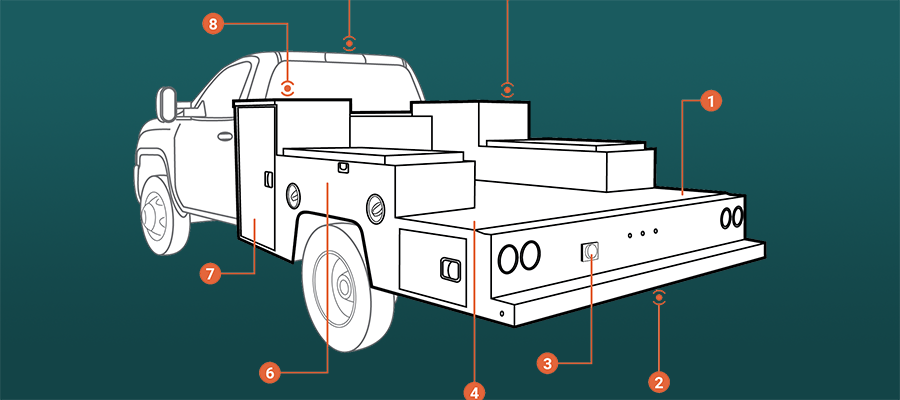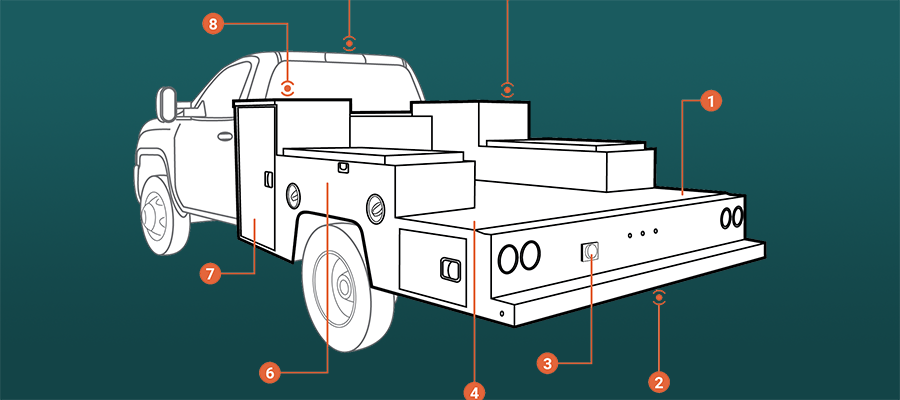 Welder Trucks: The Foundation of Custom Metal Work
Share
LinkedIn
Facebook
Email
Copy Link
An immaculate addition to the broad-reaching commercial vehicle market, the welder truck features a body similar to that of the service body truck in its wide-bed platform, dressed in a plethora of compartments and containers. And supporting an array of accessories, such as a platform for a welder, an open fabrication area, an opportunity for vice grips, and space for multiple gas-cylinders, the welder truck supports virtually any mobile welding operation of any size.
Material
With options for both steel and aluminum alloy bodies available, it can be difficult to decide which body type will suit your business best - and so, this section is going to serve as a simple walkthrough of the pros and cons of each body material.
The utility offered by a steel welder body (coupled with its glowing price point) provides a durable option at a fair price for any mobile welder. Steel averages out in a greater reduction to payload capacity than aluminum. Although it is dense and durable, steel does weigh more than aluminum and will reduce your overall payload capacity. Steel also tends to have a lower level of corrosion-resistance, unless coated, and requires vigilance to ensure that your body and its panels don't rust out.              
Aluminum's corrosion-resistant and lightweight properties offer a low-maintenance and weatherproof option. Aluminum alloys tend to show their strength in situations where increased payload capacities and fuel-efficiency are a focus. Steel and aluminum both offer all of the visual and utilitarian aspects expected in a welder truck, with individual counterpoints to their respective benefits.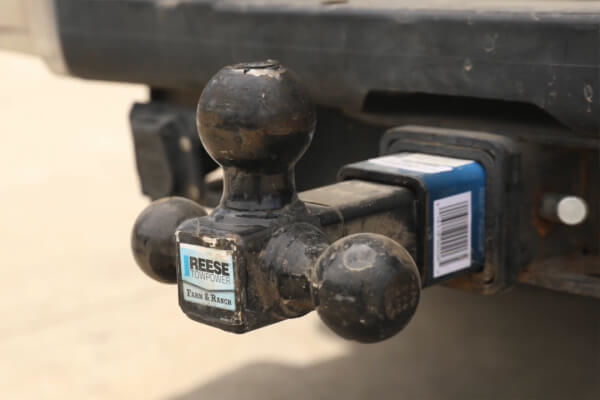 Hitch Type
The welding truck welcomes a vast range of hitch types, with the versatile receiver hitch reigning as a top choice. The receiver hitch installs behind the rear axle and underneath the welder truck platform, to provide towing to an entire suite of trailer models. Commonly-supported models include ball-style, D-ring, pin, and latch style trailers - though the receiver hitch is built to handle most conventional towing configurations.
Trailer Plug
Trailer plugs ensure that all signaling and braking lights operate together, providing clear visibility to other drivers, as well as eliciting a new sense of confidence within your team. The trailer plug features a series of four to seven-way functional electrical connections. Each of these connections serves an individual operational purpose to connect left and right turn, braking lights, reverse indicators, a ground, and more to your vehicle's electrical system.
The trailer plug also provides an instant connection across an array of trailer models.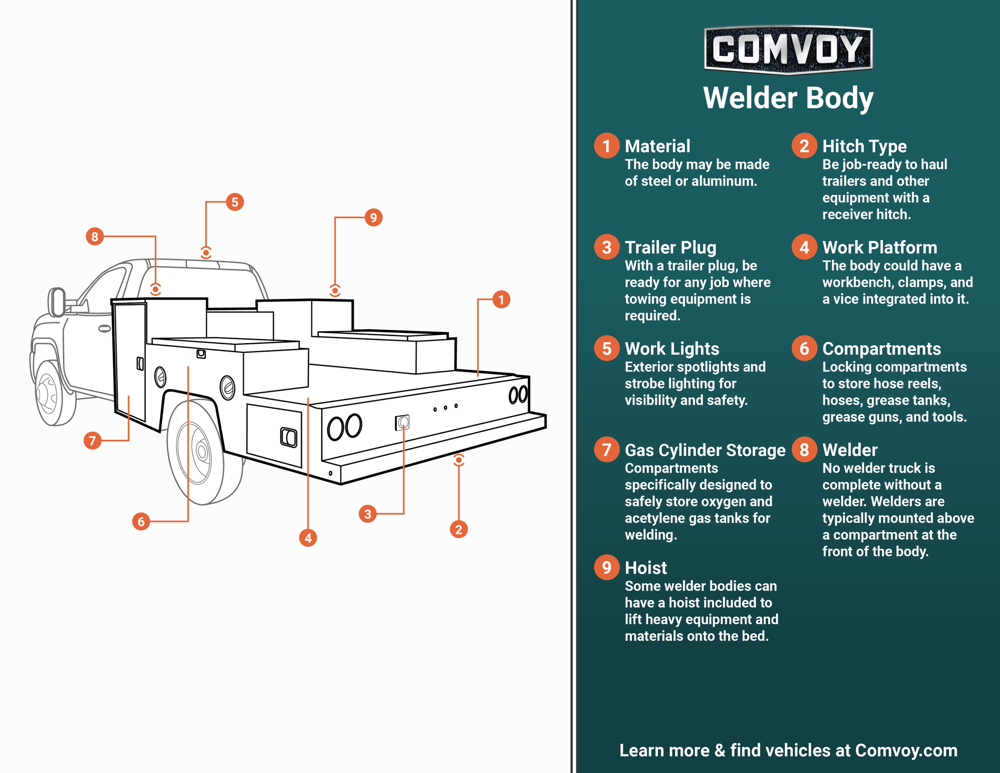 Click Here for More Information
Work Platform
The welder truck features a broad working area and ensures that you can finish all aspects of your jobs without having to run back and forth to the shop.
The rear working platform also welcomes the addition of a vice, perfect for gripping materials where cutting and finishing work is required. The additional support offered by aftermarket clamps can create a working mobile environment which feels more like a mobile office, rather than operations in remote locations. 
Work Lights
Exterior light bars and spotlights brighten up your dim workspaces, allowing you to continue welding long after your competition has called it a day. Exterior lighting systems can be installed anywhere on the bed where electrical connections are suitable but are commonly fixed to the taller bed areas of the welder truck, for expanded visibility.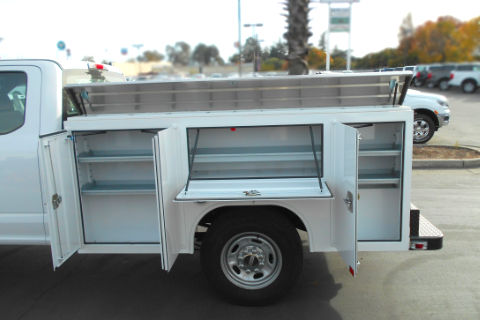 Compartments
The welder truck is covered in a variety of vertical and horizontal compartments, supporting both bulky containers in larger compartments and smaller configurations for the proper organization of hand-tools. These compartments welcome organization and protection in a series of interior shelving units, as well as optional single-button remote locks, for added convenience and security.          
With most compartments featuring weatherproof seals and piano-style hinges for increased shelter from inclement weather, you can rest easy in knowing that your tools will not suffer water damage from passing storms. In addition to seamless hinges and seals, most body-builders offer a series of chains to keep doors from slamming against the body upon opening, retainers to keep doors open during operation, and support low-pressure closing when your hands are full.
Gas Cylinder Storage
The welder truck offers deep and tall compartments to ensure that your oxygen, acetylene, argon, or mixed gas tanks are properly stored and secured, to prevent any damage to the container or subsequent gas leaks. These cylinder storage units are typically constructed from either steel or aluminum alloys and tend to match the build of the body.
Welder
The welder truck supports a variety of engine-driven and battery-operated welders. Often installed above the higher compartments on the welder truck, this onboard welder ensures that all your MIG, TIG, Stick - and in some cases, even arc welding operations - are fully supplied with continuous power, and sit close to your oxygen, acetylene, and argon tanks.
Hoist
These hoists come in a multitude of styles and offer varying weight capacities to best suit the materials needed for your operation. Often operating on a series of hydraulics, the hoist is typically controlled by a series of controls and powered by either your vehicle's fueling system or an auxiliary power source
Published on: January 04, 2019
NEXT ARTICLE
Utility Vans – The Hammer or the One Who Swings It?