Upfitting Considerations for HVAC Professionals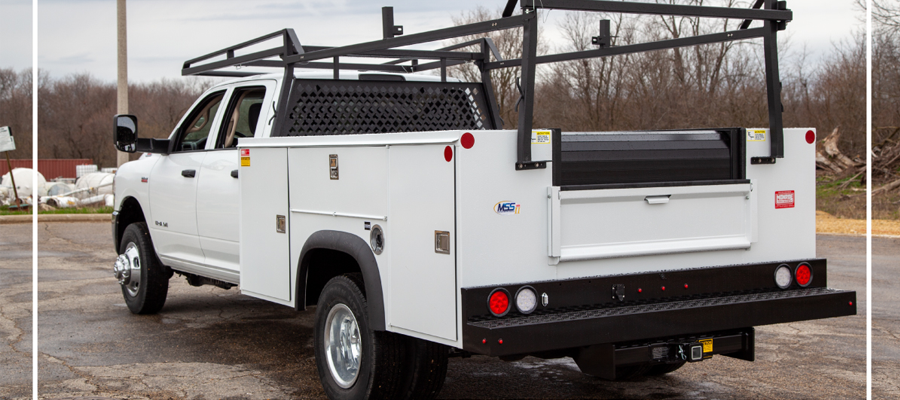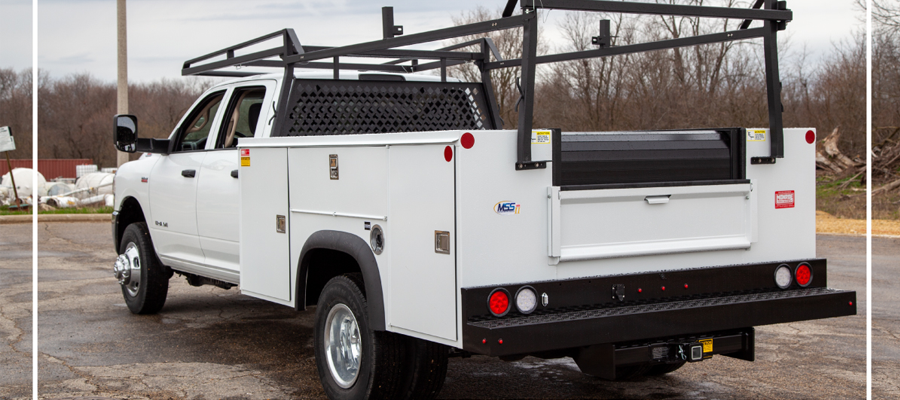 Upfitting Considerations for HVAC Professionals
Share
LinkedIn
Facebook
Email
Copy Link
Contractors, especially those in the HVAC industry, need trucks with upfit options that help organize all their tools and equipment, offering easy access to anything they may need. HVAC professionals are responsible for a variety of repairs and need to respond to any project at a moment's notice. A work truck is the most important tool of an HVAC service technician, as it facilitates safe and easy access to every other tool.
There are several upfitting options that increase ease of use, organization and safety for professionals in the HVAC industry. The experts at Monroe Truck Equipment have put together a guide on what considerations HVAC professionals should make when investing in a new truck to make their job easier and ensure long term ROI.
Safety First
One of the first and most important considerations to make when investing in a new HVAC truck is what options are available to ensure the long term safety of you, your belongings and your vehicle. 
Driver Safety 
With such a rigorous job, HVAC professionals need to ensure that they upfit their truck with options that protect their long term safety and comfort. Look for nitrogen gas strut door holders for storage doors and hinged panels. This helps users easily raise panels and keep them open without assistance. Most importantly, it prevents fingers and hands from being slammed in doors or hinges when closing. 
For getting in and out of your truck, consider a safety bumper that offers features like "cleats" or raised bumps that help your boot grip and prevent slippage. This will ensure easy and safe movement when getting in and out of the truck bed. 
Secure Storage 
With so much equipment needed for the job, at any given moment an HVAC truck can have thousands of dollars worth of tools inside. Security and the safety of your equipment is a top priority. Invest in features like bolt-on locks or remote-locking capabilities.

To protect your equipment when driving, the use of shelves, containers, pegboards, and magnetized strips can ensure minimal movement when driving and help keep your tools safely in place. 
Truck Safety 
There are many upfitting options available to keep your truck in top shape and accident free. Here are a few options to consider to maintain the integrity of your truck:
Bumper lights 

Increase visibility for other drivers

Separate bumper 

Help reduce risk of damage to truck body 

Back-up camera and alarm 

Reduce injury to people and damage to your truck and equipment

Extra visibility helps drivers stay within designated roadways

Use footage to analyze accidents

Aluminum rock sliders

Keep your truck body free from denting 

Safe extra step for getting in cab 

Additional set of round LED stop/turn/tail lights in rear

Extra visibility and awareness

Powder coated exterior 

Prevent rust and fight erosion through years of use.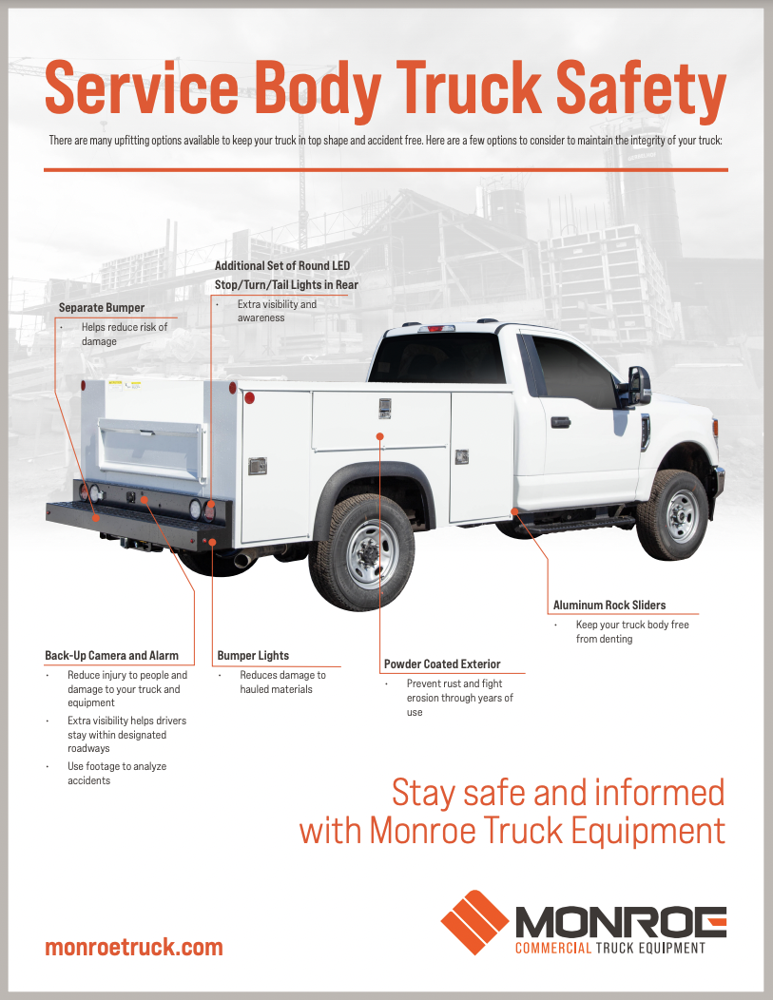 Accessibility and Organization 
After safety, accessibility and organization are top concerns for HVAC professionals. Being able to quickly access any tool, know where your equipment is at all times, and keep things tidy and organized is imperative to do your job day in and day out. 
An overhead ladder rack keeps large equipment up and out of the way. Top packs and shelving with doors and partitions provide dedicated space for your equipment and tools, and prevent lots of movement when driving. Shelves can be made to hold particular items, like vacuum pumps and other bulky equipment, to ensure safety. 
Storage bins, tool drawers, and part cases allow the driver to find their own organization system and keep the smaller tools safe and organized.  Aluminum or steel storage units help protect against wear and tear over time. 
Wall liners are used around the interior of the truck to protect the integrity of the interior and reduce noise levels. A variety of flooring options are available and offer slightly different benefits. No matter how you organize, lighting is going to be imperative to ensure safe and quick access to tools and equipment at any time day or night. 
Basic Tool Inventory 
HVAC professionals store a basic stock list of tools and equipment in their trucks at all times to ensure they have what they need to complete a variety of tasks. Here are a few suggestions of tools outside of the traditional tool box to keep around to stay safe and work with ease and comfort:
Personal Protective Equipment

Ear plugs 

Goggles 

Kneepads 

Masks 

Hardhat 
HVAC Essentials

Cable ties

Driers

Copper tubing and tools

Coil cleaner

Refrigerant 

PVC glue

Electrical Tape

Filters

Electrical testers

Wire strippers
Extension cord 

Shop vac

Drills

Caulk gun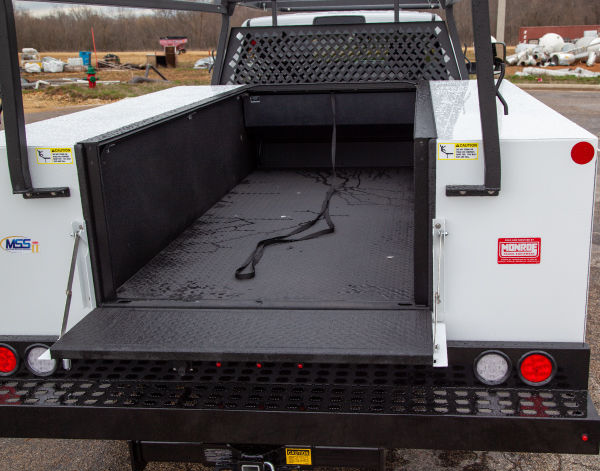 Long Term ROI 
Making wise investments when upfitting your work truck can ensure long term value when investing in your truck. When considering how long your equipment will last, the variety of services you can offer, and the ease of use over time, long term value can be truly built into your truck. 
To learn more about how to get the most value of your investment, contact the Monroe Truck Equipment team.
This article is paid content written by Scott Hanewall for Monroe Truck Equipment and affiliates. The opinions may not be that of Comvoy.com.
Scott Hanewall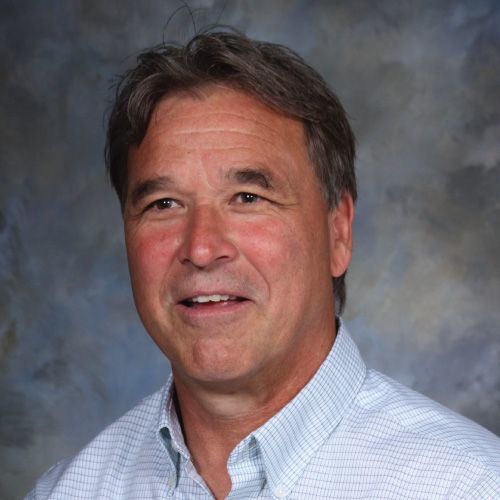 Scott Hanewall is the General Manager of the Commercial Division at Monroe Truck Equipment. Scott partners with dealerships across the country to work toward the same goal of serving the end user customer. Scott joined the Monroe team in 1989 and is backed by years of experience and expertise, giving dealers the tools to sell smarter and with more confidence.
Published on: August 04, 2021