Upfitting a Truck with an Air Compressor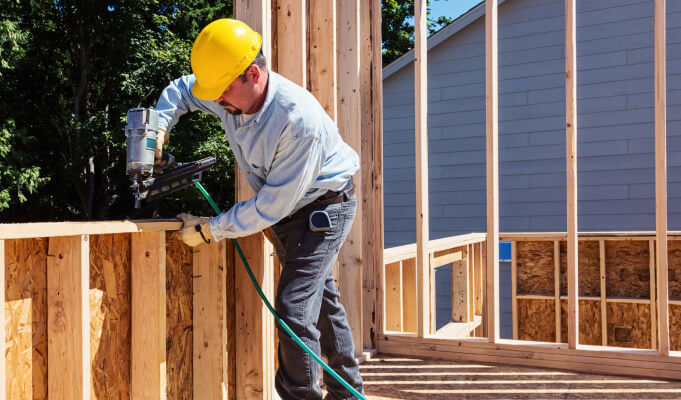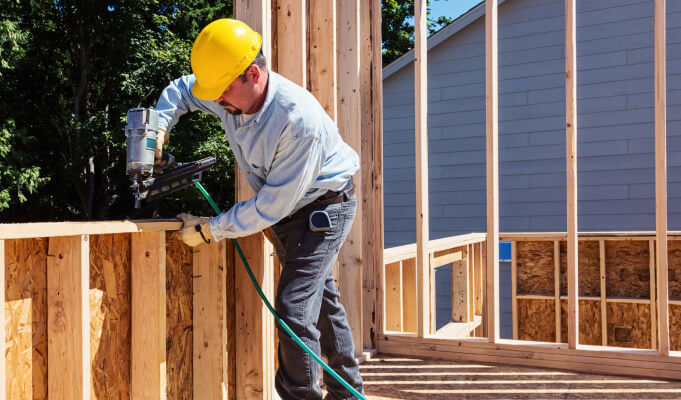 Upfitting a Truck with an Air Compressor
Share
LinkedIn
Facebook
Email
Copy Link
Having the right work truck means having the space to be equipped for as many aspects of each job as possible. The more equipment you have with you and well organized, the better and more efficient the job will get done. An air compressor is an essential piece of equipment for many businesses, whether you are in construction or a mechanic. This short guide will help you with being equipped on-the-go.
BOSS provides a series of air compressors perfect for work trucks, considering weight and space.

It's important to consider both the tools being used and to what extent you would be using them.

A rotary screw compressor provides immediate and long term pressure for tools.

For intermittent, on/off usage or short-air equipment like a nail gun, the piston type compressor would be preferable.

Mounting your air compressor can be either a do-it-yourself project or handled by an upfitter.
Air Compressors and Pneumatic Tools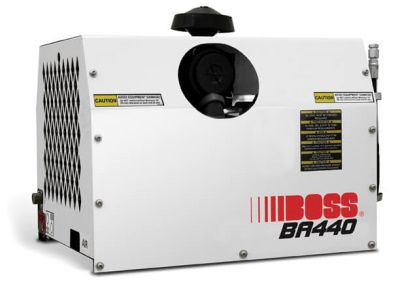 When technicians are out in the field on a service call, having the right tools on board is important. A "just-real-quick" drive back to the shop to get a part or missing tool can erode profitability and efficiency. Having an air compressor on board provides a versatile and reliable way to ensure you can outfit your toolbox with high-quality pneumatic tools.
Air compressors like those from BOSS Air help you finish jobs quickly, accurately, and efficiently. An air compressor gives you the power to complete a wide range of jobs out in the field. Here are just two from their line up worth considering.
The BOSS BA440 is a hydraulic drive piston compressor. It weights in at only 180 lbs (dry). It has a small footprint but is incredibly powerful--producing up to 40cfm @ 150psi.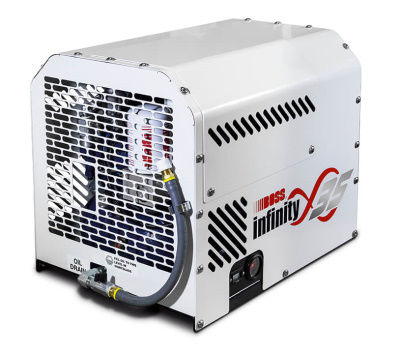 The BOSS Infinity 35 is a rotary screw air compressor. It's versatile, lightweight, and can handle the heat when out in the field. Its compact design allows it fit in many locations on a truck body.
The Right Type of Air Compressor
Choosing the right method of air compression is just as important as choosing the capacity (CFM) and pressures (PSI). Do you need continuous air for jack hammers, piercing tools, or air tools that run for longer than 20 minutes at a time? Or, do you need intermittent air for Impact wrenches, drills, or any air tool that will be used for a short duration of time (like removing lug nuts on a tire).
If you need continuous air then you need a rotary Screw stype compressor like the BOSS Infinity 35. If you need intermittent air then you want a piston or reciprocating type compressor like the BOSS BA440.
Rotary Screw and Piston Type Air Compressors
A rotary screw compressor is air-on-demand. It provides immediate, continuous air that can run for hours--or even days. The bonus is there is no air reservoir (air tank) is needed. This design, utilizes two rotating lobes that are in an oil flooded system. The oil serves primarily three functions. First, it seals the tolerances between the lobes (screws) to create compression. Second, the oil helps lubricate the bearings on the rotors. Third, it transfers the heat from compression to the cooler.
A piston type compressor (reciprocating compressor), uses the piston and rings to build pressure and fills an air reservoir (air tank). This requires a short pressure-build time to fill the appropriate size air reservoir and is ideal for on/off, short air usage applications.
Spec'ing an Air Compressor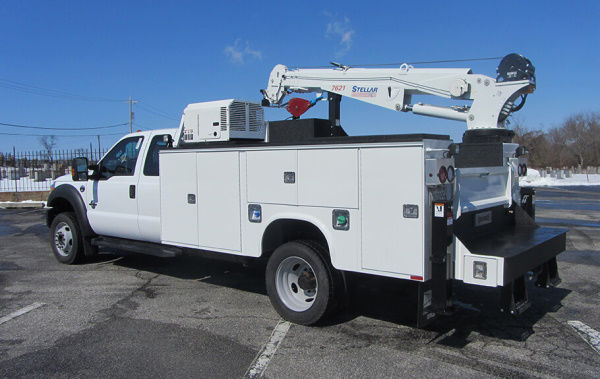 Size the air compressor to the rated specifications for the air tools. For a full line-up of BOSS compressors, look at: Air Compressors for Mechanics & Service Trucks. Streamline the purchase process by knowing the types of tools technicians will be be using, the field conditions in which they will be using them, and the type of vehicle the technician will be driving. These specifics will be helpful when working with a distributor.
"Choosing the right type and size of an air compressor is just as important as choosing the right tool for the job." - Jim Perschke, BOSS Industries,VP of Business Development and OEM Sales
Pneumatic tools require different amounts of air; this can vary between tools. The ability to use pneumatic tools will be determined by the compressor's pressure (PSI) and flow (CFM). To get you started, BOSS offers an Air Consumption Guide. This handy chart can assist in evaluating the type of compressor best for your tools and your line of work.
Mounting Air Compressors onto a Work Truck
Of course, a work truck with an air compressor reduces some payload, but the payoff can be well worth it. Mounting an air compressor onto the back of a truck or "above-deck" is the most common configuration. It can be a DIY project or a distributor can handle or recommend an upfitter.
Finally, as the saying goes: "time is money." Minutes saved in the field by having the proper high-performance tool on board the work truck can potentially increase revenue, profit, and quality of service.
Published on: September 11, 2019
PREVIOUS ARTICLE
A Specific Truck Configuration is Important for this Site Preparation Company
NEXT ARTICLE
A Fleet of 14 Vehicles Lets this Roofing Company Tackle Big Jobs