Truck and Van EV Companies to Watch for in 2022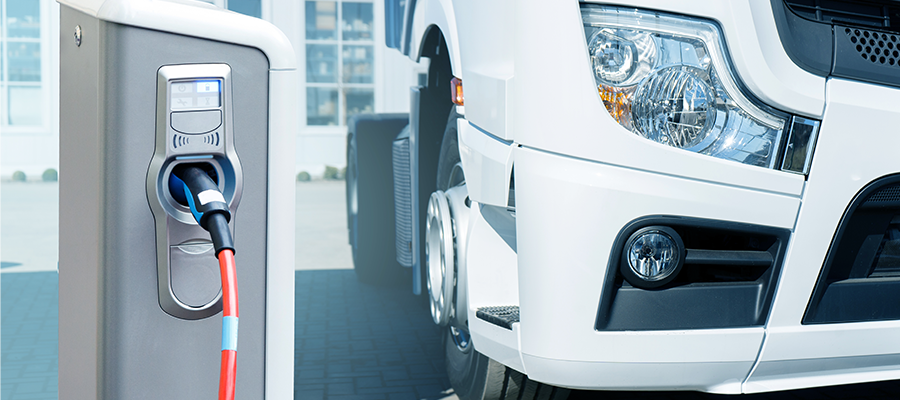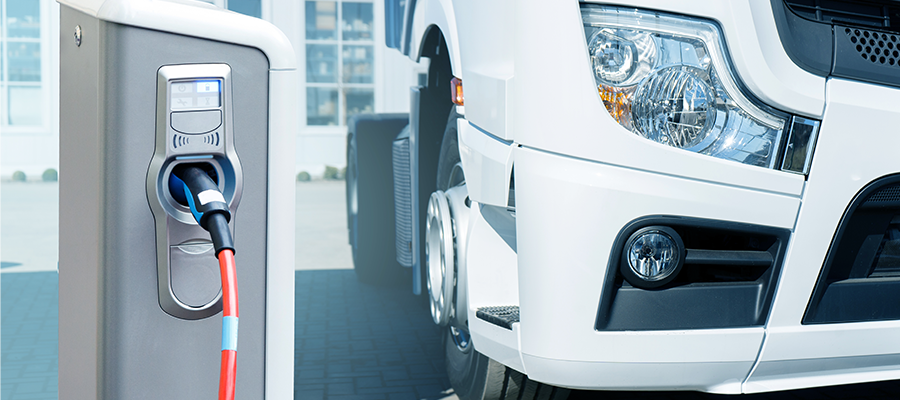 Truck and Van EV Companies to Watch for in 2022
Share
LinkedIn
Facebook
Email
Copy Link
Southern California Edison estimates it will save more than 620,000 gallons of fuel annually by switching out its diesel trucks for EVs. This is why SCE has been working with Freightliner and their eCascadia Class 8 battery-electric tractor for material transport operations.
SCE's tests of battery-electric heavy-duty vehicles are becoming more common as corporations observe the US government pushes towards requiring more EVs on the road. These ambitious plans have been welcomed by makers of heavy-duty big rigs, delivery trucks, and vans. In many ways, it opens up a new industry for truck manufacturers and provides the freight industry's opportunity to lessen the historically heavy environmental impact. 
As automakers have discovered, truck manufacturers are struggling with the viability of short-range batteries and extended charging times. Technology moves fast, of course, and batteries aren't the only way forward. Hydrogen and natural gas are also being tested for long-range hauling use. 
With regards to SCE's tests of the eCascadia Freightliner, Southern California Edison's Paul Griffo let us know they "were pleased with the performance of the Freightliner unit tested. Our diesel tractor drivers were impressed so we're looking forward to the units we ordered."
There's no doubt that we're on the road to a substantial change in how we move goods and do business locally and across the nation. So, let's check out the companies that are rushing to meet the dream of an electric future for trucking and contractors.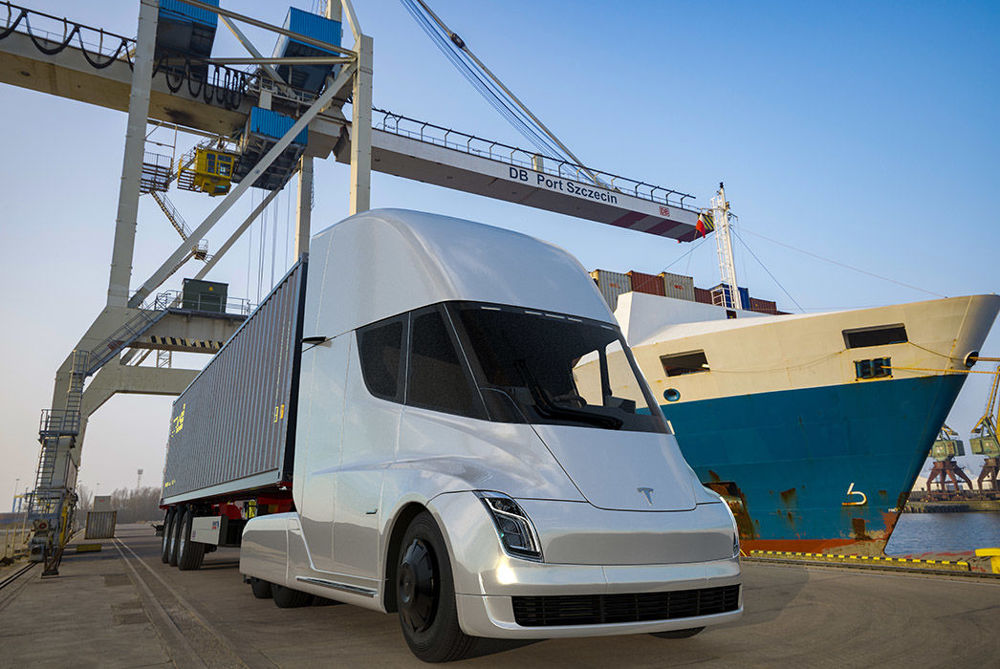 TESLA
Who wouldn't want a $180,000 tractor that's capable of a 5 second 0-60 and can also muscle a fully loaded gross weight of 80,000 pounds while keeping a top speed of 65 mph up a 5 percent grade? Tesla has been working on its Semi, first announced in 2017, for quite some time. And by all accounts, it's physically ready.
In March of 2020, Elon Musk said he's "really looking forward to getting the Semi into production." However, logistics, production, and technology hurdles keep the Semi in a state of delay. While other companies are putting out road versions of their EV models for testing, Tesla is still struggling.
While currently on the backburner until 2022 because of battery cell constraints, Tesla's Semi could revolutionize the trucking industry the same way it did the automotive industry. 
DAIMLER TRUCKS
As evidenced by the Southern California Edison tests, Daimler's Freightliner eCascadia big rig began pre-production on-the-road testing in 2020. Although Edison International didn't have the test results from its 3-month trial available when contacted, the power of the Class 8 truck and 250-mile range would go a long way toward encouraging the possible success of electrifying Edison's fleet. 
Daimler, unlike Tesla, has the benefit of a long line of truck manufacturing capabilities and isn't only looking to electrification for long haul purposes. With the announcement of its GenH2 platform in 2020, Daimler is working to address range issues with Hydrogen power. Daimler feels that "The hydrogen-powered fuel-cell drive will become indispensable for CO2-neutral long-haul road transport in the future." According to Daimler, the GenH2 platform can drive over 600 miles before refueling and is currently testing. Although planned availability for customer trials in 2023, it is now scheduled for 2024.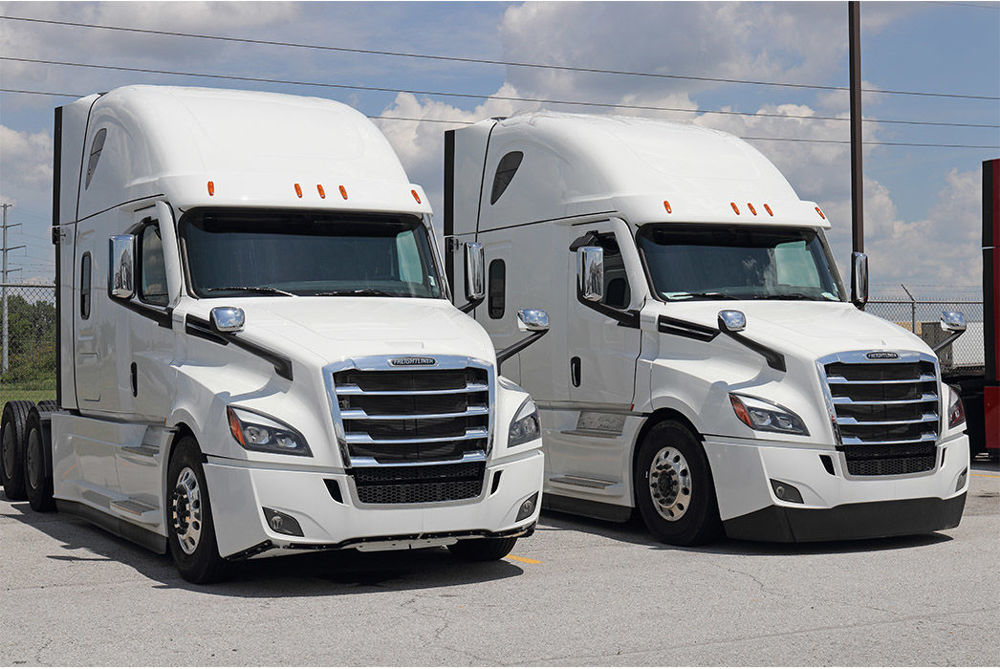 Daimler is also testing its new Mercedes branded eActros LongHaul and eEConic trucks. The 27-ton EV is based on the eActros. Both vehicles are identical with electric axle drives and two integrated electric motors with two-speed transmissions.
Daimler Truck, which is spinning off of Daimler AG to form its own company, says, "From 2027 onwards, the company plans to add series-production vehicles with hydrogen-based fuel cell drive systems to its vehicle range. The long-term goal is CO2-neutral transport on the roads by 2050."
FORD
Instead of starting with long-haul and heavy-duty trucks, Ford is looking to benefit from electrified cargo vans. As a result, the E-Transit could potentially lower the fleet operating expenses of medium-sized and large service corporations and replace the Ford Transit van. 
Ford has been selling over 150,000 internal combustion engine transit vans per year and sees a massive market for an electric van starting at less than $45,000. 
We reached out to Ford on whether or not an E-Transit with a range of 126 miles would be a good fit for work trucks. They said, "By leveraging more than 30 million miles of Ford telematics data, we learned that the average daily range for commercial vans in the US is 74 miles. "So, Ford is focused on the day-to-day commercial delivery and contractor market.  
Ford's work in producing the first version of the most popular pickup in the US and creating a transit van shows it's all-in for electrification. Having a ready-made vehicle production platform helps Ford quickly meet the needs of the work truck's new realities. Will Ford do the same in the Super-Duty market?
Kumar Galhotra, president, Americas, and International Markets Group, responded, "At the moment, we do not have any plans to go into heavy-duty with battery-electric vehicles," 
However, as technology changes, Ford says it'll continue to leverage its strengths and be strategic in its growing markets.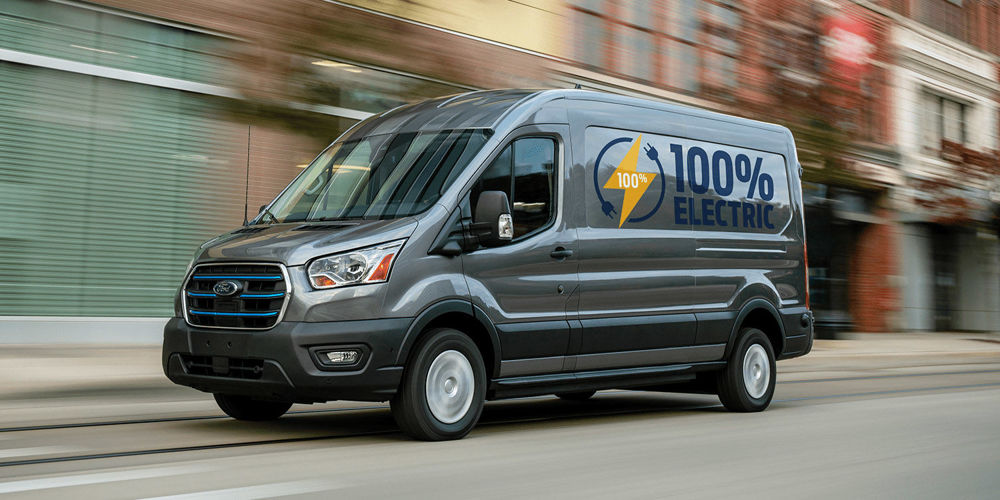 NIKOLA
For every Ford, Daimler and Tesla, there's also a Nikola. As reported in June of this year, Trevor Milton, 39, of Oakley, Utah, resigned from Nikola in September amid allegations of fraud. At the time, Milton said he would defend himself against accusations that the company made false claims about its vehicles, allegations Nikola rejects.
Among other proposed models, Nikola promoted having two semi-trucks available with your choice of fully electric or hydrogen fuel-cell electric capabilities with ranges between 500 and 700 miles. A Nikola Two would have been for the North American market and  Nikola Tre for Europe, Asia, and Australia. 
Recent sightings of the Nikola Tre suggest that it may run. But critics say that the Tre isn't something Nikola made but more like a donor truck with 85% to 90% of the Tre originating with the S-Way that Iveco introduced in 2019.
Nikola is trying, but this points to a market and technology requiring massive capital and engineering.
HEAVY LOADS AHEAD
In any start-up business, there are going to be delays. And we can be sure of delays with such an enormous leap in technology required for the trucking and work van segment. So, it's more than a software change.  
It's one thing to build an EV passenger vehicle but a completely different task building a semi with batteries being the prime limiting component. However, GM, Daimler, and Tesla are working on more powerful and longer-lasting batteries. They're committed, so their future depends on it. 
If Tesla has shown us anything, engineering, money, and strong, inspired leadership can overcome delays and setbacks. It will be an exciting climb as we head toward the new future.
Disclaimer: The views expressed here are solely those of the author in his private capacity and do not in any way represent the views of the Comvoy.com, or any other entity of Work Truck Solutions.
Specially written for COMVOY.com by:
Steve Mitchell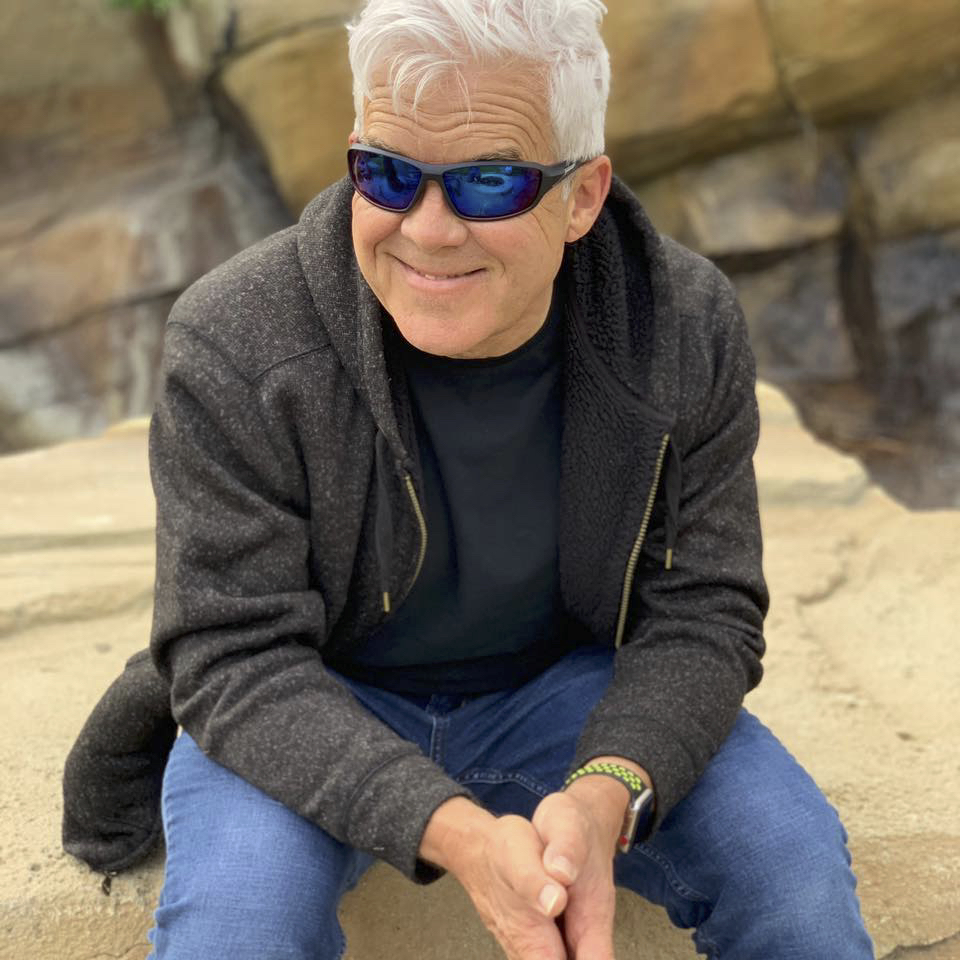 Steve grew up on a farm in East Texas. And his first experience with driving trucks was using the creeper gear as the driver in his great uncle Homer's flat bed Chevy hay hauler. Even though he now lives in Southern California, he's still filled with passion for four wheels. On sunny days, you'll also find him playing as an endurance athlete on the bike in SoCal, but you'll know he's thinking about cars.
Published on: August 18, 2021
NEXT ARTICLE
Upfitting Considerations for HVAC Professionals