A Tow Truck Owner-Operator Has 3 Vehicles for Different Jobs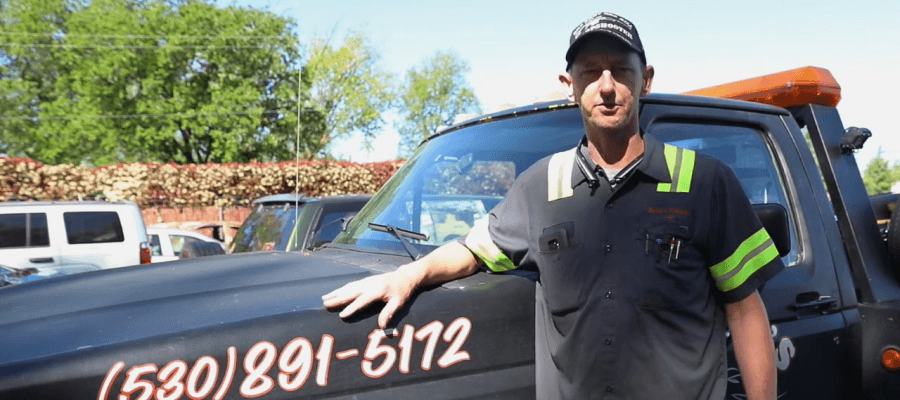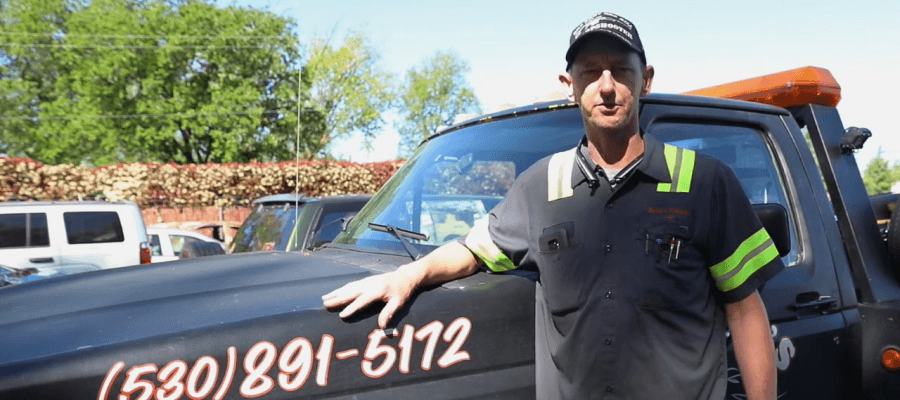 A Tow Truck Owner-Operator Has 3 Vehicles for Different Jobs
Share
LinkedIn
Facebook
Email
Copy Link
We speak with Ernie from Ernie's Towing and Automotive about his small fleet of work trucks made up of two flatbed trucks and a wrecker to accommodate a variety of tow jobs.
His towing business uses a Ford F-450, F-750, and a GMC TopKick with a medium-duty bed.

The F-450 and its wheel lift works great in smaller spaces like parking lots.

The flatbed trucks do well for all-wheel vehicles, wrecks, and lowered vehicles.

Ernie says it takes about a month to find the right truck, and a truck purchase happens about once every ten years.
Q: What types of trucks do you use in your towing business?
A: I have a Ford F-450 flatbed and an F-750 with a flatbed that does 12 tons. We also have a GMC TopKick that has a medium-duty bed on it for heavier vehicles. We use a Jeep for off-road recovery. The wreckers are used for rollover vehicles and regular towing. The flatbeds are used for all-wheel drive vehicles or for wrecks where the vehicle has been extremely compromised and can't be dolly towed in. Flatbeds are great when you've got lowered vehicles or street rods.
Browse All Tow Trucks for Sale
Q: Do you have a favorite truck?
A: The particular thing I like about the F-450 is that it fits in parking garages. The wheel lift is super small and low, so it's easier to get front-wheel drive vehicles. It's nice for doing jumpstarts in a tight situation or a parking lot like Walmart. You're able to do your job without compromising the traffic so people can keep moving. That's what I like about the smaller trucks.
Q: Are you loyal to a specific tow truck body manufacturer?
A: I don't really have a particular brand. I think they're all good. The ones that we like to use are Jerr-Dan, Vulcan, and Chevron tow trucks. Those three are probably your top three that all tow truck companies use.
Q: Is it difficult to purchase a new tow truck?
A: Not necessarily. It takes a good month to find the right tow truck. The process for purchasing a new tow truck usually starts with finding the dealer. You can purchase a tow truck at some commercial dealerships. Also, there are several dealers out there who sell only tow trucks and tow truck accessories. Once you find the dealer who has the truck you are looking for, you work with either the dealer or a lending company for financing.
Q: How often are you in the market for a new tow truck?
A: We usually purchase trucks every 10 years. We're actually looking to get a newer medium-duty truck now. The reasons are that the technology has gotten better on the hydraulic systems, and it makes it easier on the drivers. When you get out on a scene, it's easier to pull vehicles. Plus, they've also added spades to the back, which holds the truck in position when we're doing extreme recoveries. The new trucks have more bucket seats in them with back support so they're comfortable for our drivers.
Q: What storage is on the trucks?
A: We have storage for tools and equipment. Storage bins hold all of our tools, snatch blocks, jumper cables, and J-hooks for our sling tow. We also have bins for our snow chains and stuff for wintertime.
Published on: August 15, 2019
PREVIOUS ARTICLE
A Fleet of 14 Vehicles Lets this Roofing Company Tackle Big Jobs
NEXT ARTICLE
8 Ways to Equip a Tow Truck for Roadside Assistance