Tips to Select a Service Truck for your Business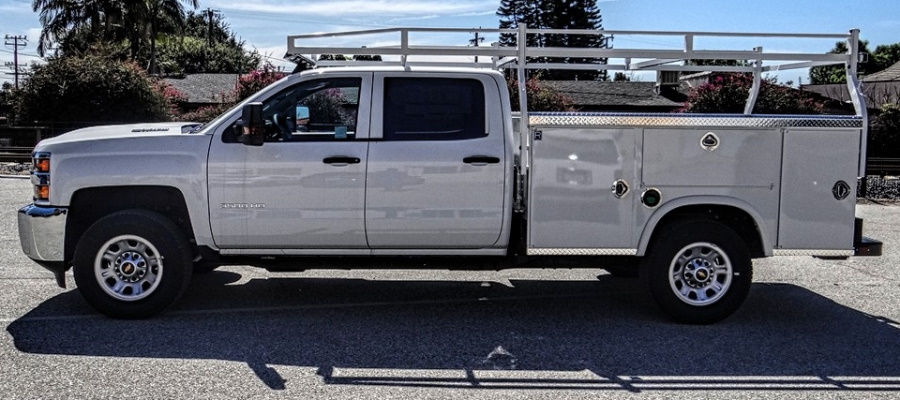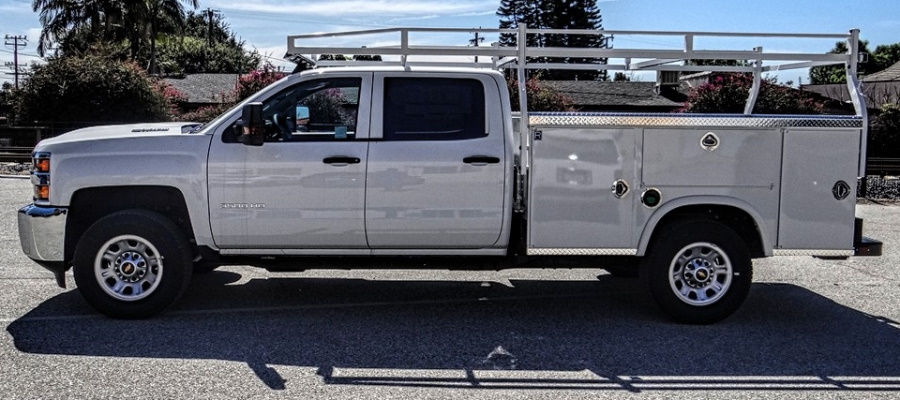 Tips to Select a Service Truck for your Business
Share
LinkedIn
Facebook
Email
Copy Link
Owning a business in the construction and skilled trade industries requires rigid oversight around the current state of your fleet and its direct impact on business efficiency and profit. In a market defined by constant change, all members of a crew rely on vehicles supporting the operation. Spec'ing out the best service/utility truck body, make, and model requires some insights. This guide will give you information to confidently navigate the service body purchasing process and make your next service body truck a sound investment.
Aluminum bodies offer additional benefits, but steel is considered more cost-effective.

The open-bed body, like the Reading Service Body, provides more space for materials.

The enclosed body benefits from security, weather protection, and organization of interior shelving.

It's important to consider accessories, like ladder racks and ratchet straps.

Consider the capabilities and limitations of each vehicle.
What to Expect from a Service Truck
The service body is employed across most construction and skilled trade industries. From specialized trades like electrical, carpentry, plumbing and HVAC, to all-encompassing sectors like general contracting and mobile equipment repair. Countless storage options, steel and aluminum construction, and a wide variety of accessories make the service body suitable for most any trade.
Steel vs Aluminum Service Bodies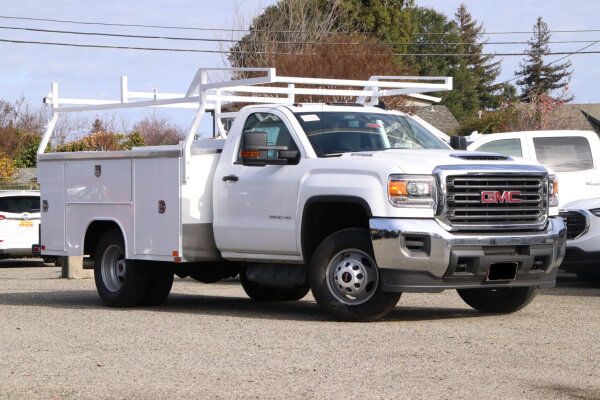 When spec'ing an aluminum or steel service body for your business, you need to consider the weight of equipment and supplies to be hauled within the vehicle's compartments and cargo areas. Drafting a shortlist of gear and assigning an estimated combined weight will give you a better idea of required payload capacity as well as the need for impact-resistant steel or lightweight aluminum.
In short, most body and truck manufacturers producing aluminum beds or chassis combine a strong mix of aluminum and other raw materials to create alloys, maximizing the durability and minimizing the weight of their upfits and chassis respectively. Aluminum-alloys offer benefits such as increased payload capacity and zinc-based corrosion-resistance, resulting in lower maintenance costs and higher resale values when compared to rust-resistance of steel.
Though there are an array of benefits to aluminum alloys, steel is still generally regarded as a cost-effective option for both chassis and body manufacturers alike. Aluminum alloys may be a hot topic, but the strength, density, and impact-resistance provided by steel are qualities unmet by aluminum alloys.
Open-Bed Service Bodies
Put plainly, the open or classic-style service body provides a convenient staging area for crew, tools, and supplies. The open bed supports longer, bulkier materials that wouldn't fit in a 40" compartment or enclosed service body. Materials like conduit and lengths of builder-grade wood fit right in the bed, easily secured with the tailgate.
The open working area is further supported by a series of individually locking compartments along the sides of the service body providing your team with the organization and security necessary.
Being aware of the needs of your team as well as identifying the benefits of both body styles allows you to identify the best vehicle fit for your operation and industry.
Take the Reading Service Body for example. SL Service Bodies are available a variety of sizes, ranging from 98" and 108" bed lengths for single rear-wheel (SRW) vehicles, to 132" bed lengths for dual rear-wheel (DRW) vehicles. In addition, Reading provides ample space for bulky supplies with their 48.5" interior bed width as well as three exterior compartments on either side of the truck bed.
The depth of the compartments will scale with body length, measuring in at a 10" depth for the 98" bed length and 21.5" compartment depth in the 108" and 132" bed lengths. Reading's compartment doors feature pneumatic struts to keep compartments open during use and offer further protection against the elements with their Dual-Pro mechanical and bubble seal system while closed.
These standard features are all contained with Reading's stainless steel, double bolted rotary locks, keeping your equipment safe and dry.
Enclosed Service Bodies
Though similar to the open service body with the compartments built into the body, enclosed service bodies offer the additional benefit of a fully contained cargo area in place of an open bed. The added functionality of the cargo area enables your crew to utilize interior shelving units for further organization, secure all tools and supplies within the work vehicle, as well as take advantage of the contained barrier against weather exposure.
The  Duramag Aluminum Enclosed Service Body is a prime example of the benefits. Available in standard heights of 53", 63", and 74" with interior clearance measuring in at 51", 61", and 72" respectively, even the most awkward materials can fit within the cargo area. The aluminum construction of Duramag's enclosed service body maximizes payload capacity with the largest configuration weighing in at only 772 lbs.
The exterior locking compartments combined with internal shelving units deliver a system worthy of even the pickiest tradesmen, easily supporting a wide variety of interior bin systems. In addition to the increase in organization opportunity, the Duramag enclosed service body also provides a broad space for any mobile advertising efforts with room for logos, contact information, and information regarding your business.
Truck Accessories and Add-On Equipment
Understanding your truck's required form and function both in choice of body material as well as classic or enclosed service body configuration is a great foundation. It allows you to successfully spec a new service body truck. That said, further knowledge of the available accessories can improve your truck's performance and enable your crew to do even better work. Below is a list of effective and essential accessories you need to consider when purchasing a service body work truck for your business.
Security on a Service Body
Master Locking System

– Provides a single spring-loaded locking rod on either side of the truck bed, triggering all compartment locks with one swift movement. Adds a second layer of security to each compartment lock

Power Locking System

– A locking system linked to all locks on the body of the vehicle, enables locking and unlocking of all compartments with the push of a button

Standard Service Body Sliding Roof Cover

– Easily collapsible roofing system for open-style service body beds
Service Body Storage
Ladder Racks – Ladder racks enable you to max out the utility your crew and your vehicles bring to job sites. For example: Prime Design Ladder Racks.
Aluminum Mechanics Drawers

– Convenient, specific storage for smaller tools all in one compartment
Safety and Storage
Headache Racks

– A solid metal grid system that keeps loose equipment out of the cab in the event of a hard stop or an accident. For example:

Magnum Truck Racks

E-Track and Ratchet Straps

– Firmly secures bulkier equipment with a series of ratchet straps and metal connections along the interior walls of a truck bed or cargo area
Selecting and Purchasing your Next Service Body Truck
As a final tip to business owners investing in their next service body truck, it is important to demonstrate the capabilities and limitations of both pickup trucks where the bed will be removed and upfitted as well as chassis cab trucks delivered with chassis, cab, and drivetrain. This is important to note because both situations require different installations due to the variations in curved and straight frame rails.
Behind the cabin, pickups tend to have curved frame rails that play a pivotal role in the ride quality and weight distribution of the vehicle (your pickup frame likely has a hump above the rear axle).On the contrary, chassis cab trucks feature straight frame rails of a standardized size that matches the most common upfit equipment produced. Upfit packages are compatible aren't specific to a body manufacturer brand and model.
As mentioned here, the standardized frame rail sizing in chassis cab configurations provides a universal fit acknowledged by a vast majority of upfitters. Keeping this in mind when thinking about replacing a pickup bed--as well as the tips above--will make your negotiation powerful and leave you feeling confident long after the initial purchase.
Published on: January 10, 2020
PREVIOUS ARTICLE
15 Truck General Contractor Fleet chooses Ford Trucks, DECKED Truck Boxes & GPS
NEXT ARTICLE
Purchasing the Right "Tool" in a Commercial Vehicle