Stake Truck: Flexible Transport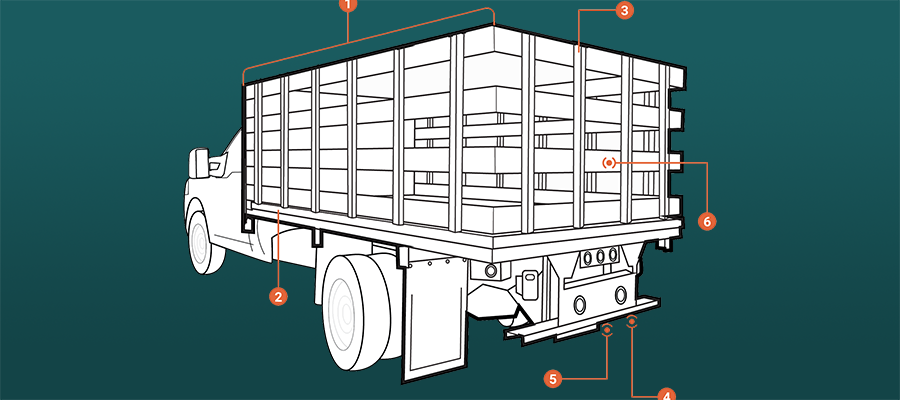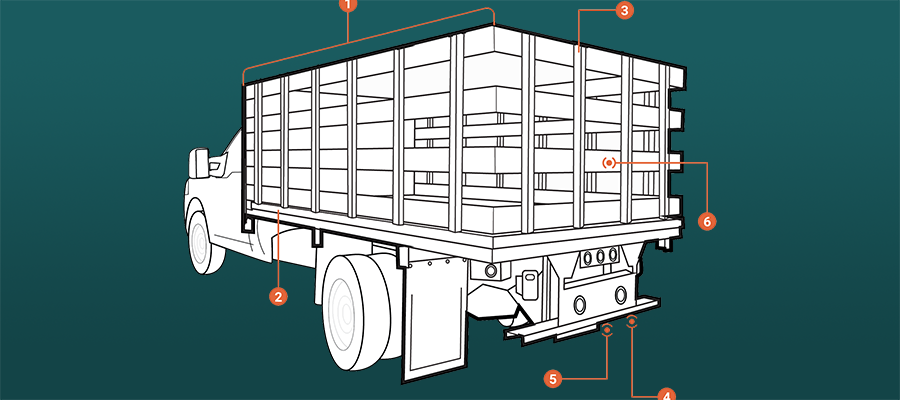 Stake Truck: Flexible Transport
Share
LinkedIn
Facebook
Email
Copy Link
Commonly used by farmers, roofers, and any operation requiring open-bed deliveries, the stake truck provides you with the ability to custom-fit your operation without having to go back and forth with an upfitter. The stake truck's main draw is, you guessed it... the stakes adorning either side and the rear of the level stake truck body. Simply remove and replace the mounted wood or metal stake racks, and enjoy easy loading and unloading from any direction. Additional options, such as a liftgate or receiver hitch, take your basic delivery truck to the next level and cement your ability to handle all aspects of material transport.
Body Length
Further asserting its position as a flexible delivery system, the stake truck comes in a variety of body lengths provided by a suite of reputable manufacturers. And while extensive body lengths are available, common stake truck body lengths will range anywhere from 7' to 24'. The optimal body length for each industry will depend upon a few factors, such as material size and weight, and delivery frequency, as well as your loading and unloading environment.
Material
Stake truck bodies come in a variety of different materials for the frame, stake, and floor construction. Common options for framing include variations in both welded steel and aluminum alloys. Steel and aluminum alloys are commonly used in frame construction, due to their durability, respective material weights, and corrosion resistance.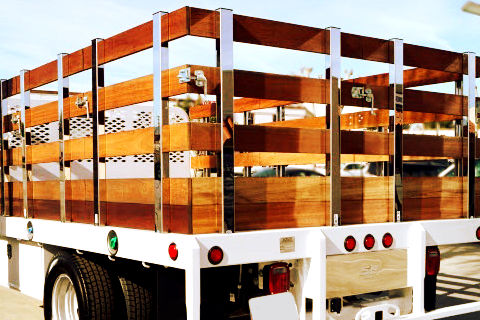 Stake truck flooring options vary depending upon your preferred manufacturer and desired application. Steel and aluminum treadplate is frequently used in stake truck flooring applications across a wide variety of industries. Their durability and corrosion resistance offers long life and slip-resistance, but the reduced costs of both domestic and exotic wood - like white oak, Brazilian apitong, and utility-grade treated pine - support a variety of operations. The species listed here offer low-moisture and insect-resistant builds, encouraging a long and useful life, durability, and flexion-resistance for supporting your heavy loads.
When it comes to choosing the material for the stakes lining your stake truck, it pays to consider how often you plan to remove and replace the stake racks for material off-loading. Welded aluminum and sturdy wood stake racks see frequent use within the stake truck body, due to their rigid construction and lightweight nature. These stake racks offer rigid support, to ensure that materials are unloaded on your schedule and without back-breaking stake rack weight.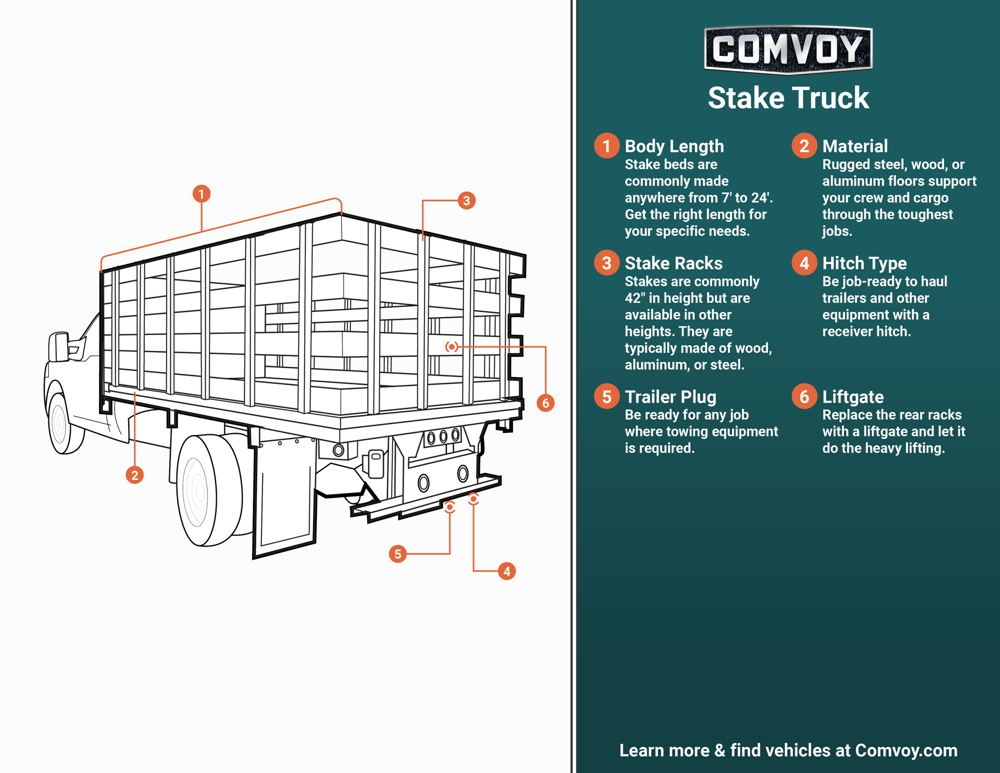 Click Here for More Information
Stake Racks
Welded metal or fastened wood stake racks are built in lengths of 3-4' sections and secured within sectioned steel or aluminum pockets along the outer edge of the stake platform frame. These racks support your loading and unloading with the ability to remove each stake rack section, and allow for manual and forklift access from any area of the stake truck.
Hitch Type
The stake truck is optimized not only to haul loads upon loads of both bulky and palletized material but also to support common trailer models and configurations with a receiver hitch. Installed behind the rear axle and below the stake body, the receiver hitch welcomes multiple trailer variations, including ball, D-ring, pin, and clip-style trailers.
Trailer Plug
Stake trucks offer far more than a hefty payload capacity to support your deliveries and material transport. In high-traffic and low-visibility driving conditions, a trailer plug coupled with a receiver hitch provides safe transport for both the operator and the materials onboard. The trailer plug provides a quick connection between the electrical system of your stake truck and the signaling and braking lights of your trailer. This cost-effective component allows you to drive confidently, knowing that your trailer remains visible in poor delivery conditions while also abiding by traffic and DOT regulations.
Liftgate
Stake trucks and their successful users are often lifting heavy loads into the stake truck bed which a tuck-away, rail-gate, or column-style liftgate can readily support. Each of these liftgate styles fits seamlessly onto the stake truck body via a rear-mounted or side-mounted installation.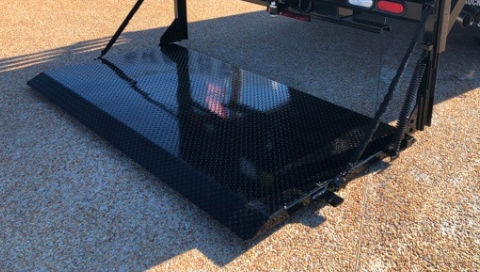 A steel or aluminum tuck-away liftgate offers a potent platform to lift most anything that you can throw onto the steel or aluminum surface. The tuck-away liftgate provides the ability to load from ground to bed height and boasts a higher payload capacity than rail-gate options (on average). After use, the tuck-away liftgate lowers and folds away beneath the stake truck bed, secured by latch pins for easy transport. When considering a tuck-away liftgate, be sure to note the differences between a fully-loaded (laden) and material-free (unladen) truck platform. Additional weight on-platform will depress the truck bed's height and can impact the available liftgate space beneath the truck body.
Rail-style liftgates operate along two side-mounted out-rails, with the added benefit of increased loading platform space, when compared to tuck-under models. Like the tuck-away liftgate, the rail-gate offers both ground-based loading and platform-level loading dock operation. Most rail-gate models come equipped to meet the bed height in loading, with further options for additional liftgate heights available. Powered by a series of single or dual-cylinder hydraulics, the rail-gate can easily load and unload materials from ground to platform height. Once loading has been completed, the rail-gate folds to a vertical 90-degree angle, reducing its impact on space behind the stake truck.
The column lift, similar to the rail-gate, features the installation of two solid columns along either side of the stake truck tailgate. Once installed, the column lift offers utility in ground-based and above-bed material loading and unloading. These columns maintain a steel or aluminum platform, powered by either single or dual-cylinder hydraulics, and are folded vertically when not in use.
Published on: January 02, 2019