A Specific Truck Configuration is Important for this Site Preparation Company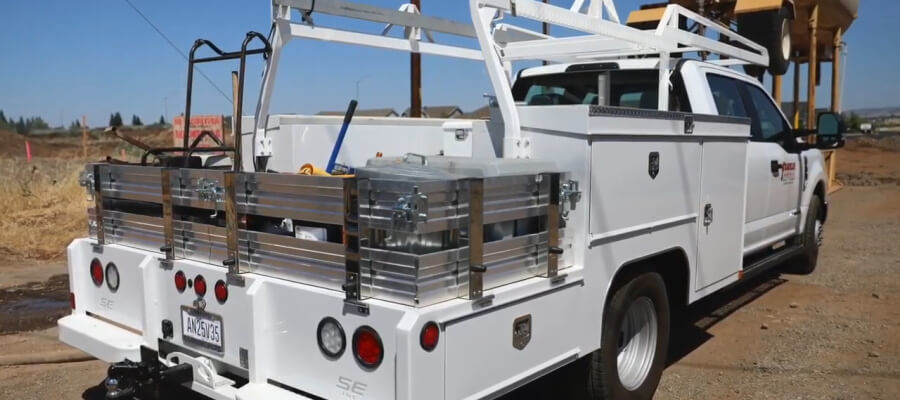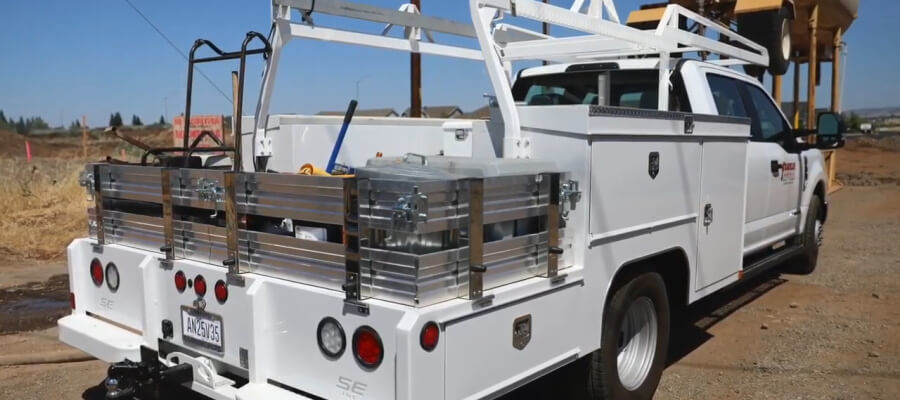 A Specific Truck Configuration is Important for this Site Preparation Company
Share
LinkedIn
Facebook
Email
Copy Link
Rod from Franklin Construction tells us about his combo truck configuration, how it works well with preparation for each job, and how they go about finding the most effective vehicle setup.
The business needs a truck to handle an assortment of work, such as paving, road reconstruction, and more.

The right configuration is developed through trial-and-error.

The aluminum fence of the combo truck works wonders for keeping everything in and together.

A pintle hitch rated for heavy towing is important for additional equipment towing.
Q: Tell us about your general engineering business
A: We do earthwork, grading, paving, site work for subdivisions, apartment complexes, public works projects, road reconstruction, road construction. And we're also a producer of aggregate materials and asphalt materials.
Q: Tell us about your new Ford combo truck?
A: It's a 2019 Ford F-350 with a Scelzi combo body. It's a crew cab truck. It's a two-wheel drive, so basically: two-wheel-drive one ton. It has dual-rear wheels, which is a must for any of our heavier field trucks because we use them for towing.
It has become our standard configuration for our field employees because it seems to be the most functional. We go with the crew cab because it gives us some room to store electronics. We do a lot of grating with laser equipment, and sonar equipment and GPS equipment. And all those units are stored in big plastic boxes and they can fit in some of the boxes but we like to keep them in the back of the truck in the back seat. The GPS units are really expensive, but we keep them in the back of the truck for security and for weather climate control.
Q: What kind of storage do you have on this truck?
A: The bed has full-height boxes on the front, one over the tire, and then a full-length cross-through box under the back. So, we're able to store a lot of parts and tools and whatnot in the tall boxes, and then we utilize the other boxes the back cross-through box is for rakes, shovels, things like that to go through. And then, of course, it's a rack on top. When we buy rebar, pipe, anything long we can store it up there.
Q: How long ago did you purchase your combo truck and what was the process?
A: We
just purchased the truck about a month ago from Corning Ford. They were really helpful in that they had a cab and chassis, but didn't have the bed that we wanted. We wanted the combo body, and they were able to send the truck down to Scelzi utility bodies for us in Fresno and have the body put on in a much shorter timeframe than if I were to order a truck with it with the body and wait for it to come in. I purchased three other vehicles, four actually, from them this year. A water truck, a regular F-250 pickup, and an F-350 regular cab flatbed.
Q: How did you decide this configuration?
A: Through trial and error we settled on this configuration with the crew cab over a regular cab with a combo body (or another style utility body) because this one is just more functional, it has more room, it suits the things that we store in there better.
We don't buy a basic truck. This is an XL truck with what they call a "convenience package." It's kind of a combination of packages now, but it has tilt, cruise, power windows, power door locks, and a good radio. So, the employee gets a decent truck and not just a plain-jane truck with roll-up windows. Believe it or not, electric windows over roll-up windows is a big deal because if it's really hot--and if you want to open your passenger window, and you have roll-up windows--you have to lean over and roll up the window. It can be unsafe because they'll do it when they're driving. Every vehicle we get has a Bluetooth phone connection so that they can talk hands-free on their phones when they drive.
Q: Where do you store things when loading and unloading the truck?
A: I have a big flat platform in the back of the truck to store, load, and unload things. Unfortunately, Scelzi doesn't come with a bumper on the back of their combo body, it only has these aluminum fences which are great because they keep everything in and they have these flip latches to lock and unlock them. However, I had them add bumpers because it allows my employees to pull out bigger items on their own by dropping it down to the bumper first and then dropping it to the ground from there. Then my employee would obviously have someone help him load it back up.
Q: How do you like the aluminum fence on the combo body?
A: The aluminum fence is a great height that keeps everything in and it's pretty sturdy as well. All of the compartments will unlatch and fold down, all the way around the truck. The one fault we have is when we are folding down the back compartment, it hits the hitch. Luckily they've added rubber stops to avoid crashing since there was never supposed to be a bumper. However, I still have problems with the way they have designed this because I can't easily unload the whacker from the back of the truck because when the fence compartment is unlatched, it blocks the bumper which I use as a step. This truck's different from what we ever had before, so we've never run into this problem before.
Q: What do you like about this truck?
A: One aspect that I like about this truck is being able to access the pin from the top of the hitch instead of the bottom or sides under the bumper.
Q: What type of hitch is this?
A: This is a pintle hitch, and all of the hitches on all of the trailers have a big heavy loop that goes over the ball when you close and lock it for a more secure connection than a ball and a ball hitch. These are heavier duty rated for much heavier weights and loads.
Published on: September 23, 2019
PREVIOUS ARTICLE
An Excavation Business VP Shares his Process for Purchasing Fleet Trucks
NEXT ARTICLE
A Fleet of Ram Trucks Power this Water Well Drilling Business