Refrigerated Truck: Keeping it Cool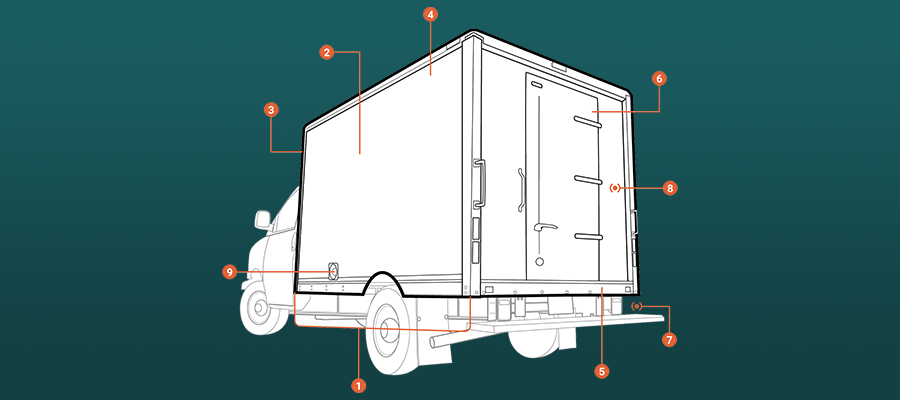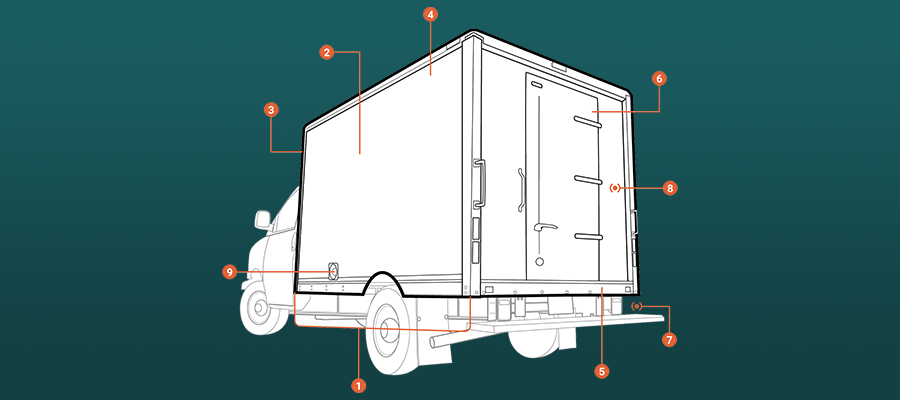 Refrigerated Truck: Keeping it Cool
Share
LinkedIn
Facebook
Email
Copy Link
The refrigerated truck, or "reefer truck" for short, is a crucial commercial vehicle that is well-suited for a variety of heat-sensitive transportation vocations. Floral, agriculture, food and beverage delivery, and pharmaceutical businesses rely on the protective nature of the refrigerated truck. Whether you're an established owner seeking to pad their reefer fleet, or a green self-starter in the cold chain industry, the refrigerated truck, in both cargo van and box truck forms, is going to far exceed your expectations in all regards for refrigerated transport.
Body Length
Often used in lengths of between 10 and 28 feet, cargo area and payload are the sole limits of the reefer truck. Cargo vans, box vans, and trailers all support the installation of refrigeration units - and with a wide breadth of options available, we're certain that you'll find the perfect reefer truck for your own unique needs.
Wall Material
Most refrigerated box trucks feature a series of paneled walls supported by cross members and deliver a unique, sealed container for protecting the valuable product within. These enhanced delivery trucks often feature walls built from lightweight and corrosion-resistant aluminum, fiberglass-reinforced plywood (FRP) and galvanized or stainless steel. Each of these wall material configurations will contain, control, and protect your product against heat infiltration and product deterioration.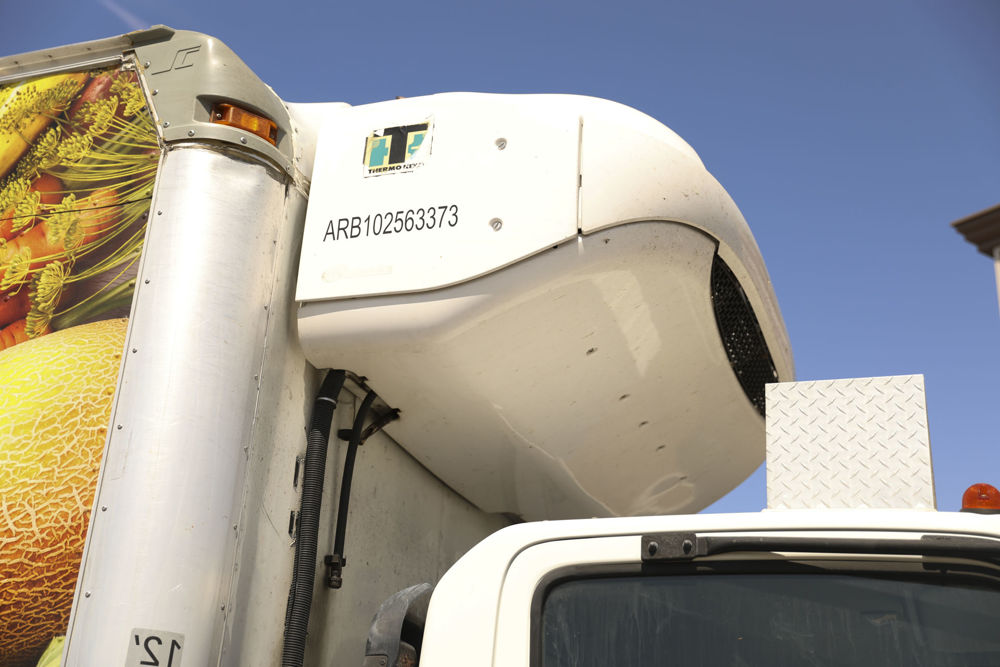 Refrigeration Unit
Most common refrigerated trucks come in direct-drive and self-powered configurations, and both styles operate with an interior or exterior digital control module for the purposes of maintaining a consistent temperature during transport.
Direct drive options are powered by the vehicle's engine, with the compressor located within the engine bay. The direct drive system is the preferred option for short-term refrigerated deliveries, as they will often run in succession with the running engine.
Self-powered units feature two power sources, including a dedicated diesel engine and battery, and - in some models - an added fuel tank. The main benefit to the self-powered unit is the refrigeration unit's ability to run at all times, even when the vehicle is off. Once the vehicle has powered down, your team can elect to run the refrigeration unit on electric standby through the battery or to continue to use its extra fuel tank.
Insulation
The refrigerated truck provides further perishable product support, with insulation lining the doors, floors, and vehicle walls. Typically made from urethane, the insulation is poured after the individual walls and flooring have been set in order to ensure even coverage. Pouring the insulation after vehicle setup allows it to completely cure into every nook and cranny, preventing any air or moisture from infiltrating the walls, and adding even further protection to your valuable goods.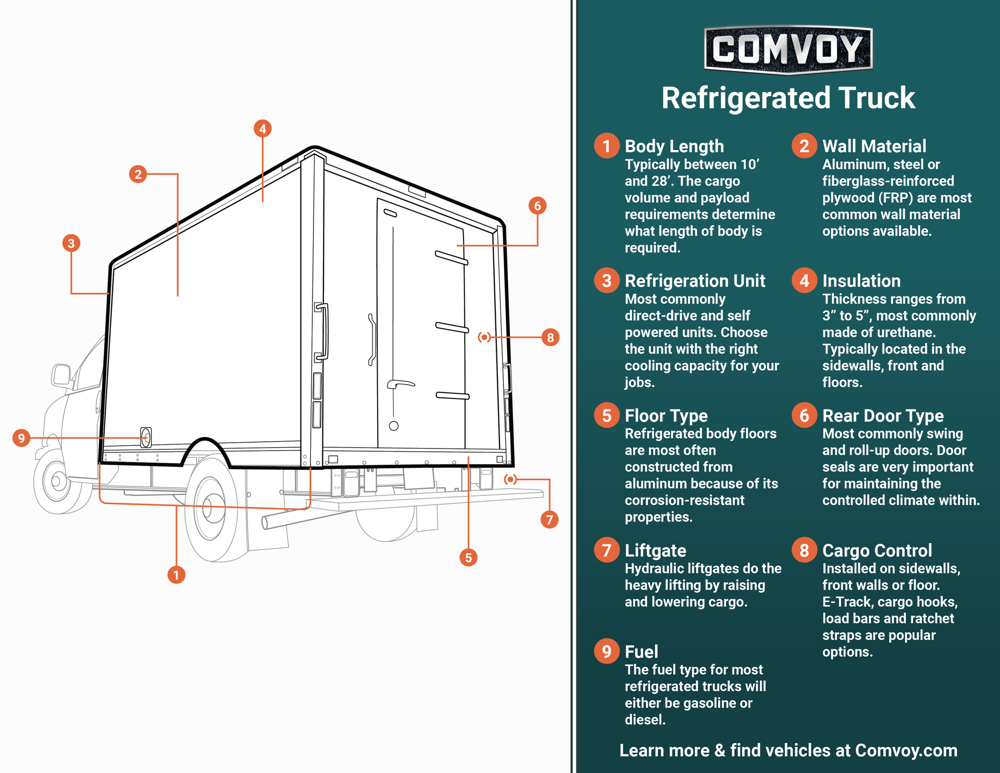 Click Here for More Information
Floor Type
The reefer truck's floor material also plays an important role in maintaining product integrity. Aluminum makes up the vast majority of reefer truck floors, and for good reason. Corrosion-resistant aluminum resists moisture and cleans up easily. When your vehicle needs to be contaminant-free, aluminum flooring fosters an easy-to-clean environment. Aluminum also minimizes heat retainage, working to keep your goods fresh or frozen, and always secure.
Refrigerated flooring comes in many different forms, and applications depend on the product that you deliver. One common option for perishable goods is the T-channel aluminum floor. The t-channel floor system covers the reefer truck in a series of alternating 1"-2" recessed channels in the floor, distributing an even airflow and temperature to all areas of the truck and products inside.
Rear Door Type
The most common rear door configurations on refrigerated trucks will include roll-up or swing-style doorways; both of these styles prevent heat from compromising your goods and allow your operators to access the cargo area with ease.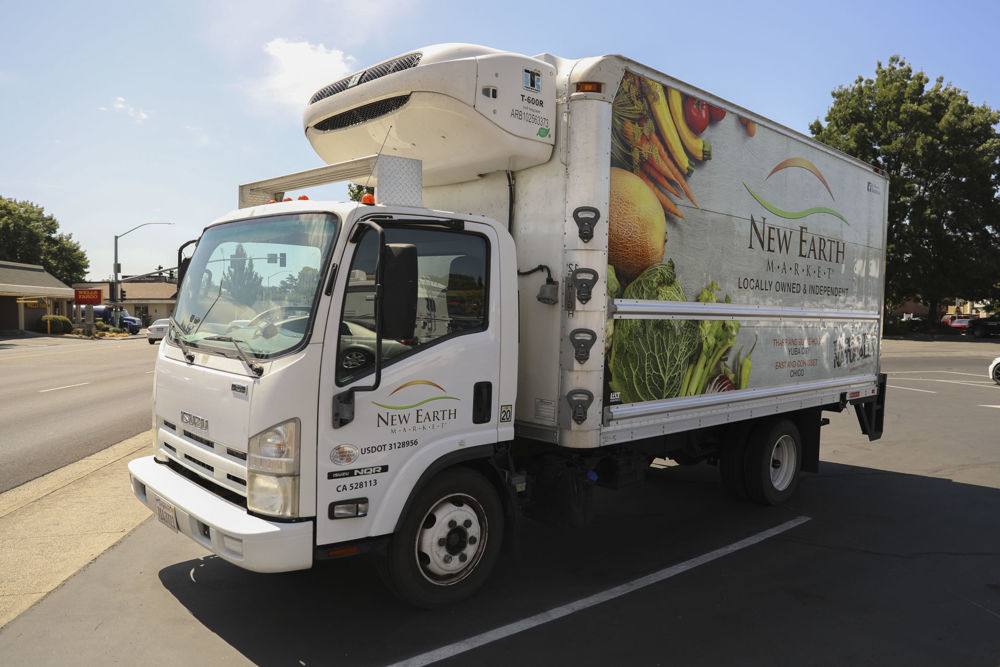 Roll-up doorways feature a series of insulated panels which are supported by spring-loaded rails. This system allows your operators to open the secure cargo area with little-to-no-effort. Swing-open doors can segment your refrigeration unit with a series of single, double, or multiple door configurations, and each doorway can serve as an individual entry point to separate climate areas. This ensures that specific cargo points are not contaminated by internal or external conditions.
Liftgate
The delivery industry isn't just limited to dock loading. Product delivery requires preparedness, which is delivered by the refrigerated truck's capable liftgate configurations. Often, hydraulic-powered, tuck-under, rail, and column-style liftgates will enable your crew to load and unload materials in any place, and at any time.
Cargo Control
You will find countless refrigerated cargo control options inside the truck body. Some mainstays for cargo management include the e-track, e-track cargo hooks, load bars, and ratchet straps.
The load bars in both e-track and rubber-footed arrangements are of particular importance in larger refrigerated trucks, as they ensure that palletized material doesn't topple over mid-delivery. The e-track is easy to install into the flooring or interior wall paneling of the cargo hold, and it also allows for ratchet strap securement when making smaller deliveries. Simply secure the fitments into the track, ratchet down, and then drive on with confidence, knowing that your load and final product presentation is fully secure.
Fuel
The most common fuel sources for the refrigerated truck are gasoline or diesel, either of which is readily available at your typical fuel station. Moreover, self-powered refrigeration units are often powered by the same fuel type that drives the truck's engine. Pairing two engines with the same fuel type enables a quick fill-up of both fuel tanks at fueling stations, regardless of where your final destination lies.
Published on: January 04, 2019