Passenger Van: Transport for People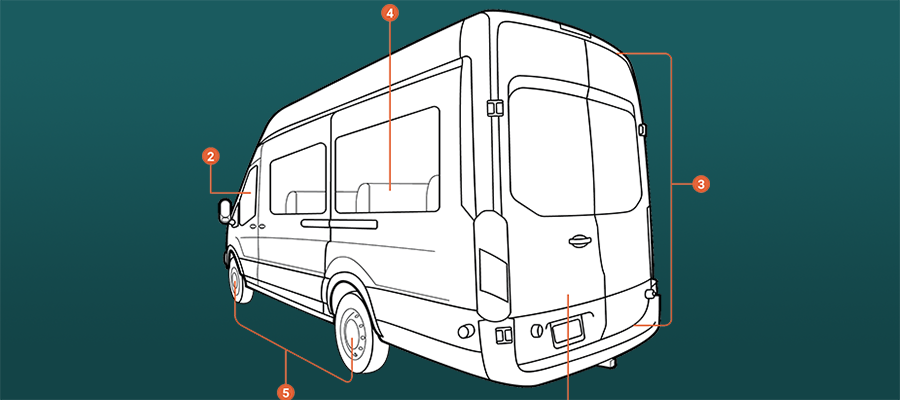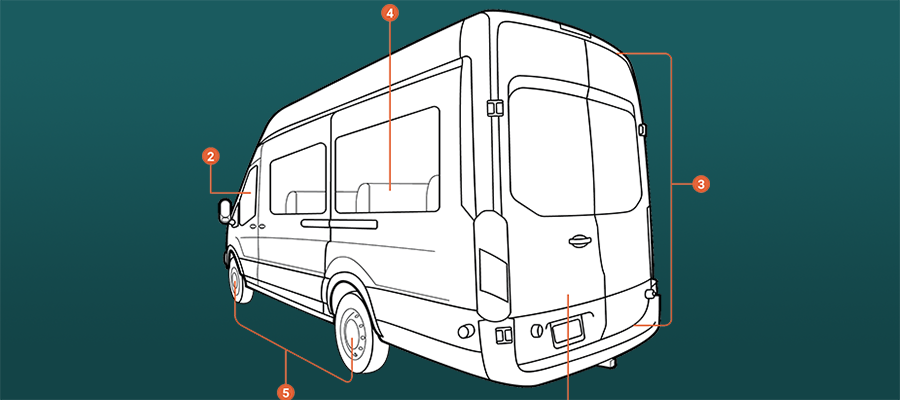 Passenger Van: Transport for People
Share
LinkedIn
Facebook
Email
Copy Link
The passenger van, or passenger wagon, is ideal for transporting large groups of people to their desired location. Ranging from a seating capacity of five to fifteen, the passenger van works best when used for things such as the continual transport of people to community groups, shuttling passengers from parking lots to hotels, or for any vocation where people need quick and comfortable transportation.
Accessibility
While a standard passenger van offers limited seating arrangements, the passenger wagon can be ordered to support just about any need for group transportation. Most passenger vans and their respective manufacturers offer the ability to upfit your stock van into a functional busing or general transportation unit. An upfit with a bus-style doorway, in place of the front passenger side door and seat, provides a seamless pickup and drop-off experience passengers.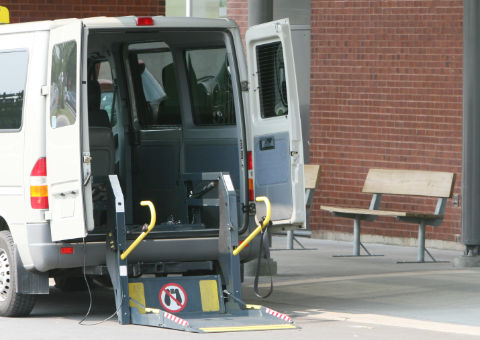 The passenger van also accepts upfits to support a variety of wheelchairs, gurneys, and motorized scooters for convenient transport. In cases where the transport of persons with disabilities is required, a steel hydraulic-powered lift can easily be installed on either the rear or side door. Lifts will vary in weight capacity and dimension, depending on the manufacturer, and it is important to identify both the wheelchair and passenger weight before installation.
Interior Features
The interior features of a passenger van will vary widely by manufacturer spec. There is a wide variety of trim packages and upgraded features available.
Standard passenger wagons come equipped with a series of simple USB charging ports, lane and cruise control assistance, standard carpet and cloth floor and seat coverings, as well as a baseline series of seating arrangements.
Trim packages on the higher end may include features such as a variety of front and rear camera configurations in order to further increase driver safety. Some upgraded trim packages offer advanced exterior vehicle-sensing for when you're reversing and signaling turns.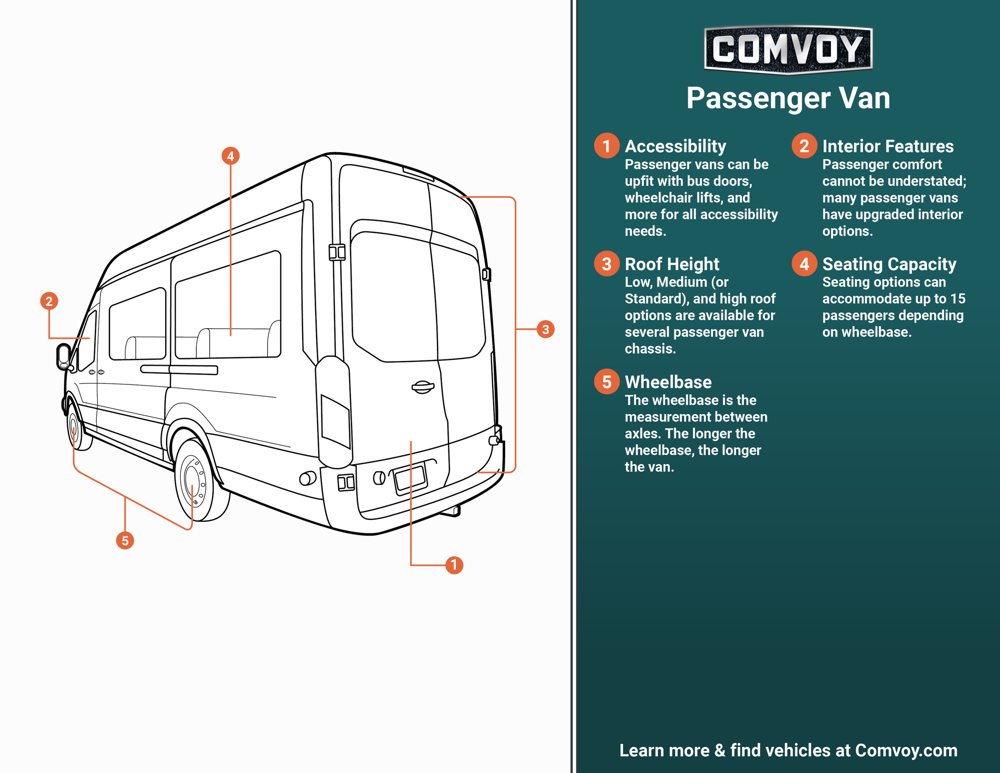 Click Here for More Information
Roof Height
 "Passenger Van" is a fairly general term when discussing the wide variety of vehicle roof height dimensions in today's market. When searching for the choice roof height for your operation, it is very important to note that, while the terms "low roof," "medium roof," "high roof", and "super-high roof" are general categories, they are not actually based on an industry standard. Therefore it is vital to review manufacturer specifications when shopping between OEMs.
As a general rule, the categories can be broken down into a few simple measurements. When discussing a low roof passenger van, the interior height from floor to ceiling will typically measure between 48" to 55". In medium roof passenger vans, interior height will range from 55" to 65", and in high roof configurations, the passenger van's interior height will measure in at around 65" or more.
Seating Capacity
As a rule, the passenger van's seating capacity will almost always coincide with the wheelbase length. Generally speaking, the longer the wheelbase, the more spacious the interior, due to the extended length of the vehicle itself.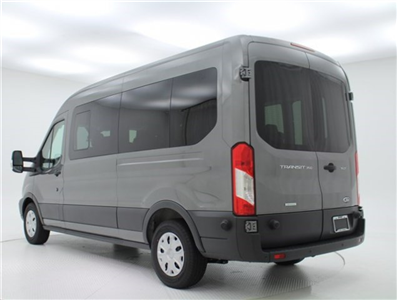 Ranging in capacity from five to fifteen passengers, the wheelbase is the main limiting factor when it comes to furnishing your passenger van with additional seats. Barring wheelbase, trim package level will also limit the seating configurations available within your passenger van of choice.
Wheelbase
Wheelbase, or the distance between both front and rear axles, is the main limit when it comes to seating capacity, and will greatly determine how the passenger van handles. Similar to roof height standards, wheelbase lengths and the terms used to describe them will vary in exact measurements from manufacturer to manufacturer. Typically, wheelbases are referred to in the following terms: short (regular or standard), long, and extra-long wheelbases.
As a rule, a shorter wheelbase will support fewer passengers within the passenger van. That said, the shorter distance between axles, and a reduced vehicle length overall, will make navigating tight turns and smaller spaces much easier.
The longer wheelbase requires more diligence in cornering and traffic awareness, the increased wheelbase length model supports greater seating capacity of ten to fifteen seats. The lengthier wheelbase can also provide a more comfortable ride due to the increased time between each axle rolling over obstacles such as potholes or speed bumps.
Published on: January 04, 2019
PREVIOUS ARTICLE
Service and Utility Truck: Convenience and Security in an Organized Package