A Mobile Auto Glass Repair Business has a Fleet of Pickup Trucks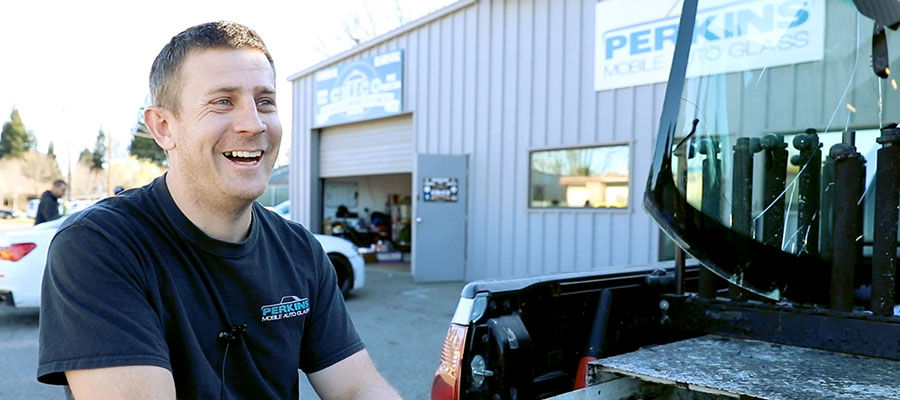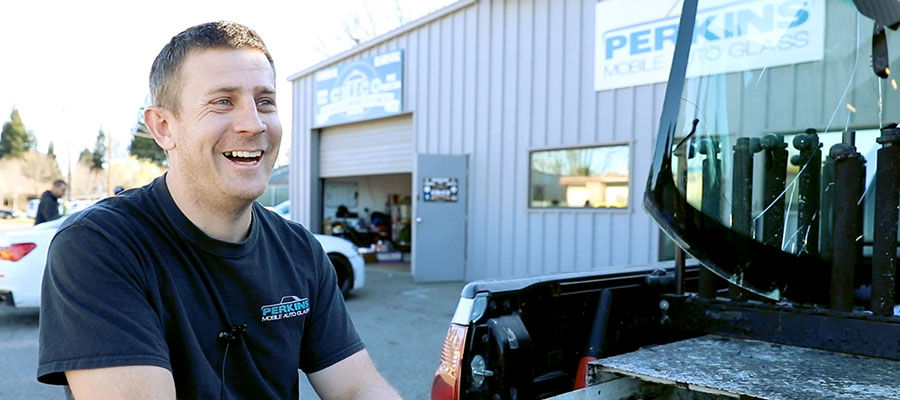 A Mobile Auto Glass Repair Business has a Fleet of Pickup Trucks
Share
LinkedIn
Facebook
Email
Copy Link
We spoke with Brad of Perkins Mobile Auto Glass about his pickup truck and the business' fleet, going into detail about storage, organization, and the benefits they receive from utilizing pickup trucks for glass repair.
His Toyota Tacoma work truck travels through snow and will carry what he needs.

Ease of access and avoiding chemical smells made the pickup truck their ideal choice of work truck.

Their trucks operate as storage inside and outside of the repair shop.

Utilized a DECKED tool box, secured in the bed, with the glass rack on top.
Q: How do you like your Toyota pickup?
A: This is a 2006 Toyota Tacoma and this is the 4-door crew cab, long-bed model. It is a four-wheel drive. It has a 4-liter V6 with automatic transmission. It's a fantastic truck. I absolutely love it. It's the perfect size. It's not too big where you feel like you're getting in the way where it's kind of hard to drive, and it's not too small where you can't carry anything. It's a good-sized truck, mid-sized and can tow a couple of trailers. I'm totally happy with it.
Sometimes we take this vehicle up into the snow and we will use the four-wheel-drive on it, and not all the time, but occasionally. We do have some vehicles that we do windshields on… and, yes, off-road in the snow all over.
Q: What do you particularly like about this truck?
A: We decided to go with the crew cab because of the room inside. When we take this out on jobs, there are a lot of extra tools that we bring. This is our mobile unit here essentially, so we like to have a ton of room in there for storage. The crew cab, sometimes if we go out on a big job, we'll actually put a couple of guys inside the truck, so it makes it convenient.
We had had a bunch of other trucks. We had full-sized and smaller vehicles, and we were looking for something to float right in the middle. I hopped online, looked online, purchase the vehicle, shopped around locally and ended up coming with a conclusion. I bought it in Southern California and ended up driving it up here.
Q: What do you have back here in the bed of the pickup?
A: Right here is our main toolbox. It does slide out and features a whole bunch of different storage inside the box here. This is where we keep our tools, chemicals, rags… you name it. This is the heart of the truck right here.
On top, we keep a glass rack here. The reason for having it on top is sometimes the windows are really big and so it'll hang out the back of the truck sometimes a little bit. It's very accessible getting the windows in and out through here.
Q: Why did you choose a pickup truck instead of a van?
A: We chose the truck over the van because of the ease of getting in and out of the vehicle. Sometimes the van, when it's enclosed, you have a lot of the smell of the chemicals inside.
To access the window, if it is too tall, you got to move around in different spots. The majority of the time when you're doing the windshield mobile, it is fair weather. You're not doing it inside of a shop, so it's nice to get in and out of the vehicle with these.
Q: How do you store tools for mobile auto glass repair?
A: Instead of having a toolbox inside of the shop or a center that we use — essentially it's standard toolbox inside — we use our pickup trucks as our toolbox inside the shop. Everything is here. We have the whole entire setup. This is a little mini shop. We know where everything is, and once you get used to the repetition of using it, it's really easy. Instead of having stations, we use our vehicles here at our shop.
Q: How do you like your Nissan pickup truck?
A: This vehicle is a 2016-17 Nissan Frontier. It's an extra cab and 2-wheel drive. It has the… I don't know exactly what it is, but it's a four-cylinder automatic. This truck, to be 100% honest, is the smallest of our fleet. It's a little under-powered for what we do, but it is nice in the city getting into tight spots--absolutely.
Q: What's in the back of the pickup truck here?
We went with the DECKED unit for the toolbox. It takes up 100% of the whole entire space in the bed. It comes with really nice, big, old rollers down here. I think you can put about 200 or 300 pounds on these. There are two individual boxes that slide in and out.
On this system, we actually went with a raised rack up top where we can slide stuff underneath — like back glasses and other tools that we have down there — and then we went with an external toolbox for the outside over here. We decided to mount it on the side of the pickup. It's very nice and easily accessible right here — I don't have to dig down low to get in — and then also we want to keep the tools confined. We decided to hard mount it. We bolted it down to the bed here and it makes for a great toolbox on the side.
We'll have the employees--when they're out and about out in the field--go to lunch. It's nice. They can lock everything up, put it inside the truck, go eat some lunch, come back out and everything is still there.
Q: How do you like the cab size of this pickup?
Inside the cab, as you could tell, it's not humongous. It's not a crew cab, but it is better than a standard cab. We have towels for cleaning. We have extra moldings inside. We have boots for certain jobs that have OSHA requirements. When we're out there, we have to have certain safety gear inside. Also inside when it's raining, we carry moldings back here. You name it. All sorts of stuff.
Published on: August 16, 2019
NEXT ARTICLE
Utility Vans – The Hammer or the One Who Swings It?