Invest In Your Landscaping Business With a Dump Truck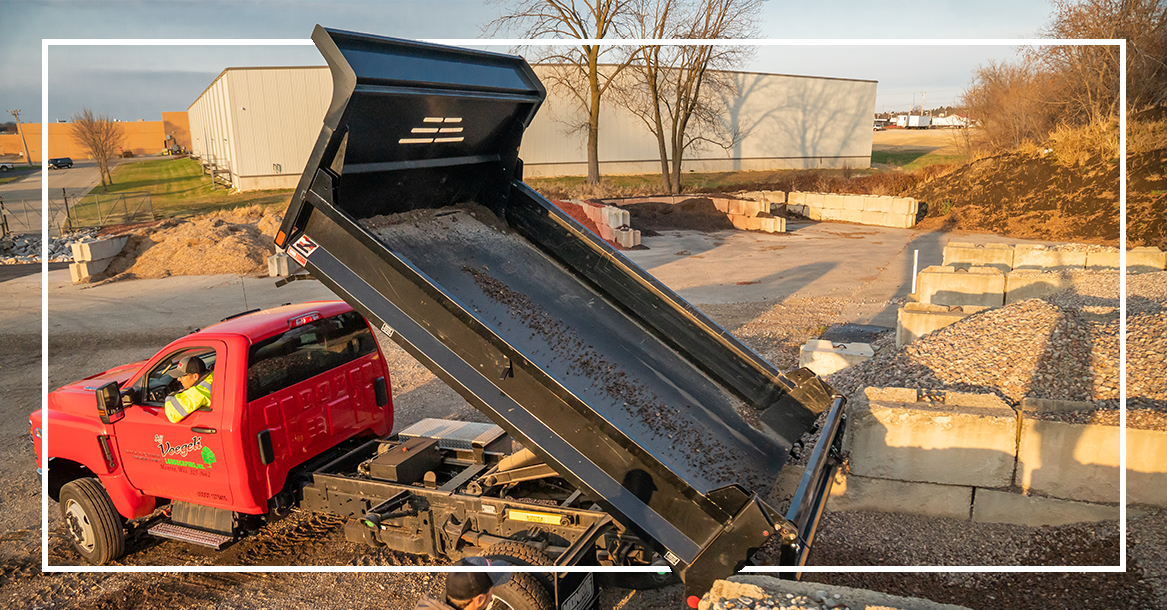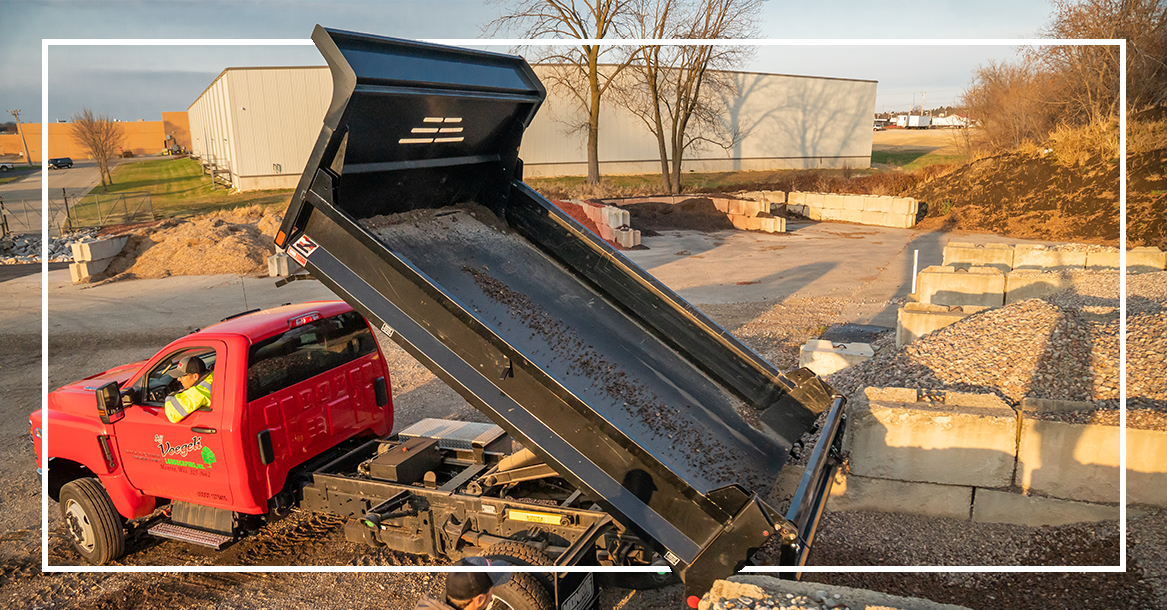 Invest In Your Landscaping Business With a Dump Truck
Share
LinkedIn
Facebook
Email
Copy Link
How can investing in a dump truck benefit your landscaping business? Dump trucks can make your job easier, safer and more efficient. The increased payload and easy functionality means you can take bigger jobs and a bigger variety of projects.  However, you need a truck that you can count on to get the job done right. Monroe's D-Series dump bodies are designed to streamline loading and unloading heavy materials while being easy and safe to use. Maximize profitability and productivity while hauling with confidence. Read on to find out if a dump truck is right for you.
Why Invest In A Dump Truck
Increased Function 
Adding a dump truck to your landscaping fleet will open a world of possibilities for your business. Not only can you take on larger and more varied projects, you can save on labor and transport more material in less time. Additionally, when you're not actively hauling or dumping material, the truck can be used to store and transport equipment, tools or any other items needed on the worksite.
Safe and Easy Usage
Easy-to-use hydraulic lift mechanisms decrease the possibility of your team member's fatigue or injury compared to manually moving material. Dump bodies allow safe and reliable hauling of all types of materials. Worrying about your load spilling into the roadway is virtually eliminated, and the bed makes it easy to dump materials where they need to go.
Off-Season Usage 
Landscapers who live in cold climates may provide snow and ice management services during the off season. Dump bodies can be used in commercial spaces during snow season. They can be used to haul snow piles away from buildings or parking lots, and can also be used in conjunction with a spreader, dispersing salt, sand and other de-icing or anti-icing materials.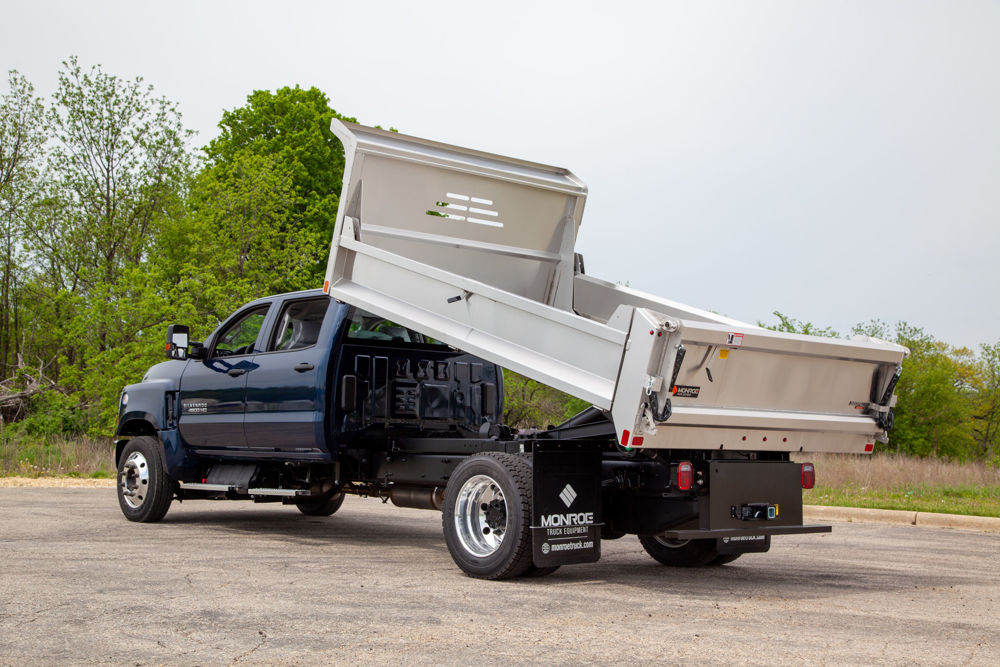 Dump Truck Considerations
So, you're ready to invest in a dump truck. Here are a few topics to discuss with your dealer to make sure you're making the best purchase for your business.
Rigid or Fold Down Sides 
Rigid or fold down sides is largely a choice of preference. Fold down sides offer a convenient alternative when retrieving materials or tools.
Crossmembers - Yes or No
Crossmembers can add strength and durability to your dump truck, but the extra material reduces maximum payload capacity. There are dump bodies that do not have any crossmembers at all, but if you choose an option that offers crossmembers, talking with your dealer may help you decide if the space or the strength is a higher priority for your business. 
Material
Choosing the material for your dump body may be the biggest decision in the process. Material can affect weight capacity, cost, fuel efficiency, durability and more. 
Stainless Steel
Stainless steel is one of the most common materials used to build truck bodies for many reasons. Stainless steel has a lot of important benefits for contractors who rely on the longevity of their investment. Stainless steel is corrosion, heat and stain resistant. Stainless steel truck beds are a highly durable product that can withstand high impact work for years and years. It's also an incredibly earth-friendly material -- stainless steel can be continually recycled into the same product with no reduction in quality. The metal's high scrap value and recyclability ensures that it is diverted from landfills and recaptured for use in new stainless steel.
Carbon Steel 
Carbon Steel is a type of steel that is composed of a higher percentage of carbon, up to 2.5, as opposed to other types of steel that have generally ranged between .05 and 0.3% carbon content. The higher percentage of carbon creates a different product with its own distinct advantages. Carbon steel is incredibly strong and shock resistant, which comes in handy when loading your truck bed with heavy material, as well as making it more resilient on rocky terrain. Much like stainless steel, carbon steel can be continually recycled without losing its strength or durability.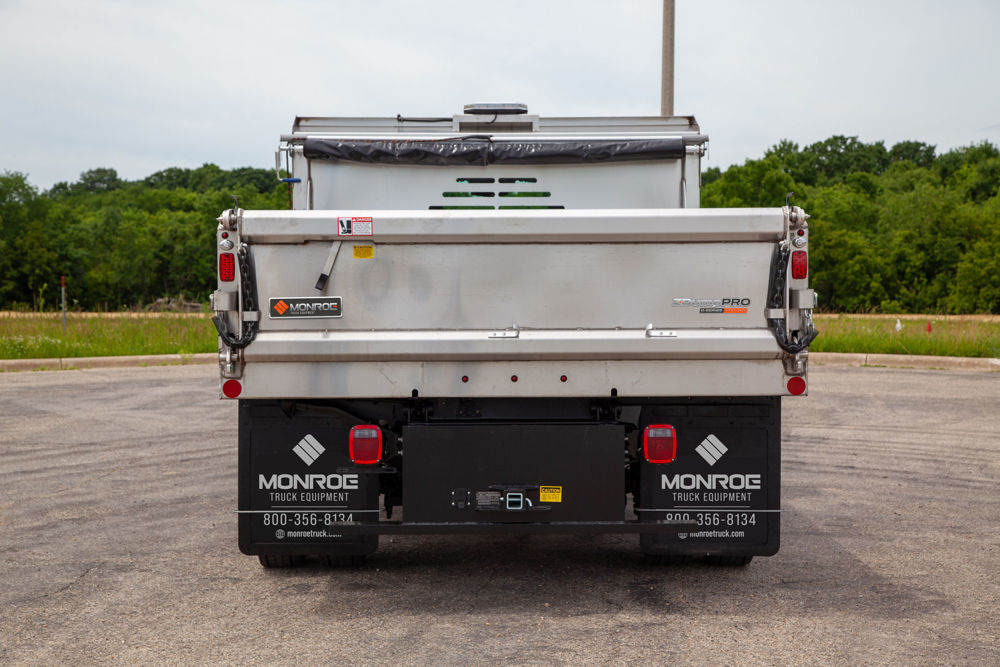 Upfitting and Accessory Options
Once you choose the basics of your dump truck, you can talk with your dealer to discuss upfitting and accessory options that can add versatility and ease right into your truck.
Tarps 
No matter what you're hauling and dumping, investing in a tarp will keep you, your materials and other drivers safe during transport. Tarps cover the entirety of your truck bed, keeping small materials like gravel, dirt and mulch in place. Additionally, if you know what kind of material you'll be hauling and dumping regularly, you can purchase a tarp with higher fiber density or a poly coating that further protects your material from the elements. 
Coal Chute
Coal chutes are great to have when you can't drive up to the area you're dumping material on, or if you need to put the material in a different container. For example, a coal chute will help you dump soil easily and directly into a wheelbarrow. This reduces the amount of labor needed to transport materials on site and also reduces or even eliminates the chance of material spillover.
Lean On The Experts
Armed with more information about your choice ahead, now is the time to sit down with your trusted dealer and talk through the specific options that will help you and your truck stay safe for many years to come. To find a Monroe Truck Equipment dealer, visit www.commercial.monroetruck.com
Disclaimer: This article is paid content written by Jim Smith for Monroe Truck Equipment and affiliates. The opinions may not be that of Comvoy.com.
Jim Smith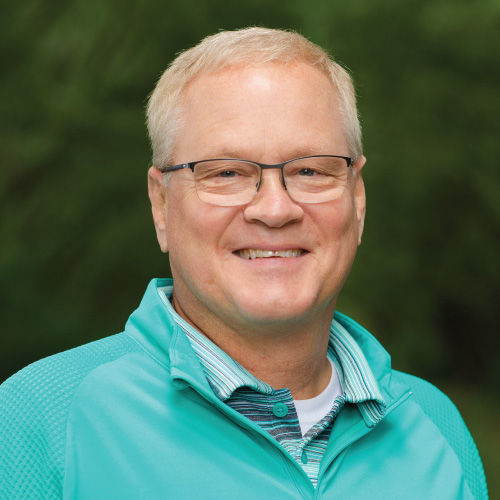 Jim Smith is Director of Sales of the Commercial Division at Monroe Truck Equipment. He has spent over 30 years developing Monroe Truck Equipment into one of the nation's leading truck equipment and trailer manufacturers and upfitters. Jim drives the development of true partnerships with Monroe customers, and provides clarity for the sales team and assists them in providing unrivaled expertise and best-in-class customer support.
Published on: December 08, 2022