Important Accessories for an Electrical Contractor's Vehicle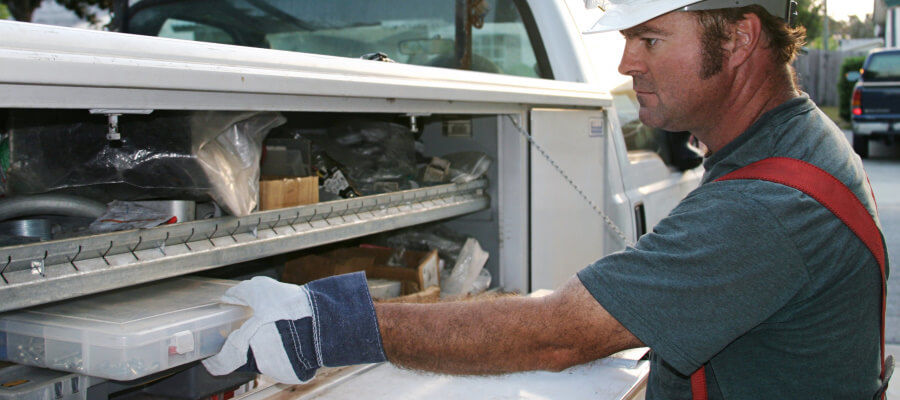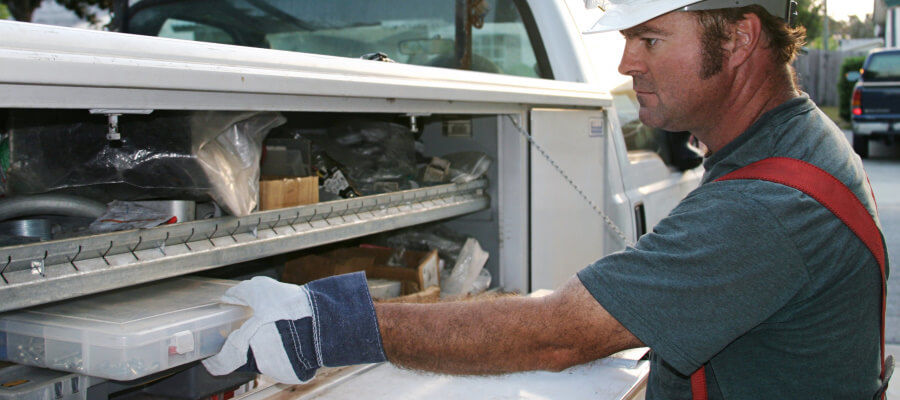 Important Accessories for an Electrical Contractor's Vehicle
Share
LinkedIn
Facebook
Email
Copy Link
Arc-flashes, surges, ground faults.... electricians are some of the most technical tradesmen in the construction industry for good reason. It is important to set a work van up to be as safe and efficient as possible. Here are a few accessories for inspiration.
Make life and work easier with organization for tools and small parts with shelving, bins, and drawers.

Keep both your vehicle and its compartments secure with powered locks.

Ladder racks can also provide conduit storage.

Prevent falls and maintain a quieter drive with rubber floor mats.
Shelves and Drawers: Make Tools Easy to Find
How many times have you been hunched over in your work van searching for that off-white nylon outlet cover because the end-user flipped from antique white? Speaking of time, how much of your day do you spend looking for odds and ends? The efficiency gained from having all of your items organized with shelving units saves time, and... time is money.
Knapheide is a leading company in the utility vehicle industry. Their mission revolves around the idea that your work vehicle serves as both transportation and methodical storage in one unit. For example, their Knapheide Utility Vehicle (KUV) bodies offer storage for just about everything an electrician may need to haul. Conduit, 50 lb. rolls of various wire gauges, and bulky panels can all fit right into the KUV's cargo bay and storage compartments.
Knapheide's utility bodies come standardized with two interior shelving units that are easily customizable with appropriate bins. Not only does it make work easier to know where everything is, but it also makes managing inventory far easier by taking out the guesswork. When everything is laid out and organized, resupplying is quick.
Storage Bins and Shelves: Organizing Small parts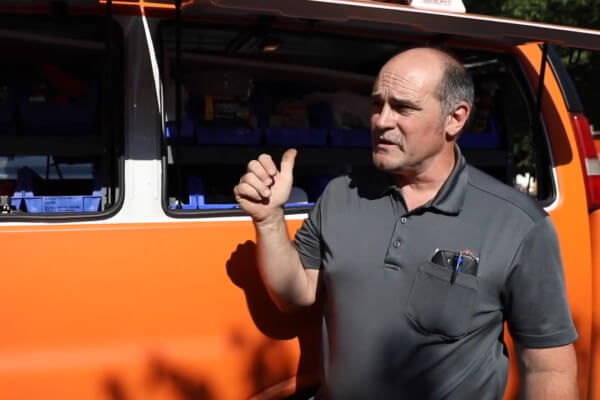 Besides shelving and drawer units, maintaining an interchangeable bin and module storage system makes working life even easier. Many shelving units that come with work vehicles can be customized in many configurations.
Another great aspect of an organized shelving system is the ability to prioritize common-use items and reposition them to accessible areas. Taking time to move the larger tools and materials toward the access doors will save crawling into the depths of the van. Interchangeable bins simplify the entire organization process.
Locking it All Down
Gary Chamberlain, the Operations Manager of Cote Electric, explained the security policies for his company's fleet of electrical vehicles. Gary stated: "If our guys aren't within line-of-sight with the van, it needs to be locked. We also define security as making sure our guys are safe during transport and on the job site." Cote uses security window screens to prevent materials from theft. Setting up security policies shows not only demonstrates consideration for a crew's safety, but also for the expensive (and often personally-purchased) tools they use.
For heightened security, Knapheide offers a unique multi-layered power locking system. This can add even more protection to door and tool compartment locks. This locking system is bolstered with a single control locking mechanism, combining compartment and vehicle door locks.
Ladder Racks: Your Truck's Roof (and your Back) Will Thank You
Cote Electric is committed to using an external roof rack system on their fleet vehicles. These can carry a variety of long objects--from ladders to conduit storage. This typically includes room for a 24-foot extension ladder, as well as 8, 10, and 12-foot ladders. Gary's team at Cote Electric take advantage of the fact that the racks not only have room for several ladders, but can also carry lengths of conduit. Taking time to consider how your various van accessories can perform in different ways is a great method to boost efficiency. Racks like these from Prime Design can be installed at the point of purchasing a vehicle.
Rubber Vehicle Flooring
Gone are the days of the slippery-when-wet (or dry) aluminum and steel flooring. The new and improved design standard is rubber. Aside from the clear benefit of standing on something with grip and slip resistance, rubber floor mats also act as insulators and offer a quieter ride. Widely available with upfit servicers, rubber flooring mats will make your vehicle readily accessible and comfortable to ride in. A commercial truck dealer can help configure the vehicle with the flooring. There are also mats and flooring options for DIY'ers.
Gary from Cote Electric stated: "When we purchase vans, they always come with a composite rubber material. This material is great because it ensures that our electricians aren't slipping when looking for materials and it helps keep materials in place while driving." Gary, like many other electricians, are keenly aware: it is important to set a work van up to be as safe and efficient as possible.
Published on: September 10, 2019
NEXT ARTICLE
5 Features Telecom Contractors Need When Choosing a Work Vehicle