How to Customize the Best Van for Locksmiths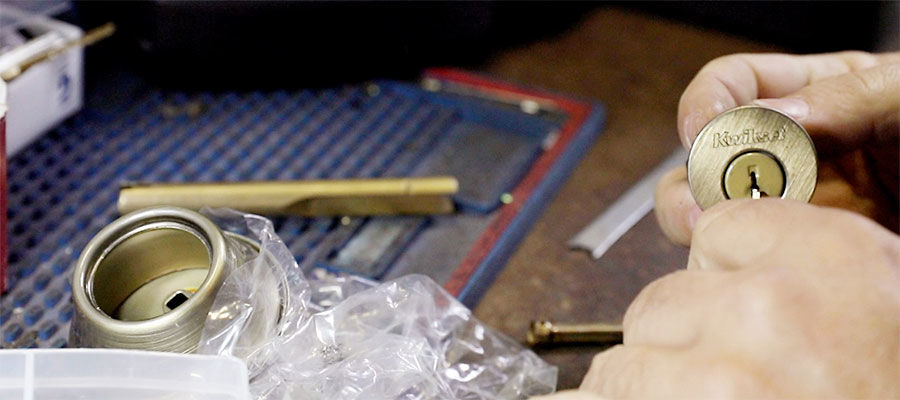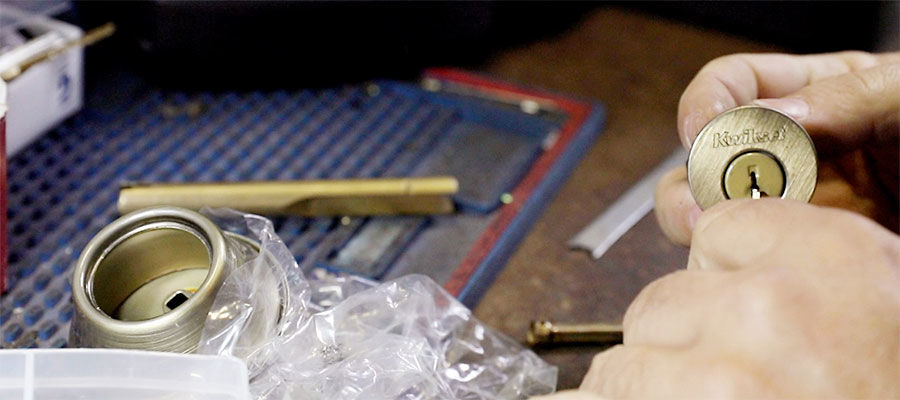 How to Customize the Best Van for Locksmiths
Share
LinkedIn
Facebook
Email
Copy Link
As a locksmith, your van is your portable work station and it's crucial to running a successful business. The better the van fits your needs, the better you can work. Making sure you get the right van can be difficult when there are so many variables to consider — not just in the vehicle, but the interior packages as well. Things like internal space for more of your hardware, a comfortable workspace, shelving for all of your stock, and enough cabinets and drawers to stay organized can make a huge difference in making each job more efficient.
Work on a realistic budget, but trying to save money can possibly be a cost later on.

Keep in mind your height and volume of business when deciding the size of your van.

Consider upfit packages for what supplies and equipment you'll use.

A partition and insulation will significantly improve the van during times of harsh weather and/or noise.
Balancing Vehicle Budget and Needs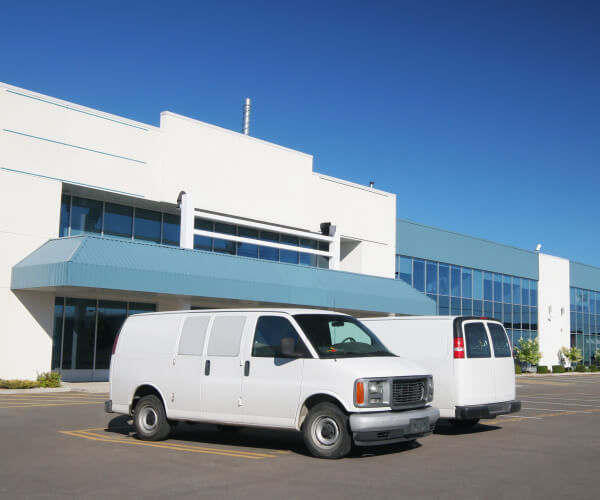 If you're a brand-new locksmith with limited funds, you may be tempted to start out with just a pickup with a camper shell. We've seen some locksmiths operate out of SUVs, like a Honda Element, but with the limited storage, working space, and professional appeal, you'd be better off getting something bigger if you can.
Trying to save money can be a double-edged sword—you may spend less upfront, but without the right tools and space to work quickly and efficiently, it could cost you in the long run.
"When you're first starting out, of course, you're on a budget so you've gotta do what's right for you to fit things in," Michael Meyers, a locksmith explained, "but you also have to think about longevity."
In the beginning, Meyers says he tried to save money by making his own wooden shelving instead of buying something pre-made. The short version of the story is: it didn't work out. "If I had started out with some good shelving, in the beginning, I wouldn't have had to tear out all that wood and start over." Investing enough to get the features you need to get your job done comfortably and reliably could save you a lot of money and hassle in the future.
Picking the Right Size Van
Roof height and volume are the first things to consider when shopping for a van. If you're 6'2" tall, chances are you're going to need a medium- or high-roof van. You don't want to spend hours stooped over searching for tools and wreck your back. Locksmiths with limited specialties can easily store their tools and equipment in a smaller van. The Ford Transit Connect has been extremely popular for many businesses. (Ford has sold more than 7 million vans since 1979, so they know a thing or two.)
If you run a high-volume business and offer many services, you may need something much larger, like a full cutaway van to store all the hardware and stock you need. Accounting for your own size and the needs of your customers will help you get a mobile locksmith workshop that allows you to work safely, comfortably, and efficiently.
Truck and Van Upfit Packages for Locksmiths
When picking a package, be sure to think about your specialties. Automotive? Residential? Commercial? Safes and lockboxes? Your van will need to have the right shelving, drawers, and equipment to store your tools securely while you're driving. Depending on how many service calls you do in a week and your specialties, clumsy storage is not only inefficient but could lead to problems. Tools can get lost or broken, your van could get damaged, you could waste a lot of time looking for the right stock, or you could get hurt.
Using manufactured upfit bin packages from companies like Adrian Steel or Kargo Master can help. Many of the Medium and High-Roof packages from Adrian Steel, for example, provide top and bottom cabinets with drawers and shelves. You can get a workbench with a key machine base, sloped at 25 degrees for easy key-cutting. This makes work a lot more convenient and comfortable.
Every locksmith will need their own package layout. Spend time researching what is available, and what will fit your needs. Not all bin packages are created equal. Inexpensive, flimsy metal may be fine for small tools and paperwork, but you'll want to invest in sturdy products for storing heavier parts and equipment.
Flooring for Locksmith Vans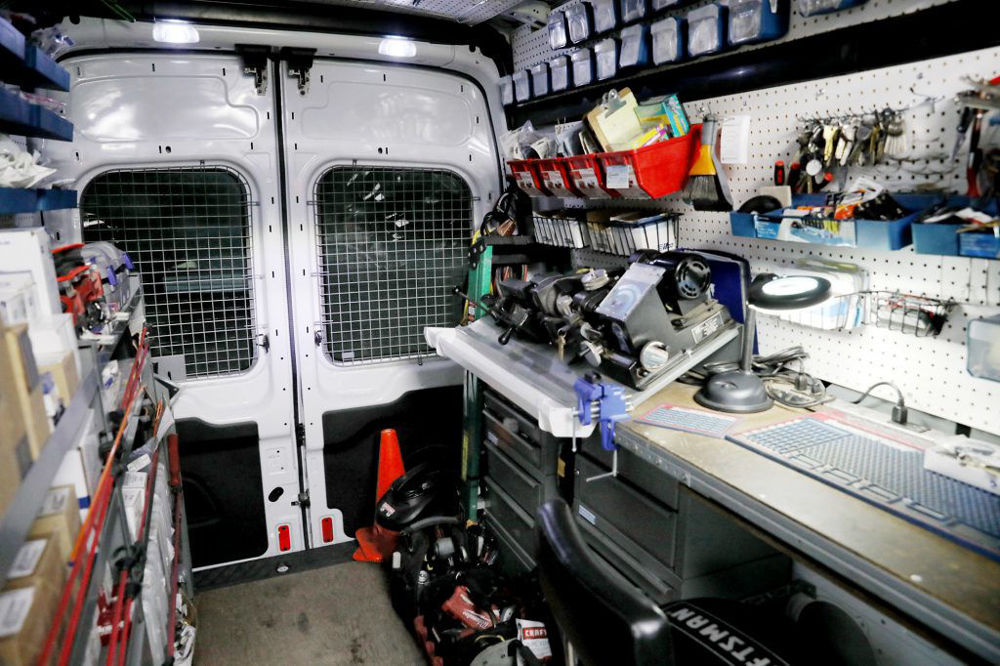 At some point, you'll likely have to get on your hands and knees to get something out of your van. Whether the van floor is corrugated or flat, most likely it's made of hardened steel and really uncomfortable. Either before or after installing your bin package, it's a good idea to add some padding. Your knees will thank you later.
You could try to fix the problem yourself with a simple, low-cost plywood covering. You can cut out pieces, or make a full cut-out around the footprint of your upfit package. Carpet padding could add even more comfort. Padding comes in lots of different materials and thicknesses and can be easily glued to your plywood.
Better still, Masterack and Kargo Master offer heavy-duty rubber cargo floor mats for specific van sizes. These are easier to install since you don't have to bolt down anything. Eventually, carpet and padding will get compressed, wear down, be damaged, or stained. Custom cargo floor mats can be waterproof, anti-skid, easy on the knees, and resistant to corrosive or hazardous spills of gas, oil, and chemicals.
Van Temperature and Lighting
Cold hands on ice-cold metal aren't fun, and sweating away in the back of a hot van isn't much better. Unless you live in a perfect climate, you're probably going to need a heater, a fan, or both. An AC power converter provides a quick fix to install fans and heaters in your portable workshop and you can buy these relatively inexpensively at any local hardware store, such as these found online at Lowe's. With a little know-how, they are simple enough to install, and a must-have for any mobile locksmith. It's a good idea to look into packages that separate the cab of the van from the rest of the body so you can run your AC and heat without having to cool or heat the entire van on longer trips.
With an AC power converter running your fans and heaters, it's also a good idea to install some additional lighting. LEDs are the best options for light color and energy consumption. The wide selection of colors and arrangements, like LED domes, strips, and bulbs, give you a lot of space to customize your workspace and cabinets. With proper light placement, you can keep your own shadow from getting in the way while you're looking for tools or filling out paperwork.
Noise Reduction for Vans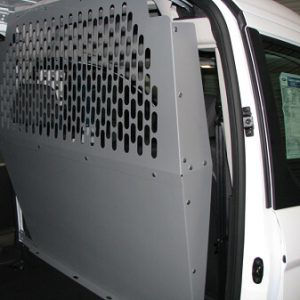 If you're buying your first van, you might not have considered this: a long metal van is a mobile echo chamber. All the tools and stock moving around in the back as you drive can be a headache to listen to.
You could do what others have done and line the van walls with insulation and plywood. There are many types of insulating material, like expanding foam or packing peanuts. A simple touch like this will help muffle the sound of equipment jostling around in your bins and cabinets. Plus, the material will help insulate the van from outside cold and heat.
Van package manufacturers like Sortimo and Kargo Master also provide partitions to separate the cab from the back of your van for a more comfortable and quieter ride.
Researching to Purchase a Van
The most important thing to remember is this: your van will be your mobile workspace for about 10,000 hours or five years, and it's not cheap to replace. Be prepared to invest your time and money to get exactly what you need.
Your van is a tool, just like your key duplicator or picks. The more you consider your necessities and customize your van to your specific business, the more efficient, enjoyable and profitable your next five years will be.
Published on: August 16, 2019
NEXT ARTICLE
Utility Vans – The Hammer or the One Who Swings It?