Hauler Trucks: Trailer Towing Made Simple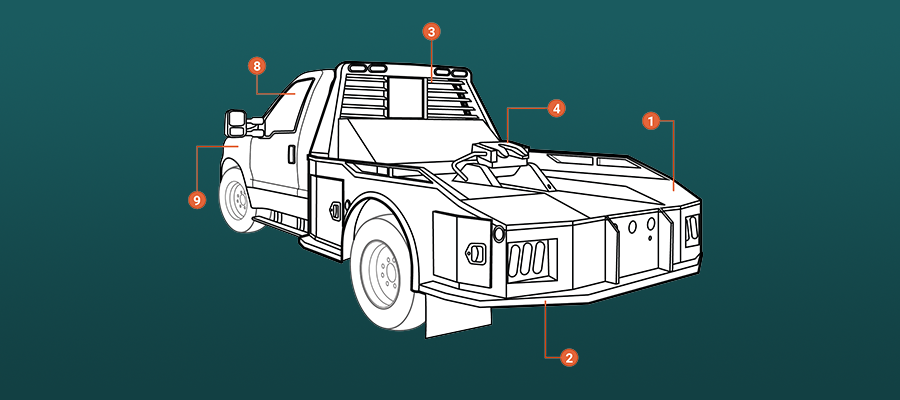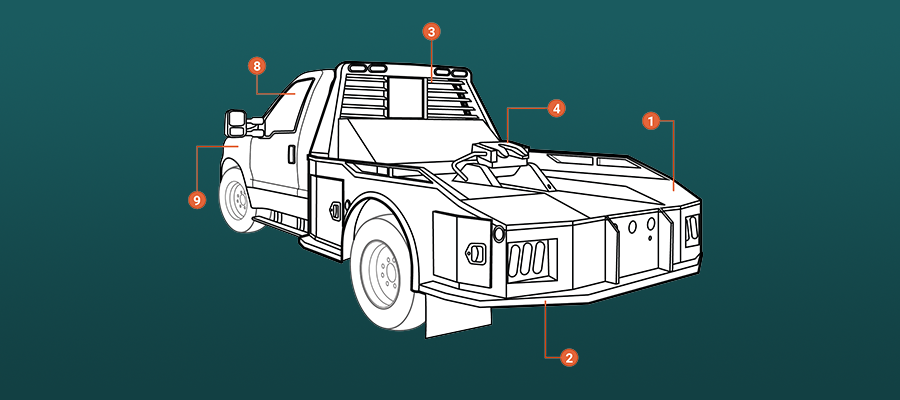 Hauler Trucks: Trailer Towing Made Simple
Share
LinkedIn
Facebook
Email
Copy Link
The hauler truck supports industries of all kinds with its immense towing capabilities. Gooseneck, fifth-wheel, weight distributing, the hauler truck exceeds expectations in vehicle towing operations, heavy equipment transportation, construction, and any vocation that requires heavy towing at any time. Towing capabilities only scratch the surface of the hauler truck's utility.
Material
A steel hauler body provides a durable option for any mobile welder. Although it is dense and durable, steel does weigh more than aluminum and will reduce your overall payload capacity. Steel also tends to have a lower level of corrosion-resistance, unless coated, and requires vigilance to ensure that your body and its panels don't rust out.              
Aluminum's corrosion-resistant and lightweight properties offer a low-maintenance and weatherproof option. Aluminum alloys tend to show their strength in situations where increased payload capacities and fuel-efficiency are a focus.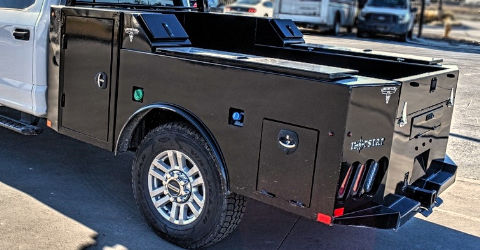 Rear Skirt 
The hauler truck provides maneuverability with a low-profile, turn-friendly design. The hauler truck features angled rear corners, allowing you to take tight turns and corners without risking vehicle damage from a fifth-wheel or gooseneck trailer. Each rear side of the hauler truck body features a 45-degree angle cutoff, allowing your team to make tighter turns than a standard pickup body would be able to.
Headache Rack
Positioned behind and covering the rear-windshield, the headache rack provides a first-line defense against any material or trailer hitch from causing further damage to your crew and the cab the body sits on.
The headache rack helps prevent injury, but it also provides greater visibility in tandem with threat protection in its steel meshed construction. Headache racks provide further safety to your crew with additional LED lighting that lines into your vehicle's electrical and signaling system. Tail, braking, and reverse signaling light visibility is doubled, making your indicators twice as clear to other drivers.
Hitch Type
The hauler body trucks welcome any trailer equipped to connect to a rear-mounted receiver hitch. These hitches are mounted into the chassis of the hauler truck and provide a quick connection point to a variety of hitch accessories.        
The hauler truck is configured to handle more strenuous towing applications with the addition of a gooseneck or a fifth-wheel hitch. These hitches are typically used for longer trailers with a gooseneck mount or recreational vehicles, respectively.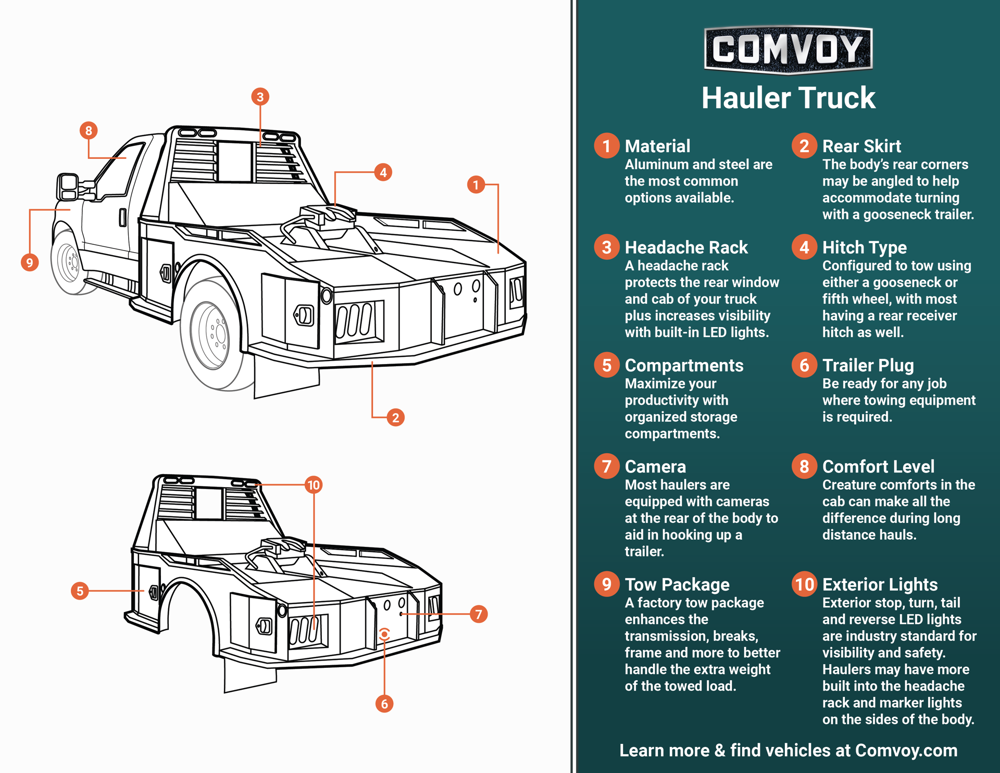 Click Here for More Information
Compartments
Along either side of the hauler truck, you'll find convenient, protective storage compartments fit for a variety of tools and materials. These compartments feature D-ring style locking systems further protected with automotive-grade weather stripping to prevent weather damage and theft against your tools and equipment.
Hauler body truck compartments typically measure in around 14-20" in-depth, with a variety of lengths and widths to securely contain any valuables that won't fit within the cab.
Trailer Plug
Trailer plugs vary in their specific functions, but they commonly hold trailer brake controls as a high point. The trailer brake control function of a trailer plug syncs the braking operation of the truck with the braking of the trailer, ensuring that excess tension from the two opposing forces is handled appropriately. In addition to braking, the trailer plug also enables your operators to line your trailer's indicator lighting directly into your hauler truck's electrical system. This quick connection ensures that all braking, turning, reverse, tail, and caution lighting sync between the truck and trailer.
Camera
The backup camera provides a clear view of the trailer behind your vehicle and transmits the image to the comfort of your cab. This system allows your operators to maintain clear sights on the desired trailer, making for an effective and efficient connection between your hauler body truck and the trailer.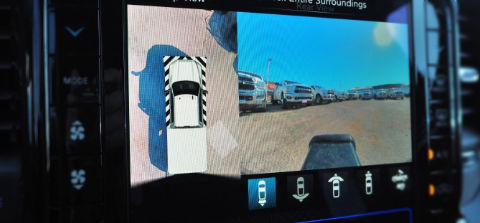 Comfort Level
The hauler body features a wide variety of manufacturer-specific trim packages to boost comfort and amplify productivity.
Some of these features include improved upholstery and seat size, power banks for electronic devices, and customized center consoles to transform your hauler truck from a standard towing vehicle to the pinnacle of professional towing. 
Tow Package
A factory towing package can put your hauler truck at the top of the class concerning towing capacity. The specific improvements of each towing package will depend on the original manufacturer, but they include spruced-up features pertinent to towing. 
Factory tow packages often include an enhanced engine and transmission to handle a heavier towing weight. This upgrade allows your crew to tow heavier equipment without encroaching upon or exceeding the manufacturer's set GCWR. These upgrades are provided alongside the installation of a thicker, more robust frame within the truck itself. When these upgrades are implemented, manufacturers also upgrade the truck's brakes to ensure you and your team can stop confidently without getting an accidental "close-up" view of the towed trailer and all of its contents.
Exterior Lights
The hauler truck enhances safety with a series of LED stop, turn, tail, and reverse indicator lights positioned on the sides and rear of the truck body. 
The hauler truck also features braking and reverse LED indicator lighting on the top and both sides of the headache rack, ensuring that your hauler body truck's presence is always known. Add caution-yellow marker lights to all sides and the hauler truck becomes one of the safest commercial vehicles on the market.
Published on: January 04, 2019