Grocery Store Relies on an Isuzu Reefer Truck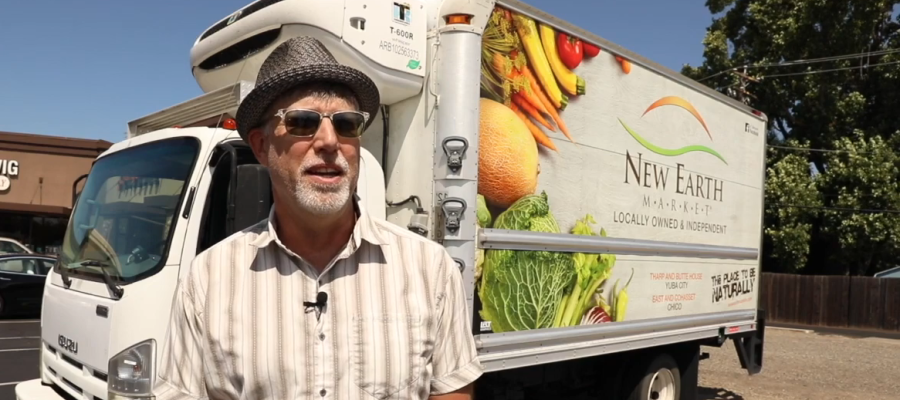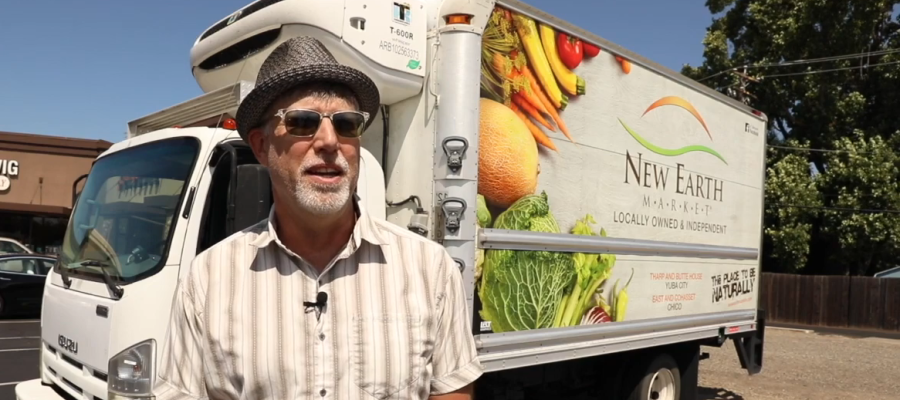 Grocery Store Relies on an Isuzu Reefer Truck
Share
LinkedIn
Facebook
Email
Copy Link
We interview Kevin from New Earth Market talks about the benefits of the business's Isuzu diesel work truck when it comes to their grocery outlet for transporting goods and can act as an extended refrigerator for the store.
The Isuzu NQR is fit with a diesel engine and does not require a Class A license.

A DEF tank helps with California emission standards.

Refrigeration is controlled digitally in the cab and can also be plugged into building power.

An installed lift-gate helps with loading and unloading from a ground-level dock.

Custom-made racks and wall E-track strap assure secure and efficient deliveries.
Q: What's the make of this refrigerated truck?
A: Our truck is a 2011 Isuzu NQR diesel truck. It's a four-cylinder diesel. It's a small enough chassis so that anyone with a Class C license can drive it which is really great for our market. We have certain people that are trained on the truck, but we don't have to have a class A or a special airbrake or any endorsements for the vehicle. It makes it really adaptable for what our use is on a daily basis.
Q: What type of fuel does this truck use?
A: It is a diesel. It's got lots of torque, but not too much because we're on the flats so it works perfectly for what we're doing going up and down the valley. We really don't have a need to go into the mountains with it, so it does what we need it to do. It does have a diesel particle filter on it, so it meets the California emission standards. We also have a DEF (Diesel Exhaust Fluid) tank on the side that is essentially burning all the soot off so it keeps the air cleaner. It's a very efficient diesel engine. It's very quiet; easy to drive. It's a fun little unit to be up and down the road on.
Q: How does the refrigeration unit work?
A: This is a working truck, we use it almost every day. There is a control unit in the cab for the refrigeration up on top. It's all digitally controlled. It has a separate motor from the engine that drives the truck. It does draw fuel from the main tank that the truck uses. They do share the same battery.
This cab does tilt forward for maintenance, it's really easy to work on that way. If you need to work on the refrigeration unit up top, there is a bracket for folks to stand on so it doesn't damage the cab of the truck. There are also little metal steps on the corner of the truck box so people can climb up and down. It's not as easy as it looks. There is a plug if you want to plug in using building power instead of running the unit. We can plug in next to a building and use that power instead of running this engine if we need extra refrigeration.
Q: Is there anything you would change about the truck?
A: It would be nice if it had a bigger fuel tank. We're fueling this thing up almost every trip we do. I think it has a 20-gallon tank on it. It can handle a bigger tank. I think when they originally built it, it was designed to make really short deliveries and we're using it for about 100-mile round trips from where we're going--back and forth between our markets. So I would love to have a bigger fuel tank on it, but aside from that, it's great.
Q: How you load and unload your truck?
A: Our markets don't have a sunken dock like you see in a lot of bigger stores, so our dock deliveries are just a roll-up door on level ground. So, we had to get a truck that had a lift gate on it so it would accommodate loading and unloading products without people injuring themselves lifting things in and out. Plus the racks we have are way too big to lift anyway.
Q: What are the racks in the truck used for?
A: We had custom-made racks that we haul food in. They work really well for our use. They have wheels on them so we roll them out of the truck. It's a two-person job. One person holds it on top and it goes down on the liftgate then it rolls off. Sometimes we can have as many as 12 racks in the back of the truck. We transport a lot of box products that we get deals on between the two markets. One store might get a deal from a local vendor that's not in the town where we're located and we'll just slap it on the truck and move it back and forth. It's a really efficient way to do business.
Q: What features help you transport food safely?
A: The E-track straps on the wall are great, they're very sturdy. We did have an occasion once where someone didn't tie down the load and we got racks all over the place, so that was a live-and-learn experience. We won't do that again. So now we have two straps, to make sure that's getting done. This truck is a little stiff, the suspension on it's a little rough, but back here the food seems to do pretty well and this thing will get down below freezing if we need it to be. But oftentimes we run the refrigeration unit around between 34 to 36 degrees. Even on 100-degree day this thing will drop right down to 34 degrees, and it's great. It does the trick for us. So, yeah it's pretty cool.
Published on: September 03, 2019
PREVIOUS ARTICLE
A Pest Control Business Owner Carefully Chooses his Fleet Vehicles
NEXT ARTICLE
Discover a Farm Pickup Truck that is Good for Hauling