A Fleet of Ram Trucks Power this Water Well Drilling Business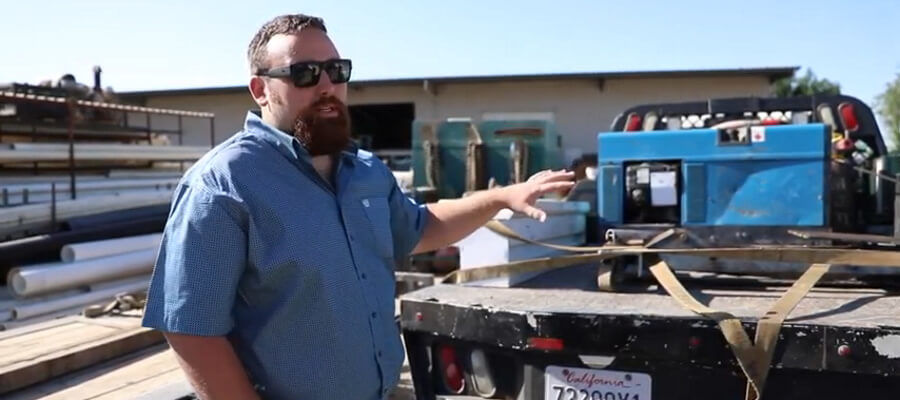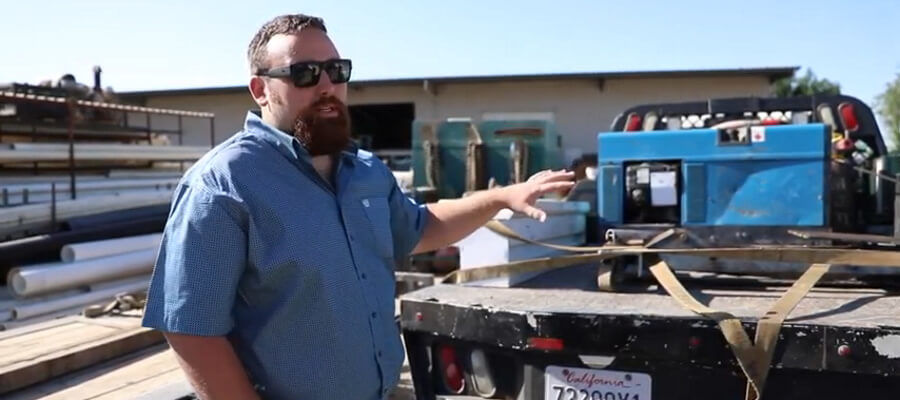 A Fleet of Ram Trucks Power this Water Well Drilling Business
Share
LinkedIn
Facebook
Email
Copy Link
We interview Cody of North State Electric and Pump about why they choose a fleet of Ram trucks as the tools they'll need to satisfy their customers and what features he appreciates helping fulfill drilling wells.
Their Ram single-cab track features vinyl floor and seats and a low-profile 3,000 pound Auto Crane.

With the majority of their work on orchards, this truck gets extensive use for irrigation and agriculture.

The fleet has provided great mileage and distance, some trucks with over 300,000 miles.

The Ram single-cab was specifically purchased for a crane to handle jobs that bigger cranes can't without difficulty or inconvenience.

The combination of trucks and bodies in their fleet make service calls efficient.
Q: What type of truck is this and what are the features?
A: This is a 2018 Ram truck. It's a basic single-cab model. It's a four-wheel drive, has an 11-foot service body and has a 3,000-pound Auto Crane on it. We use it in our electrical department, we set panels and VFD drives with it. There's plenty of room to put their tools and plenty of room behind the seats.
Q: What are the best features of the Ram truck?
A: What I like about this unit is that it has the vinyl floor and vinyl seats. A lot of these Rams will come with a carpet, it's an upgraded carpet which is really just a pain because it holds dirt and mud.
The boxes on the side come extremely handy. It has shelves, we have our cordless tools and we've purchased this box separately which holds all of our electrical connectors and fasteners. Another nice thing about this body is that it has drawers all throughout that are factory to the bed and we have all kinds of electrical parts and tools in them.
Q: How do you like the built-in toolbox?
A: Another big bonus on this truck is you're able to carry a lot of your tools that you use every day and that you need to get into. And what's nice about it is you don't have an after-market box that you just stick in there and bolt down, you know the thing is welded to the body and it's a piece of the truck.
Q: Are the LED lights useful?
A: The LED lights are very nice because often these guys will go on emergency calls when it's dark or could be getting dark. The nice thing about Ram is that it has a button on the dash for the lights to factory switch and we didn't have to add that.
Q: Did the truck come with a compressor?
A: It has a hose reel under the deck, the truck did not come factory with a compressor, but we will put a compressor in it. It's nice that we can keep it in the back tucked away and protected. The electricians will keep their conduit and panels between the boxes in the when they go out to a job. They also put the panels in the bed. It's nice because they can lift up the crane, pick up the panel and set it where it needs to be.
Q: How does this bumper work for towing?
A: Another nice thing about the truck are these steps. As you can see this is pretty high, and if you didn't have these steps you would always be busting your shin. We tow generators or trenching equipment so we can put underground in.
Q: What type of crane do you prefer?
A: We like a low-profile of the crane for this truck. This body is a real low-profile body, it's not a mechanic's body. A mechanic's body has torch boxes and is real high. This body is low profile and we can get in and out of orchards and tight locations a lot better.
Q: What type of water well drilling do you do?
A: Most of all of our work is in orchards. About 95% of our business is irrigation and agriculture so that's where we apply this truck.
Q: How is this truck used in the field?
A: This truck does not actually set the pump itself, it only sets the components. It can go out in the field and service a motor. It'll pull the motor off, put it in the back of the truck, bring it to the shop, and put bearings in it or whatever it needs for service. Most of the time, these guys will just take off the control panels and those control panels can weigh anywhere from 500 to 2,500 pounds.
Q: Does this truck get good mileage?
A: The Rams have been great for mileage. We have about 15 other Rams in our fleet and they've done extremely well. We like to stick to that brand, we've had very good luck with them and they are very reasonable to repair. We have some with over 300,000 miles on them.
Q: What was the purchasing process?
A: The purchasing of these trucks is extremely difficult. Our industry is very unit specific. We actually bought this truck about 6 hours away from here at a dealership. And it just took weeks and weeks of research and looking for exactly what we need. Most of our vehicles in our fleet are that way.
Q: What should you be looking for when purchasing?
A: When you look for these trucks to purchase, a lot of them don't have a crane on them when they're at the dealer, they are not a crane body. They cannot accept a crane, so that was very specific. You can find these units without the crane all day long, but if my crews are going out and setting panels that weigh 500 to 2,500 pounds, they need that accessibility. We have other larger cranes in our fleet, but they're too large to get in and usually they're out doing other jobs.
Q: This is another truck in your fleet. Could you tell us about it?
A: This is a 2014 Ram that we have, and when I purchased it, it was just solely with a flatbed. We had a pulling unit that was mounted onto a 1987 Ram, they're built exactly the same today if you were to buy another one. So, we took that unit off of the old truck, sold the old truck, and we mounted the unit to this bed. We built the boxes on the side, we've mounted other toolboxes and built pipe racks. We basically fitted the unit onto this truck.
Q: What do you like about this truck?
A: What we like most about this truck is that the pulling unit's pretty light duty, it's good for about 6,000 - 8,000 pounds. If we put it on a heavier duty truck, we can load up with a lot of tools on it. We can do a lot of service calls and still be efficient. If we had a larger pulling unit mounted on the truck, it would be hard to get around. The truck is heavy and it gets overloaded. We put together a four-wheel-drive unit and we do service calls every day.
This type of unit will erect and come to your house. If you have no water and your well pump is bad, he'll back up to your well and pull the pipe out until we get to the pump. Then he can change the pump out and set everything back in.
Published on: September 23, 2019
NEXT ARTICLE
Box Trucks: Van Deliveries for Office Furniture