Fleet Ownership: How to Become a Fleet Owner in 6 Steps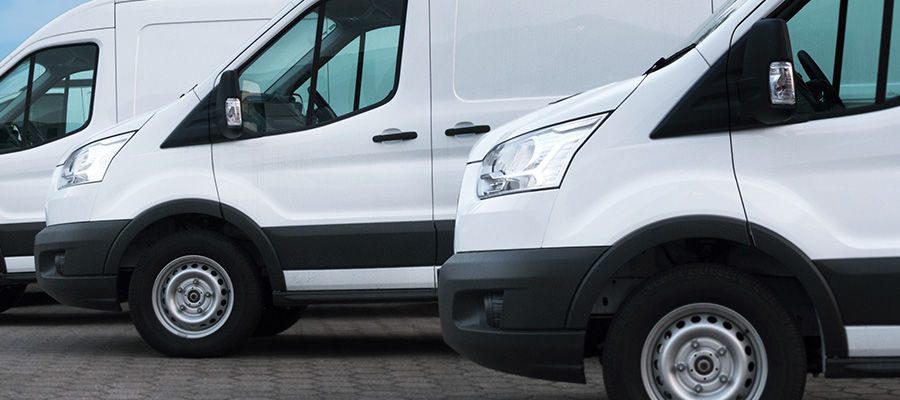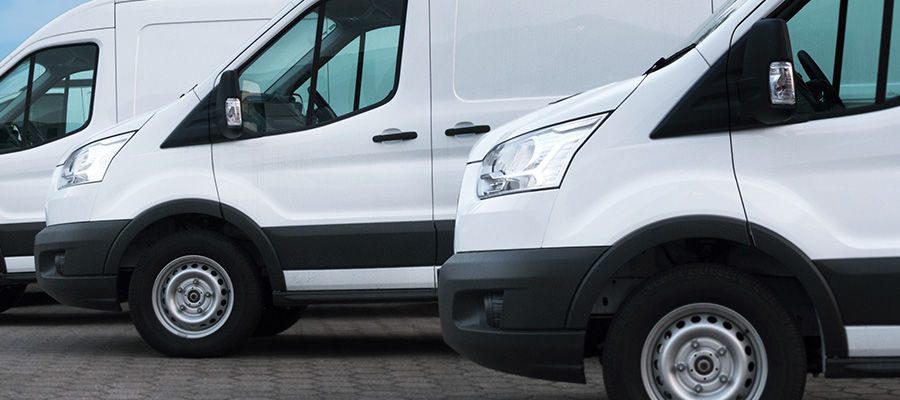 Fleet Ownership: How to Become a Fleet Owner in 6 Steps
Share
LinkedIn
Facebook
Email
Copy Link
If you've been a truck driver for some time, you might be wondering what you need to do to
become a fleet owner. Your experience as a driver can set you up for success as a fleet owner,
so if you're looking to take the next steps but aren't sure where to begin, read through our guide
to fleet ownership 101.
Table of Contents
What Is a Fleet Owner?
A fleet owner is an individual who owns and operates 10 or more commercial motor vehicles.
Fleet owners are both drivers and operators of their own fleet business. They handle everything
from driving a rig themselves to handling the business end of a trucking company — e.g.,
forging contracts, building relationships with companies that need transportation services, hiring
fleet drivers, maintaining equipment, and handling payroll. As a fleet owner, you run your own
business and you are your own employer.
Fleet Driving vs. Fleet Ownership
With truck driving there are two primary job paths: You can work for a fleet as a company driver
or you can own and operate your own fleet. Many truck drivers will start out driving a company
vehicle and move to owning their own rig, so becoming a fleet owner and operator is often a
natural next step for many fleet drivers.
When you're a company driver, your job starts when you drive out of the truck terminal and ends
when you turn off the ignition. Additionally, most drivers lease a truck from a fleet owner.
Fleet Ownership Requirements
In order to become a fleet owner, you must meet a specific set of requirements in maintaining a
fleet.
1. USDOT and MC Numbers
Most states mandate that commercial motorized vehicles (CMVs) have a USDOT number. A
USDOT (U.S. Department of Transportation) number is a unique way to identify a vehicle
belonging to a company who is making interstate moves. This generally applies to trucks who
are shuttling passengers, hauling interstate freight, or transporting hazardous materials.

Some interstate companies need an MC number in addition to a USDOT number. An MC (Motor
Carrier) number is also a designated way to identify companies operating in interstate
commerce.

All trucking companies are required to display a USDOT number on their commercial vehicles.
However, not all need an MC number. An MC number is required for trucking companies that
transport passengers or federally regulated goods across state lines. Meanwhile, trucks that
only haul non-federally regulated cargo do not need an MC number.

In order to obtain a USDOT and MC number, fleet owners register online with the Federal Motor
Carrier Safety Administration (FMSCA) and go through their application process.
2. Heavy Vehicle Use Tax
Many commercial vehicles will need to pay a heavy vehicle use tax (HVUT) — a yearly fee
placed on vehicles greater than 55,000 pounds that operate on public highways.

The gross taxable weight for HVUT fees are assigned according to weight of the vehicle:
     ● 55,000 to 75,000 pounds: $100 base fee for up to 55,000 pounds and $22 for each
additional 1,000 pounds
     ● Over 75,000 pounds: annual $550 fee

A HVUT must be paid by the fleet owner (registered owner). Come tax season, fleet owners will
need to file a Form 2290 with the IRS to pay the tax. Fleet owners are encouraged to e-file.
However if you own 25 or more heavy commercial vehicles, you must file your Form 2290
through a software provider approved by the IRS.
3. Intrastate Licensing
Each state may require specific additional requirements for your commercial motorized vehicle.
Check with your State Driver Licensing Agency (SDLA) for additional licensing needed for your
commercial motor vehicle depending on the following:
● Goods are transported across state or international borders
     ● Goods are transported within one state, but part of the trip crosses another state line
     ● Goods are transported within one state, but the cargo originates or finishes its trip
outside the state

Fleet owners must provide the SDLA with self-certification of their operating status.
4. International Fuel Agreement
Commercial motorized vehicles with two or more axles that weigh over 26,000 pounds will need
to display their fuel credentials under the International Fuel Agreement (IFTA) — a tax program
for fuel reports.

Fleet owners must provide proof of credentials by displaying stickers on the outside of their
truck as well as a photo of proof of their IFTA license. Your base jurisdiction will determine if you
qualify for an IFTA license — fleet owners can contact their base jurisdiction through the IFTA
website.
Steps to Becoming a Fleet Owner
Becoming a fleet owner requires some specific processes that apply across the board no matter
the size of your fleet.
1. Write a Business Plan for Your Fleet Company
Every business starts with a business plan and fleet ownership is no different. Your business
plan should cover an overview of your projected expenses, the number of trucks you plan to
start with, if you'll be purchasing or leasing these vehicles, costs of insurance and maintenance,
costs to house your fleet, employee overhead, and how long you expect it to take to become
profitable.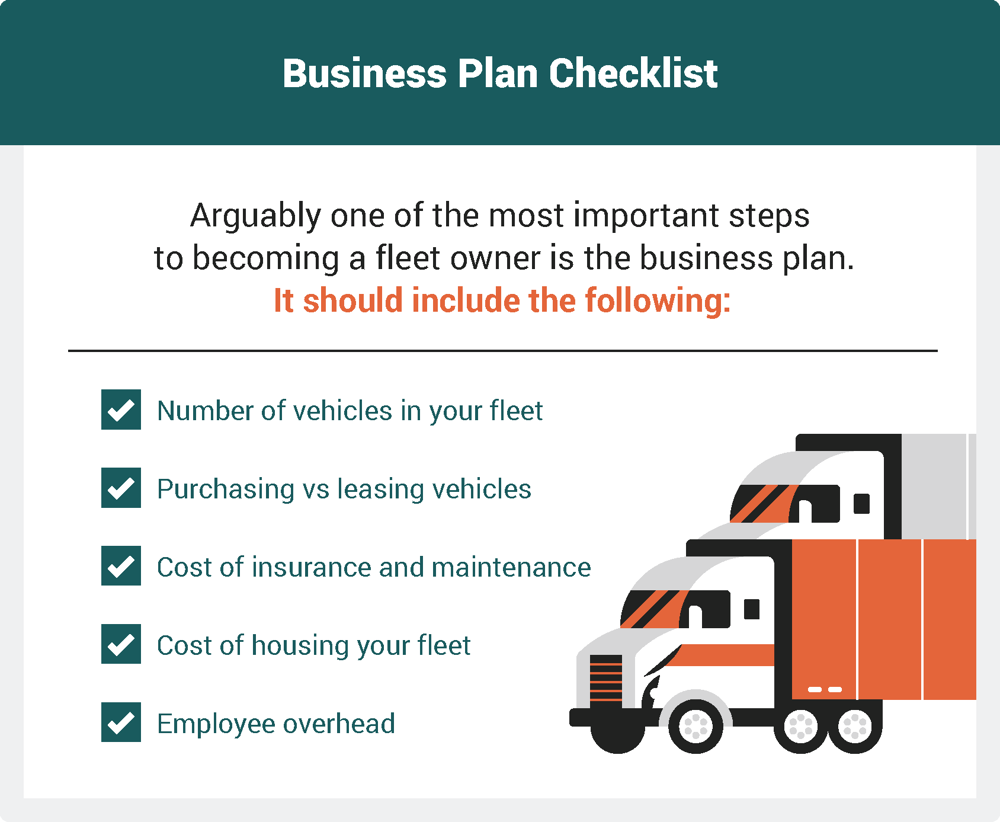 Your business plan should also take into account how many drivers you'll need for your fleet,
where you'll hire them, and if you'll be doing so directly or subcontracting drivers.
2. Get Your Commercial Driver's License
If you're already a truck driver, chances are you can skip over this step. However, if you don't
already possess a commercial driver's license, your next step is getting one. Commercial
driver's licenses are much harder to obtain than a standard driver's license since there are more
tests and regulations that a driver must pass.

Along with a written test, drivers must take an air brake, truck and combination vehicle test. A
commercial driver's license also requires that you pass a health physical in accordance with
your state's Department of Transportation. Your driving record is also considered, as is a
background check.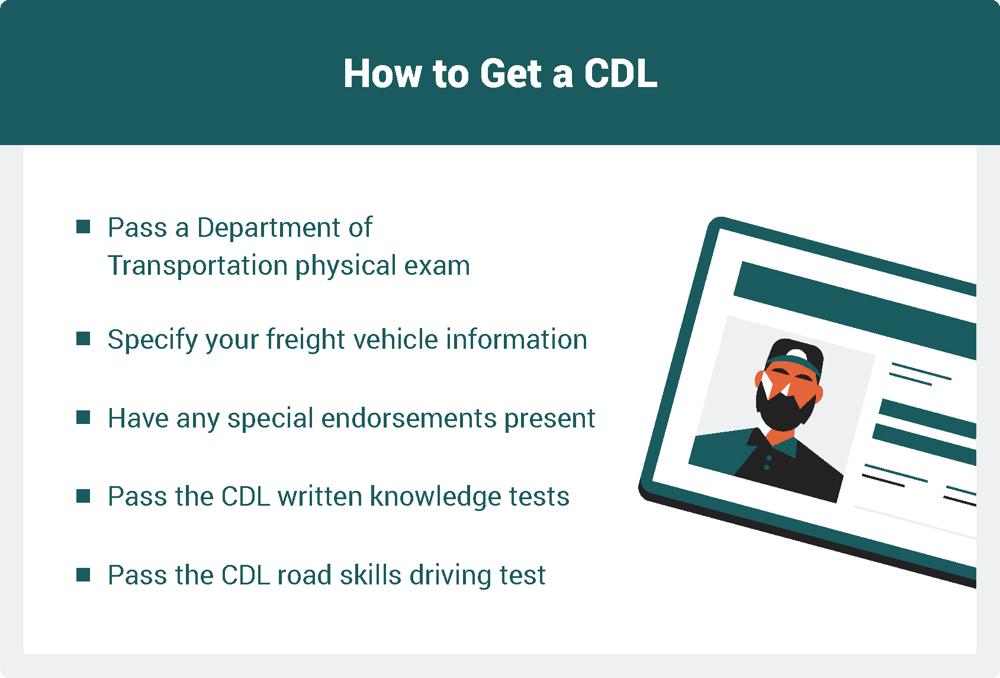 3. Buying Your Fleet and Equipment
Buying trucks is an exciting moment all fleet owners anticipate. After all, it's a big step to spend
your savings or take out a loan to purchase a fleet of commercial vehicles.

When buying your fleet and equipment, you'll need to consider the type of freight you plan to
haul, as this will dictate the type of trucks and equipment that you need. Truck engines must be
strong enough to accommodate the loads they'll be pulling. You'll have to take into consideration
how much trailer capacity will be required and if you'll need regular trailers, flatbed trailers, car
hauling trailers, or other types.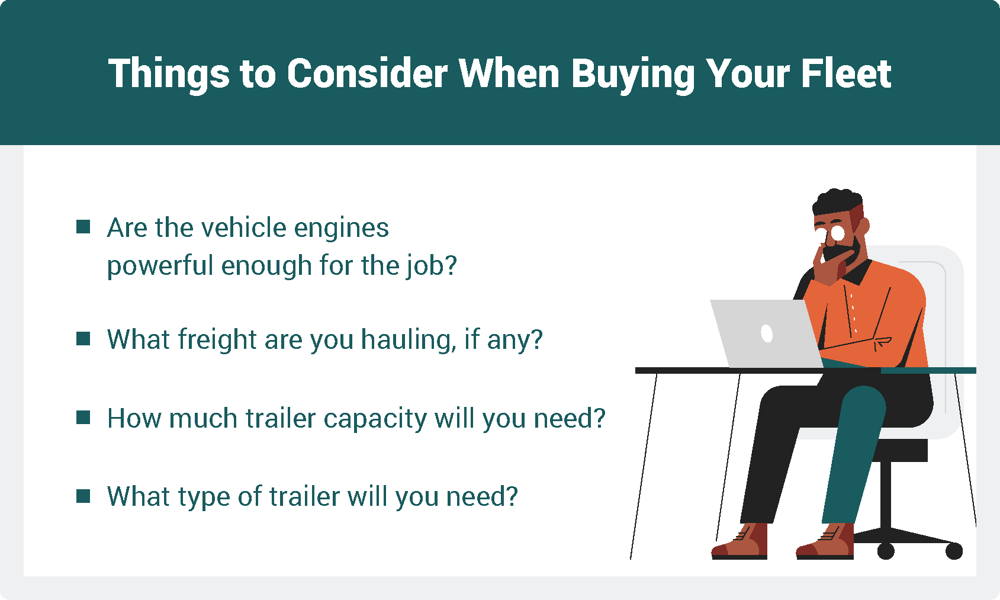 And just like purchasing a regular vehicle, you'll want to have an inspection done on your
truck(s). These inspections should look at the rig as a whole, including engines, doors, windows,
and tires — and since semi-trucks are intended for long distance driving, you'll want to have an
extensive test drive conducted.
Should You Lease or Buy Your Fleet
When it comes to obtaining vehicles for your fleet, you'll want to consider if leasing or buying is
the right option for your business. Just like with a standard vehicle, leasing has some pros and
cons. It can be a cost-saving option upfront if you're starting out and don't have a whole lot of
money to spend. A lease can also relieve some of the pressure of finding funding for several
vehicles at a time and gives you the option to try out different rigs and trailers without the
long-term commitment of purchasing.

Leasing does have some disadvantages with fleet ownership as you're locked into the terms
and conditions of a lease, meaning you cannot fully control how the trucks are used and
maintained.
5. Get Insurance Coverage
Leasing vs. ownership will also dictate the type of insurance coverage that you'll need to
purchase for your fleet.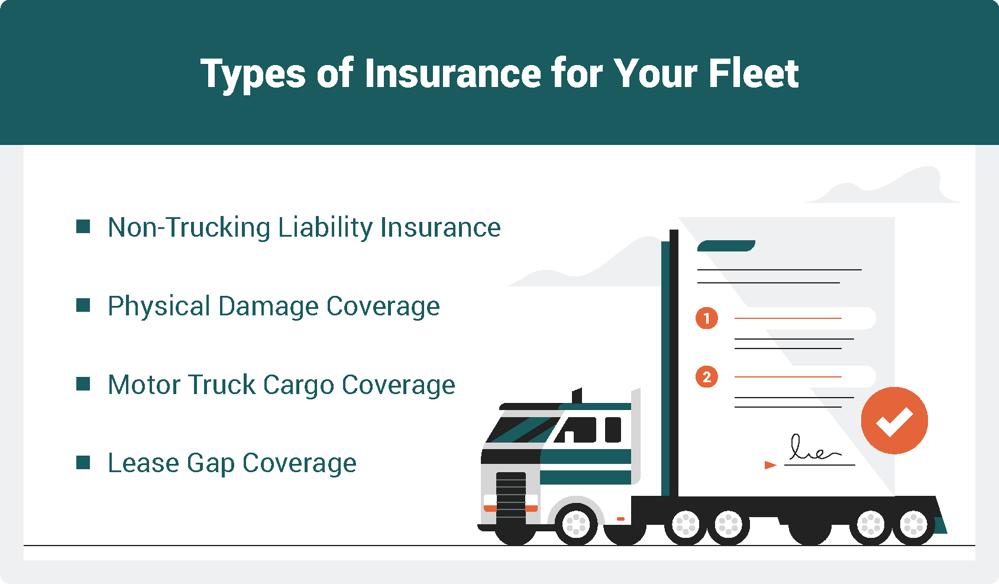 Different insurance companies will offer different insurance plans, but you may need to
purchase the following types of insurance to make sure you're covered beyond primary liability.

     ● Non-Trucking Liability Insurance: Covers the driver if they're not performing duties
     directly for the motor carrier
     ● Physical Damage Coverage: In the event of collision, covers the cost of damages to
     the truck
     ● Motor Truck Cargo Coverage: Covers the goods being hauled in the event of collision
     or theft
     ● Lease Gap Coverage: If the vehicle is totaled, this covers you in the event that the
     vehicle's value is less than what's owed on the payment.
6. Comply With Regulatory Compliance Requirements
As a fleet owner, you'll need to meet a number of federal and state regulatory requirements like
USDOT and MC numbers, Heavy Vehicle Use Tax, and intrastate licensing in order to put your
fleet on the road.
Becoming a fleet owner is a big step in the business of commercial motorized vehicles. Once
you've gone through the steps of solidifying your business plan and getting your commercial
drivers license, you're on your way to purchasing your fleet, getting coverage and meeting
regulatory compliance requirements. If you're in the market to purchase work-ready trucks,
Comvoy is your source for finding any vocation, body type, vehicle, or upfit manufacturer to
match you with the right vehicle for the job.
Published on: January 12, 2022