A Fleet of 14 Vehicles Lets this Roofing Company Tackle Big Jobs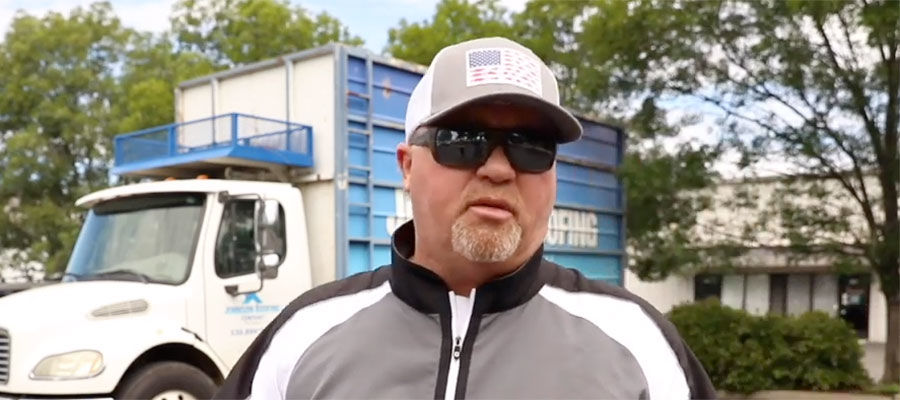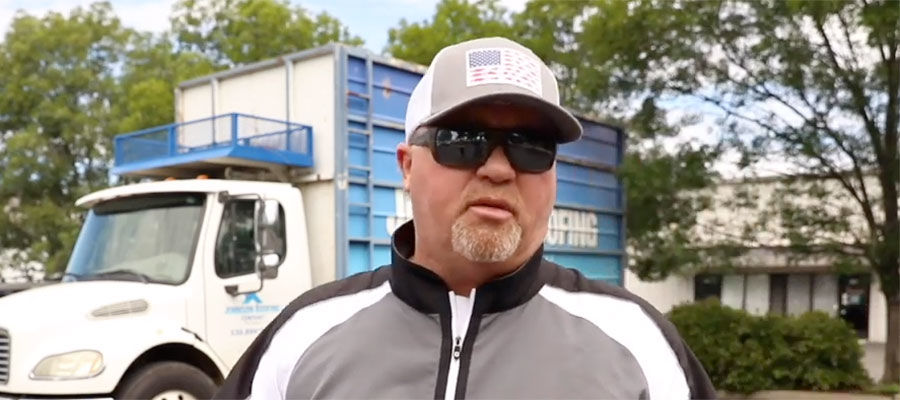 A Fleet of 14 Vehicles Lets this Roofing Company Tackle Big Jobs
Share
LinkedIn
Facebook
Email
Copy Link
We interview Greg Johnson from Johnson Roofing about his fleet of work trucks and how their differing capabilities and features, as well as how he decides on purchasing a work truck.
Five service trucks with tool storage and luber, while the other trucks are diesel engines mainly for dump trailers.

Greg has several truck brands in his fleet, but he feels Ram and Cummins offer strong transmissions.

All but Freightliner trucks are purchased locally and purchasing a new truck happens about once a year.

The Freightliner custom box truck with lifting capability saves a lot of "backs and manpower" hours.
Q: What roofing trucks are in your fleet?
A: We have 14 work trucks in our fleet. Five of them are trucks with service bodies that have tool storage and lumber racks. We use these trucks to bring tools, lumber, and other roofing materials to the job sites. From there we have half-ton trucks, three-quarter-ton trucks and one-ton trucks, all diesel mainly for pulling capability.
The diesel trucks are used mainly for carrying our dump trailers. When we're tearing off old roofs, the old roofing weighs a lot. The one-tons have the capability of being legal for transporting that weight on the road. They work well for getting my guys to the dumpsites to dump the debris and bringing them back to the job sites. Then we have two of the big Freightliner trucks we use not only for roof removal, but we also load roofing materials in the back on palettes.
Q: Do you have smaller trucks in your fleet?

A: We can't use small trucks, they do not have enough pulling capability, so definitely the three-quarter ton or one-ton diesels and the big Freightliners are what's great for our business.
Q: Are you loyal to a particular truck brand?
A: When you're carrying as much weight as we do, it's really hard on the transmissions. Cummins transmissions and the Ram have held up very well for us, it's a very very strong transmission. So right now, we're definitely loyal to the Ram half-ton, one-ton, and three-quarter-ton. But, I have good Chevys in the fleet. I have good Fords in the fleet. I'm not afraid to buy those either, but I'm a little bit partial to Ram right now.
Shop Chevy, Ford, and Ram Trucks for Sale
Q: How often do you replace your fleet vehicles?
A: On average, we purchase about one truck a year. As we replace trucks we put the old trucks out to pasture, or obviously sell them, and bring in a new one.
Q: What's your purchase process for buying trucks?
A: In the 32 years we've been in business, we have purchased our one-ton trucks, half-ton trucks, three-quarter-ton trucks from local dealerships.
We buy from dealers with utility trucks. We tell them we want a one-ton with a crew crab or no crew cab. We tell them we want the Scelzi utility body box, they put it together and we buy it. We like the Scelzi utility boxes. They have nicer toolboxes. They're sealed better so you don't get rust on your tools. They're a more expensive box but well worth the money.
We are not able to purchase our Freightliner trucks locally so we go out of town for those. This process is a little different. We order the cab then we have a custom fabricator that builds whatever box we want, outriggers, lifts, he fabricates all of it. So, that's a little different set-up, it takes him about five weeks to make a truck with a bed and all the lifts and everything.
Q: Tell us about your Freightliner truck with the custom box
A: A lot of trucks have dump capability, but they don't have lift capability and height of this truck. Typically the lifts might go up 10 feet, 12 feet, but this Freighliner box goes up 23 feet. So, it's pretty nice.
Even when you can't reach a roof, like when you're doing demo on a big tall roof, at least you can get way up in the air so the drop zone's way closer so the crews can hit their mark.Most roofs are 9-10 feet high and you can raise this thing right up and lift the material right to the roof and walk everything right off and on.
A truck like this is a $150,000 purchase, so it's not for every roofer. You have to be doing volume and have a lot of different jobs that you do that are high and tough to get into. The nice thing about this type of truck is the safety it brings to our crew. It saves a lot of backs and manpower hours. It's very nice to have on the job.
Published on: August 15, 2019
NEXT ARTICLE
A Tow Truck Owner-Operator Has 3 Vehicles for Different Jobs