Explore 4 Essentials for a Landscaper Truck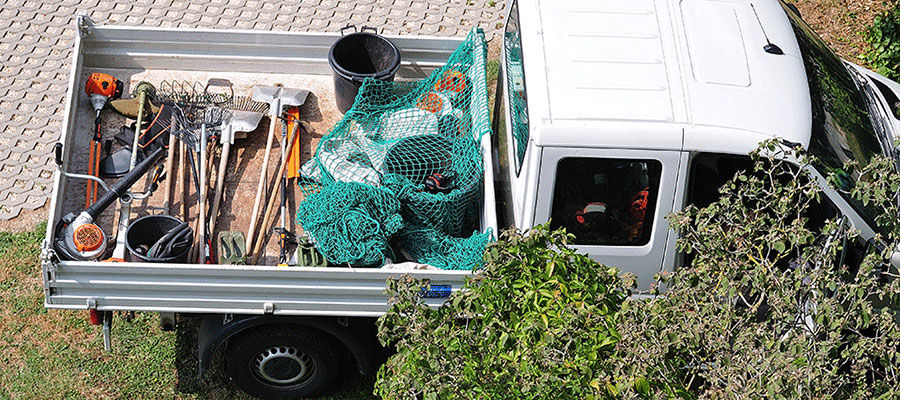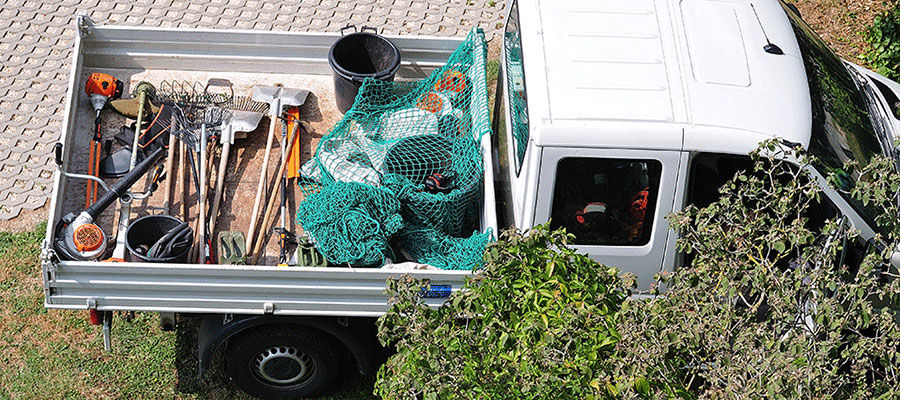 Explore 4 Essentials for a Landscaper Truck
Share
LinkedIn
Facebook
Email
Copy Link
Through the years, professional landscaping has grown abundantly. Each landscaping business--whether it be an entrepreneur with one truck or a mega-company with a fleet--should consider these four things for their vehicles.
Crew cab pickup trucks benefit from space for additional crew members and/or supplies.

Dump trailers offer a variety of features and sizes to increase productivity and efficiency.

Secure your equipment and property with lockable tool boxes.

For the backs of trucks and trailers, hooks and tie-downs can be essential for securing equipment and other materials.
1. Crew Cab Landscaper Trucks
Crew cab pickup trucks are a practical choice for many landscaping companies. Traveling from one job site to another is the nature of a landscaping business. Crew cabs offer the benefit of efficiency over two standard pickup trucks going to the same job site.
Today's crew cabs are not like the old, rusty, beat up work truck of yesteryear. Most crew cabs have been redesigned and come with all the bells and whistles in the auto industry. For example:
GMC Pickup Trucks for Landscapers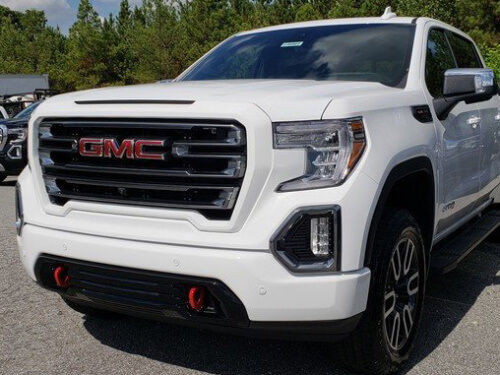 For 2019, GMC completely redesigned the GMC Sierra 1500. It now offers:
Cab body with 3 more inches of legroom
360 pounds lighter than earlier models
A mixed materials approach of aluminum for the doors, hood, and tailgate, and steel for the fenders, roof, and standard cargo box
Exclusive MultiPro six function enhanced second-tier tailgate
HD upgrade of their rear-vision camera on certain models
Lane change alert, blind zone alert
The Traction Select System provides the choice of preset drive modes tailored for different terrain or weather conditions.
Nissan Pickup Trucks for Landscapers
Not to be outdone, the 2019 Nissan Titan and Titan XD not only gained a bigger fuel tank but also a new standard safety feature that notifies the driver when he exits the truck of a forgotten child or pet. While this may not be important to the corporate landscaping company, the solo landscaper or small business landscaping service owner who uses the truck for business and personal travel may think this is an excellent feature. Nissan also boasts an upgraded electronic audio system, They now offer:
Fender Premium 485-watt audio system
Standard NissanConnect 7-inch touchscreen audio display
New standard Apple Car Play and Android Auto
360-degree camera system
Gooseneck hitch with inside-the-bed plug
Isuzu Pickup Trucks for Landscapers
The Isuzu N-Series has been gaining popularity according to Brain Tabel, Isuzu's Executive Director of Marketing. "Isuzu's lighter weight N-Series trucks, particularly the 14.5 GVWR NPR-HD crew cab that has a 6.0-liter V-8 engine and a body-and payload allowance of 8,442 to 8,503 pounds is probably Isuzu's most popular gas model among landscape contractors. It seats 7, with plenty of room for equipment."
"Isuzu's lighter weight N-series trucks, particularly the 14.5 GVWR NPR-HD crew cab...is probably Isuzu's most popular gas model among landscape contractors."
- Brian Tabel, Isuzu, Executive Director of Marketing
2. Best Dump Trailers for Landscapers
A dump trailer with ramps can be a wise but costly investment. Depending on the size of the trailer, the number of axles and the type of hydraulic lift installed, the price can vary between $5,000 to $15,000. Standard features include two-way barn doors, spreader tailgate, and slide in loading ramps. Leading manufacturers include Big Tex Trailers and PJ Trailers.
Dump trailers come in various hauling capabilities—light duty, medium duty, heavy duty, and heavy-duty gooseneck. The average light duty dump trailer has a GVWR (Gross Vehicle Weight Rating) of 8,000-10,000 pounds. The GVWR for the medium duty trailer is approximately 12,000 pounds, whereas the heavy-duty trailer is 14,000-15,000 pounds. Each of these trailers is pulled with a standard hitch that connects to a regular bumper with a ball.
The heavy-duty gooseneck trailer has a GVWR of 15,000 to 17,000 pounds. Since the gooseneck hitch extends forward and connects in a truck bed, it makes pivoting turns easier.
"I bought a dump trailer years ago for hauling mulch, sand, and rock. It has been a lifesaver in places that were too small for my large dump truck," stated William Elliot of Elliot's Landscaping. "One of the best investments I ever made." Dump trailers are used for various purposes; however, landscapers love them because they increase productivity by evenly distributing sand, rock, mulch, and dirt saving time and expense of manual labor.
3. Lockable Toolboxes for a Landscaper Vehicle
Lockable toolboxes like those from Buyers and WEATHER GUARD are considered a must-have by most landscapers because it is an affordable way to secure property.
"I love the 6' mesh cage toolbox that is mounted on the front of my trailer."
- Reece Hoover, Hoover Landscaping
Often while landscapers are working, the truck and equipment are out of sight. Having lockable toolboxes helps deter would-be thieves. Most thieves would rather just grab equipment and run—not mess with locks. "I love the 6' mesh cage toolbox that is mounted on the front of my trailer," states Reece Hoover, Hoover Landscaping. "I carry gas cans, weed eater line spools, and shovels. I can see what I need to stock up on."
Lockable toolboxes come in a variety of styles and sizes. Some landscapers may prefer heavy-duty aluminum while others may prefer mesh for maximum visibility. Some landscapers may prefer a truck bed toolbox while others may prefer an A-Frame tongue box. The possibilities are endless. However, most landscapers do agree that lockable toolboxes are well worth the investment.
4. Hooks and Tie-Downs
Hooks and tie-downs are often underappreciated but can pose a serious safety issue if not used properly. Tie downs come in an assortment of brands, styles, and varieties. They may comprise of webbing, ropes, chains, cables, binders, bolts, and hooks. The main considerations of any tie downs are strength and durability.
Securing equipment and gear is not only imperative on the back of trucks and on trailers but also in a box truck. If the weight shifts in a box truck because of unsecured items, it could cause the driver to have an accident. Landscapers need to be aware of the conditions of their tie-downs and hooks. When they show wear, it is time to replace them.
When well-worn tie downs are continually used, it can cost the company. Suppose a tie-down breaks and a water cooler flies off the truck. At the minimum, it will cost the price of replacing the item or the worst-case scenario it causes an accident on a busy freeway. The best way landscapers can protect themselves is to use the DOT's (Department of Transportation) guidelines on securing cargo.
Published on: August 16, 2019
NEXT ARTICLE
A Landscaper Relies on a Chevrolet 2500 Crew Cab