Essentials for Every Plumber's Work Vehicle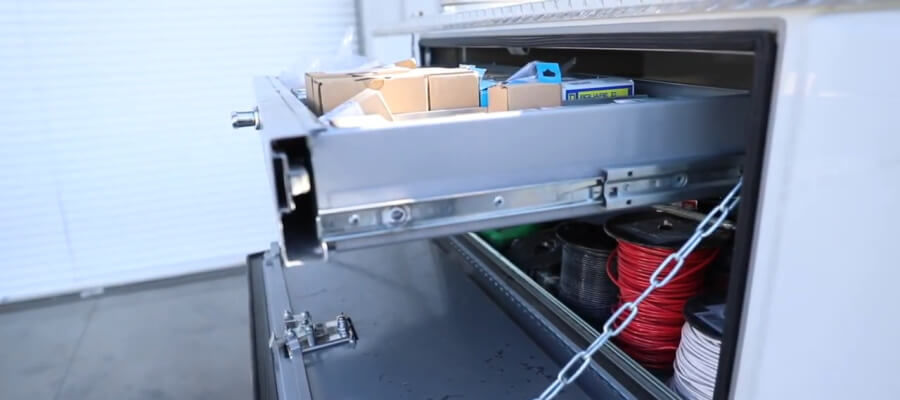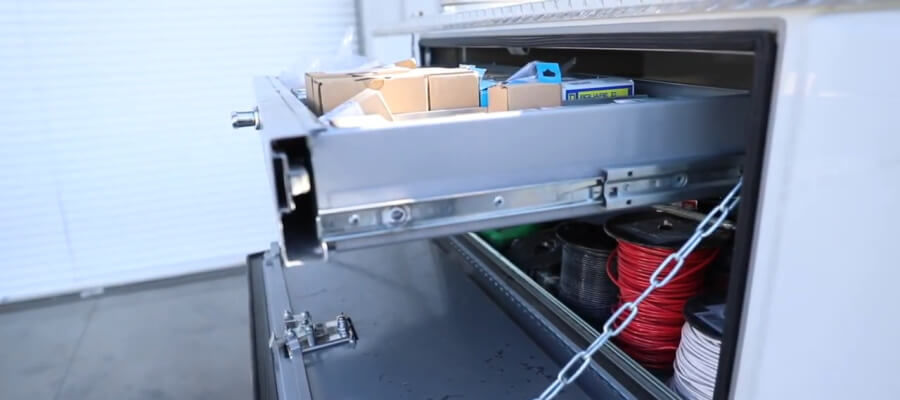 Essentials for Every Plumber's Work Vehicle
Share
LinkedIn
Facebook
Email
Copy Link
If you're a plumber, you know that your vehicle is far more than your transportation — it's your mobile storage, workshop, and office. When you rely daily on your truck or van, it's worth adding additional equipment to maximize efficiency and performance. Shelving modules, drawers, toolboxes, ladder racks, and bins can help you maximize your storage and increase profits. We've compiled some equipment essentials below to help you get the most use out of your work truck or van.
Be as best prepared as possible for equipment of all lengths and sizes.

For more organization, go for shelving and bins, like Kago Master shelving units.

Two kinds of truck bed storage, tool box and Tonneau cover.

Strategy for your mobile workspace is essential to have what you need and to save time and money.
Storage for Long Items
A ladder rack offers a convenient option, not only for the obvious ladders but also for conduit pipe storage. If your work vehicle is a van, try the Ranger Design  Heavy Duty Aluminum Racks. They're powder-coated to prevent rust, have a load capacity of 600 lbs, and are designed to prevent any metal from touching the ladder. This helps protect both the ladder and the roof of the van.
Another option to consider is the  Promaxx Contractor Rack. This rack has an impressive array of standard features, and it's available in a variety of sizes to accommodate whatever make and model of truck you have. Ladder racks make it easy to add conduit storage to your vehicle and keep the floor of your cargo space clean and easily accessible. Their easy access also saves you valuable time loading and unloading.
Bins, Boxes, and Drawers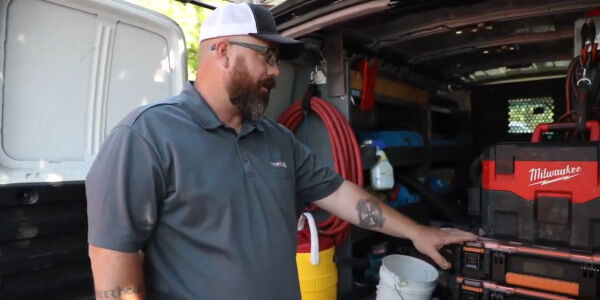 Chances are you already own a toolbox or two, and you know that a good toolbox is a tool as much as the tools it stores. What would be better than converting the interior of your van into a walk-in toolbox? With floor-to-ceiling shelving and drawers, you can keep all sizes of equipment organized and secured. If you have a van, the easiest way to implement all of these is by purchasing a shelving package. Kargo Master's 46" height shelves are known as America's favorite van shelving unit for a reason. They're durable, easy to install, customizable, and they come with a lifetime warranty. The drawers are especially essential for anyone in the plumbing industry since they keep all your small supplies, like washers, nuts, bolts, pipe fittings and threading kits separated and grouped accordingly. Being able to find what you need without any trouble will make you much more efficient. These drawers also lock for security which is crucial when you're traveling from job site to job site.
Truck Bed Storage
Typically, truck storage presents more of a problem for plumbers. You may be thinking that the long open truck bed is a perfect place for pipe and ladder storage and wondering what on earth we're talking about, but in an open truck bed, all of your tools and equipment are at risk of weather damage, and there's no way to keep everything from rolling around in the back. A typical Tonneau cover solves your weather problem, but not your organization.
The Dee Zee Blue Label Crossover Toolbox solves both problems and more. A sturdy weatherstrip keeps all your supplies inside dry, and removable compartments ensure that your smaller hand tools don't get lost among larger ones. The easy-open, ergonomic push-button locks for effortless access and security. For even more storage, consider adding the Dee Zee Poly Wheel Well Toolbox. It provides additional tool compartments without compromising your bed length and is compatible with Tonneau covers. Pair these two toolboxes with a ladder rack and conduit storage, and your truck can carry everything you need.
Truck Bed Storage... with a Tonneau cover
Tonneau covers have a well-earned reputation for being indispensable to work trucks. They provide security and weather protection while also helping you reduce your gas mileage by lowering wind resistance. However, they can make adding supplementary storage more difficult because a traditional truck toolbox will interfere with the cover.
The BakBox 2 Utility Storage Box was designed to pair perfectly with a tonneau cover so you can have the best of both worlds. The fold-away feature allows you to access your entire truck bed, and the trays inside help keep everything you need organized. For ladder and pipe storage that compliment a tonneau cover,  Truck Cover USA offers a compatible ladder rack option. A tonneau cover can make it difficult to unload large items because it restricts access to your truck bed, and this ladder rack is the perfect way to overcome that.
Organization Strategies to Increase Productivity
Your vehicle is your workspace, and although you should never judge a book by its cover, it's probably safe to say that current and potential clients are judging your business by the appearance of your work vehicle. Showing up with pipes scattered everywhere and washers rolling around in the back doesn't put your best foot forward. Staying organized and using designated storage shows that you are competent and professional.
Maximizing your storage space means that you can carry as many tools and repair parts as possible. This saves you time and gas money by eliminating trips to local merchants, which can potentially increase the number of jobs you can do in a day. If you think van shelving, ladder racks, or toolboxes are unnecessary or over-the-top, take another look. These strategies can truly transform your daily jobs.
Published on: September 24, 2019
NEXT ARTICLE
A Ram ProMaster Work Van Keeps this Plumber Ready for Any Job