An Electrician Discusses Things to Consider when Buying a new Work Van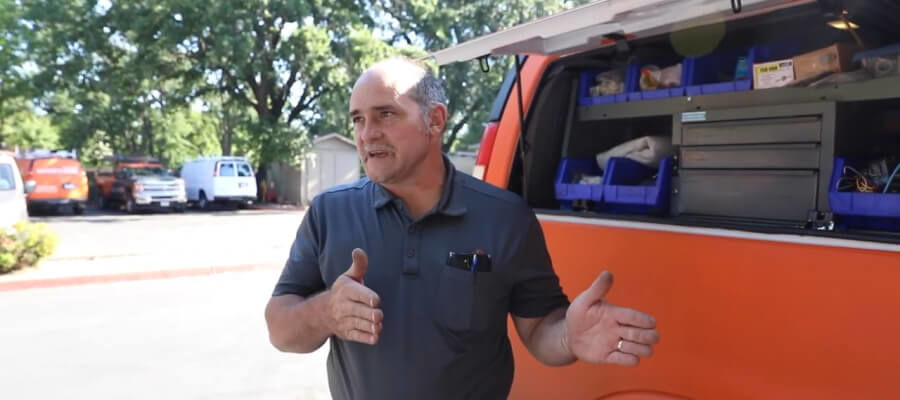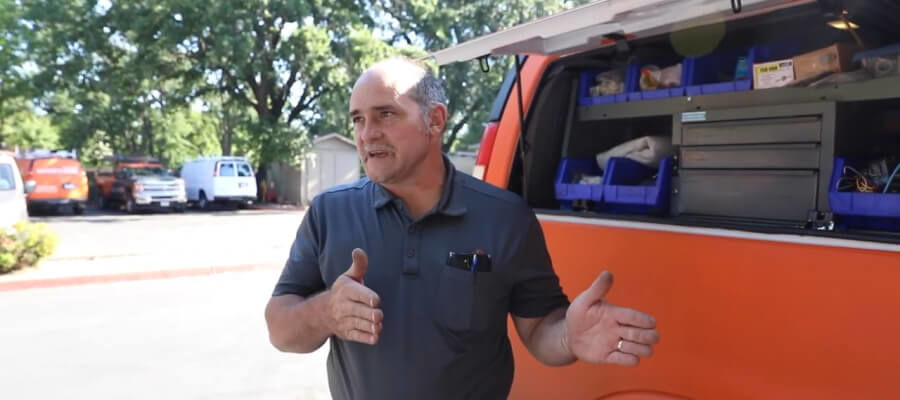 An Electrician Discusses Things to Consider when Buying a new Work Van
Share
LinkedIn
Facebook
Email
Copy Link
We interview Will of The Hignell Companies about his van and how he utilizes it as an electrician, from the features he likes to certain aspects he considers a bit troubling during his day-to-day work.
Will enjoys the power and compartments provided by his Chevy Express 1500.

Consider how to organize your space with any parts an electrician will use, using labeled bins and other wall mounts.

Exterior storage is useful but needs to be carefully considered in case of automated access panels.

Your environment and terrain is important: do you need four-wheel drive for snow, for example?
Q: What type of vehicle will you be telling us about?
A: This is a 2014 Chevy Express 1500 Edition.
Q: What do you like about this Chevrolet van?
A: What I appreciate about this Chevy Express van that it has plenty of power to get me up the hills and actually pass other cars or trucks when I need to. I like the side boxes that open up remotely with my key fob. If I want to get into a compartment, I just push the button. This makes it easy when I am doing a job that requires me to use a lot of different parts.
Q: How do you store all your electrical parts?
A: I have a little tool tray that I keep my screws in. It also has little trays to keep small fittings in. I also use the blue bins to keep my stuff sorted out in. For my ease, I write my part numbers on the front of the bins so if I got something, I don't have to go to my SKU list, I can look on my blue bin.
Q: What do you keep in the bins?
A: I keep one-gang plates, two-gang plates, switches, plugs, different kinds of plugs, lamps, cable jacks, phone, and cable jacks. There's smoke detectors and combos.
Q: What type of electrical work do you do?
A: I do most of our commercial work because I'm trained in doing commercial and industrial as well as residential.
Q: Is there anything you don't like about the self-opening compartments on the outside of the van?
A: One thing I don't like about the self-opening sides, the sides that you push the button and open, is I've had them open when I'm driving down the road and someone come up beside me and says, "Hey your wing is open!" And so, it's kind of dangerous but you know, you're not usually pressing the fob when you are riding down the road.
Q: Do you like the ladder rack?
A: Actually I don't prefer this ladder rack because I need a ladder to get my ladder down. They make other types of ladder racks that flip down and so you can actually get your ladder much easier. The ladders I use are four-footers and six-footers. I have a four-footer in the back that I usually take it out and strap it in.
Q: What do you like least about this van?
A: Trying to stow away my tools. It's set up for materials more so than tools.
Q: Where do you keep your tools?
A: I have a lot of different tools. I got my shovels and rake, then I got several bags of tools along with my other bags that I wear all the time. I do different things, from residential to commercial to industrial, so I got a lot of different tools in my van.
Q: Do you use the partition door?
A: I don't use that partition door hardly ever. Now If I have an extended piece of wood or something, I would use that. When I carry a 10-foot pipe, I have to lean across the back of the van.
It would fit better If there was space along the inside top of the van that ran the full length of the van. But as it is right now, I just figured out a way to lean it. I have a hook that I used to keep my 6-foot ladder on but it's kind of loud and I just found it better to leave it on the floor of the van.
Q: Do you like the van's double doors?
A: I like the double doors because it allows me better access in and out. You have to park in the right place though because if you're in a really tight parking spot then you'll have problems getting open those doors.
Q: What suggestions have for improving this van?
A: I've modified the back of the van to hold my bins in there and that does a pretty good job so that they don't come out. If I had to make a suggestion, I'd like some kind of a system that would hold the shelves in place and then be removable pretty easy because they move quite a bit. I use a bungee cord to hold the shelves. All in all, it holds it in there because it just stops it from sliding out. One thing you don't want is when you're driving down the road is to have something in your truck shift. It can affect your driving.
Q: What are the van's most important features to you?
A: I've found that the van actually is a good spot to work because I can move things out of the way and I have a platform to work right out of. The price point is most important, usability, and then for me, I live in a snowy area so four-wheel drive. Those are three top ones on my list.
Published on: September 25, 2019
PREVIOUS ARTICLE
This Solar Business Owner talks about the Advantages of Advertising with his Van
NEXT ARTICLE
A Creamery Owner Shares her Experience with Refrigerated Vans