Discover Why 2 Box Trucks Work for this Office Furniture Store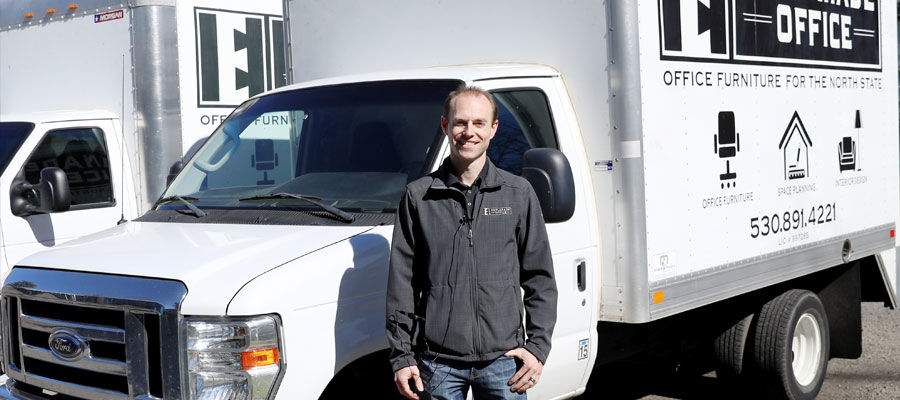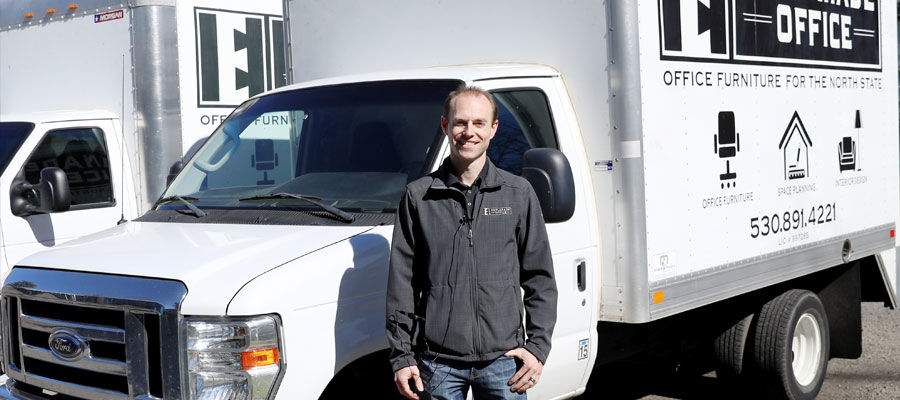 Discover Why 2 Box Trucks Work for this Office Furniture Store
Share
LinkedIn
Facebook
Email
Copy Link
We speak with Forrest Wells from Esplanade Office about his work trucks, the process of purchasing them, what advice he'd give to someone searching for a work truck, and how well he feels they perform with moving large loads of furniture.
Forrest explains that they replaced three older trucks over the course of three years with three Ford brand box trucks.

One challenge in purchasing for a fleet of box trucks can be finding the proper side- rails for securing goods.

Although without liftgates or ramps, the box trucks are frequently loaded to capacity.

Esplanade Office uses local dealers to help locate the right box trucks.

He recommends going into the search for a box truck with patience.
Q: Tell us about your fleet for delivering furniture?
A: The trucks that we use to deliver are 12-foot to 14-foot box vans on a one-ton chassis. We currently have two trucks for our side of the business and then the home furniture side has another truck on their own. They're all basically the same though.
Q: What was the purchase process like for your fleet?
A: When I came on, we actually had three trucks and we've been buying trucks to replace the old ones as we went. We bought a truck in 2012, 2014, and 2016. We didn't really plan to, but it's just the old ones died. When we were looking for trucks, we were looking for something that was similar to what we'd had. I think at the time we had an older Chevy van with a box and we were looking for something similar that was a van-body, a one-ton chassis, and an enclosed box.
The other thing is inside the box what we wanted was rails on the wall, and so that was one of the challenging things to find. We just wanted the wood rails instead of like any sort of a clip rail, just solid plywood or anything like that.
Q: How do you secure items in your trucks?
A: We use like a one-inch webbing to tie everything to the sides of the truck. If we have a rail just running the full length of the truck, we can make it or we can anchor whatever we want on that. We just use the trucker's knot and we can tie anything down as long as we have the rails all the way up, top to bottom, and the full length of the truck.
Q: What do you like about your fleet?
A: What I really like about them is the height of the box, and then we've built our own sort of tool storage in the front of the boxes. We like the van bodies because it allows us to have more cargo space in that short chassis, so there's maneuverability in tighter areas. One of our biggest concerns was driving on tight campuses where it's not really designed for vehicles to go. The furniture is big and heavy, so we want to get as close to the front door as we can.
Q: What don't you like about your fleet?
A: What we don't like about the trucks is the inconsistency. The one that we got in 2012 versus the one we got in 2014, they're basically the same truck, but it's silly little things. Like in the cab in the 2012 truck, there's literally like three inches less space, which makes it uncomfortable when we drive for three, four, or five hours. It's just not desirable. The two or three inches in the cab wouldn't really affect us if we took it out of the box. That's one of the big things we don't like, silly little things. I guess creature comforts, right?
Q: What do your drivers appreciate about your vehicles?
A: The power windows are nice for the guys to have. Power locks also. Cruise control would be fantastic because they get on the highway and they drive for a long way sometimes. We've considered trying to get one with the liftgate, but I don't know this size chassis could handle it.
Q: What would you change about the vehicles if you could?
A: If I could change anything about the trucks right now in an instant, it would probably be the load capacity. We've been told that these chassis with the box we have on them are already at their supposed capacity for their payload. Other than that, the creature comforts is really the only thing. We've got the back set up the way that we need it and it works good.
One other thing actually would be nice if we could change, and we've actually done it to one of our trucks, is they all have wood floors. We've had to seal them with some sort of a sealer because water damage in the winter is making the wards buckle. It's a lot of work to redo.
Q: Have you considered adding a liftgate?
A: As the guys have started to load the trucks, they have figured out a method that works pretty well. I mean, you've got to be strong and you've got to be willing to lift. But we use hand trucks and we'll set one edge on the truck, and then they'll just stand it up. Then when then they come off, we've got a way to come off too. It's worked out pretty well, but it'll wear on people, so a ramp or a lift gate would be nice at some point probably.
Q: How did you find the trucks you purchased?
A: The process we used to find the new trucks was basically to call the dealerships and then wait for them to find the truck that we've described to them. The challenge was when we would hear back from them, they would maybe hit three or four bullet points that we were looking for and so it was a bit of a challenge to get something specific to what we needed without having to do heavy modification ourselves.
It was getting really difficult to get the trucks with the slats in the back and we had a cabinet shop at the time, so we removed what was in there and completely rebuilt it. We weren't particularly loyal to any brand. We did, at the time, have an Isuzu and a Chevrolet. We end up having three Fords. They're working out great.
Q: What advice would you give to someone looking to replace a fleet vehicle?
A: What advice would I give somebody purchasing a vehicle like ours? Good luck. I don't know, but it was tough. There's no specifics that I know of with our trucks that had I known five years ago would help.
We gave all the information to the dealerships that we were working with and they did their best to find what we were looking for. We were in a bind because we needed a truck, and so like the one we got in 2012, we compromised on some of the creature comforts in the cab because we needed a truck and the process was taking too long. We just said: "it's going to have to work." I guess maybe patience would be a good insight for somebody.
Published on: August 16, 2019
NEXT ARTICLE
A Delivery Driver Compares his GMC LCF and Ford Transit