Crane Truck: Heavy Lifting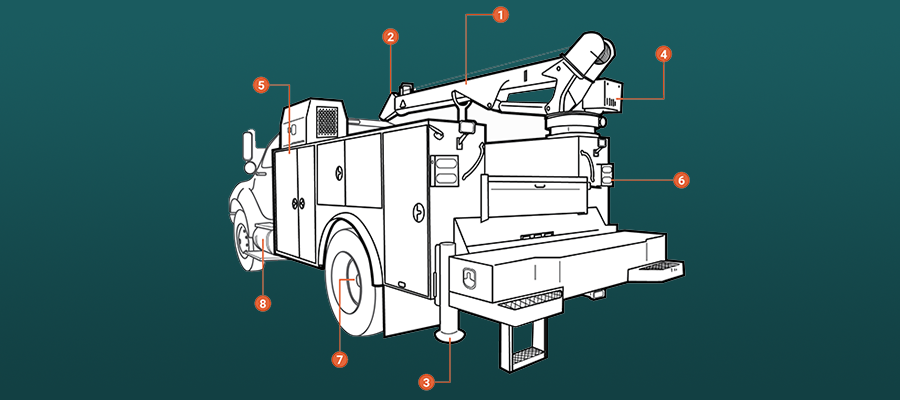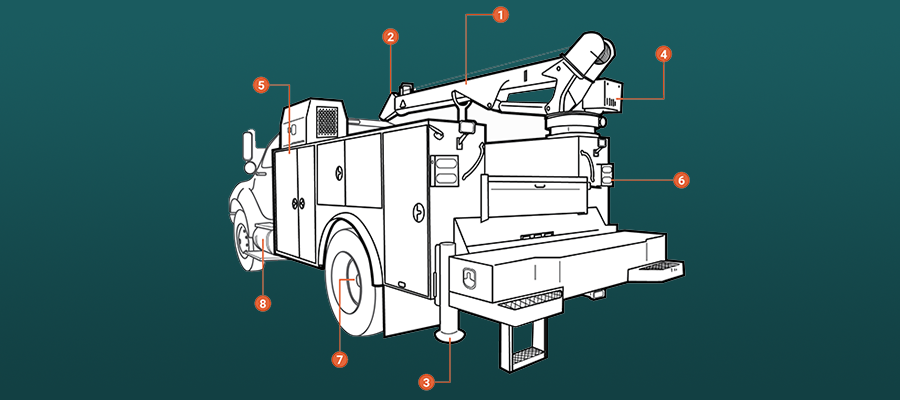 Crane Truck: Heavy Lifting
Share
LinkedIn
Facebook
Email
Copy Link
Crane trucks come in a variety of sizes, configurations, and capabilities. They're unique in that they provide utility in moving heavy materials that wouldn't be possible without a crane while allowing your operation to remain independent by maintaining most lifting and hoisting operations in-house. Throughout this guide, we'll help you identify the high points of the crane body truck to better serve your operation post-purchase.
Crane Type
The cranes mounted on crane trucks, though many configurations exist, are generally divided into two operating types: hydraulic and electric-powered cranes. Both of these styles are widely supported within the construction landscape and perform similar functions in different ways.
Electric-powered cranes use an auxiliary power source, typically a generator supplying electric current, paired with a control module, or "pendant" to extend, lift, and rotate loads. The electric-powered crane also features a safety-focused manual override to immediately halt operation, prevent job site accidents, and preserve electrical components from corrosion during periods where the crane is idle.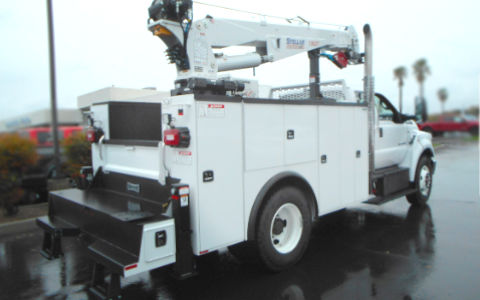 Hydraulic cranes are initially powered by an idling engine and a power take-off (PTO) system. The PTO transfers energy from the engine to a hydraulic motor which forces a non-compressible oil into one or two hydraulic cylinders. The pressure created is then converted into the rotating, lifting, and lowering functions required to move heavy loads safely and efficiently.
Crane Capacity
Crane trucks equipped with electric-powered cranes, while economical, are typically rated for quick lifts over short distances, and provide a more conservative gross crane weight and load moment ratings overall. As a rule, if you plan to use the crane only a few times per day with lifts consisting of less than 6,000lbs., an electric-powered crane would be an ideal fit for your operation. Continuous operation of the electric-powered crane increases the heat of the electric motor and can damage parts and components of the crane or power source.
Hydraulic-powered cranes often contain a hydraulic reservoir capable of withstanding constant pressure and heat, which lends itself to long and strenuous duty cycles. In higher-capacity models, the hydraulic reservoir serves as a heatsink in and of itself. This, in turn, allows your crew to lift longer, lift heavier, and enables your crane to remain in an idle state without worry of damaging the crane's mechanical components. 
Outriggers
Secure metal outriggers provide vehicle stabilization and support the crane in a structurally-sound and convenient way. Outriggers come standard on crane body trucks and tend to be positioned beneath the base of the crane in varying parts of the crane truck body. These outriggers extend outward and down from their transport positions and depress onto the working surface, further stabilizing your crane truck to prevent tipping in operation.
A variety of outrigger configurations are available across most crane body truck models. These configurations include manual, electric, and hydraulic outrigging set-ups. Hydraulic and electric-driven outriggers are often controlled by a centralized function housing, along with the directional functions of the crane.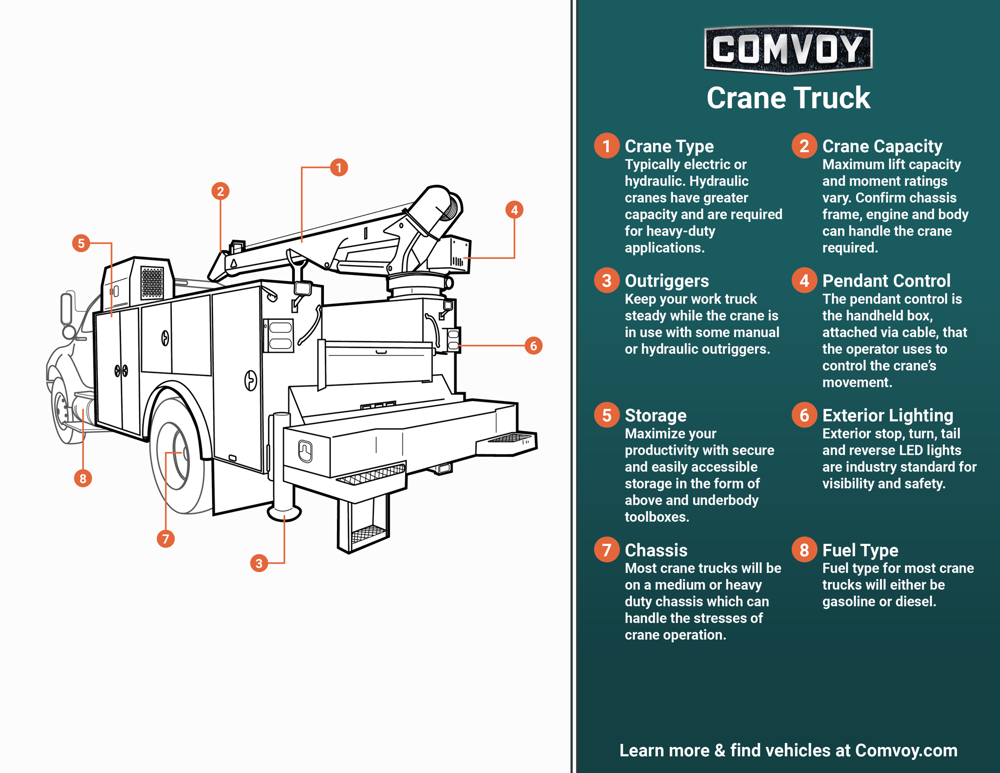 Click Here for More Information
Pendant Control
The pendant control is essentially a control box for all crane functions. It allows the operator to raise and lower the crane, extend or retract the telescoping boom, and raise and lower the crane hook, all in one control area. The pendant control is typically housed on the body near the cab or in the rearmost curb or street-side compartments.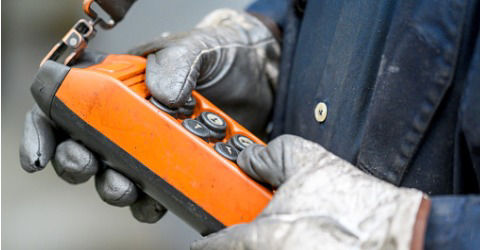 Remotely operated pendant control systems may provide higher levels of safety and visibility in operation. Remote crane controls are battery-operated and allow the user to step away from both the crane truck and the crane to keep a safe distance between your crew and a swinging load. Most remote controls also feature a proportional control system which also allows you to control the directional speed of the crane functions to maintain explicit control over the crane for a safer working environment on site.
Storage
Crane trucks come equipped with a series of compartments and toolboxes mounted on either side of the body. Most upfitters build their storage compartments with galvanized steel or aluminum paneling to provide a corrosion-resistant and protective barrier from the elements and avid resellers. These compartments most frequently come in swing-style or flip-top configurations secured by a manual or remote-powered locking system.
The crane body truck features an assortment of compartment dimensions to suit any tools or materials you need to secure. These compartments most commonly measure around 20" in depth and range from 20"-50" in width or length, though wider and longer configurations are available. Most crane truck upfits provide multiple smaller compartments for tools and sundries, a 60" vented compartment for oxygen and acetylene cylinders, and an array of interior shelves or drawers for maximum organization.
Exterior Lighting
Most upfitters include an assortment of lighting along the exterior of their crane trucks to increase visibility during operation and provide a well-lit working area when operating outside of "normal" working hours.
These lights include high-vis amber lights covering the exterior of the crane truck, as well as braking, turning, and reverse signaling lights that line into your crane truck's electrical system. The crane truck also includes a yellow, rotating strobe light installed on the cab's roof to indicate that the crane is in operation.
The maximized safety precautions provided by the crane body truck go even further with several body-mounted, LED floodlights. Floodlights are often positioned near the headache rack and deliver increased visibility to the cargo area and the working area around the vehicle.
Chassis 
As a rule, crane body trucks employ medium or heavy-duty chassis due to their heavier vehicle weight and sturdier understructure. Often installed above the compartments in service variations and on-platform in flatbed configurations, the crane is secured into the chassis frame in both cases.
Fuel Type
Most crane trucks, and the respective manufacturer that built the chassis, support gasoline and diesel-fueled options. Crane trucks focus on the use of gas and diesel engines - due to the broad availability of these fuel sources and the average fuel efficiency enjoyed by both gas and diesel.
Published on: January 04, 2019
NEXT ARTICLE
Welder Trucks: The Foundation of Custom Metal Work