Contractor Truck – Utility on and off Site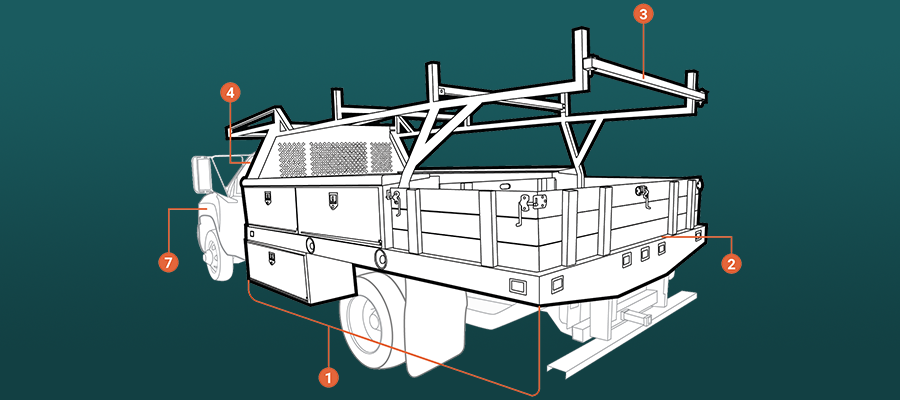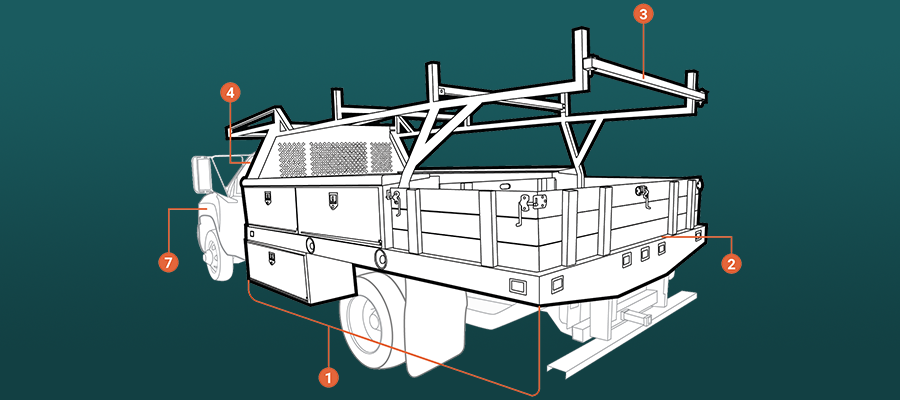 Contractor Truck – Utility on and off Site
Share
LinkedIn
Facebook
Email
Copy Link
Contractor body trucks are the most utility-focused work trucks on the market. The contractor body is upfit on a chassis cab or pickup box delete and is constructed from a flatbed made of durable steel or aluminum alloys. Each contractor body features an open cargo area lined with storage toolboxes, ladder racks, and wooden or metal stakes to meet your working and storage needs.
Bed Length
The contractor body truck is available in many lengths and variations. The most common models come in bed lengths from 9 to 14 feet. It's important to first identify the level of performance needed from your contractor truck before deciding on the optimal bed length for you or your business.
In addition to performance needs, the length of your bed also depends on structural factors like the cab-to-axle ratio, wheelbase, and cab style.
These three measurements broaden customization options for your contractor truck.
     

Cab-to-Axle Ratio: The distance between the rearmost point of the cab exterior and the back axle.

     

Wheelbase: The distance between the front and rearmost axles.

     

Cab-Style: A general term for the respective cab size and seat configuration.
Floor Type
Contractor body trucks feature sturdy flooring that can stand up to regular punishment. Built from steel, aluminum, treated softwoods, and exotic hardwoods, the contractor truck can handle almost anything.
Steel flooring provides a combination of durability and cost left untouched by aluminum or wooden flooring. A steel floor comes with a series of zinc coatings and primers to ensure your floor can withstand heavy materials while remaining corrosion-resistant. Steel may be common in the commercial vehicle landscape, but variations in aluminum flooring set the bar high when compared to steel and wood options.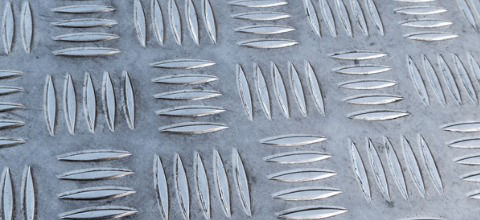 Aluminum is lightweight and since aluminum and aluminum alloys weigh less than steel, it allows you to source more of your payload capacity to your gear rather than the truck upfit.
Aluminum alloys are also corrosion-resistant. Some aluminum truck bodies feature added coatings to resist chemical damage outside of rusting. That said, aluminum bodies always come from the shop ready to support your specific operational challenges.
In a contest of cost, wood flooring, both treated softwoods and exotic hardwoods tend to be the most popular. Wood provides its utility in a flexible and durable form in treated pine and Brazilian Apitong species. These woods are naturally moisture and insect-resistant and provide a flexible, yet durable surface for your materials and equipment.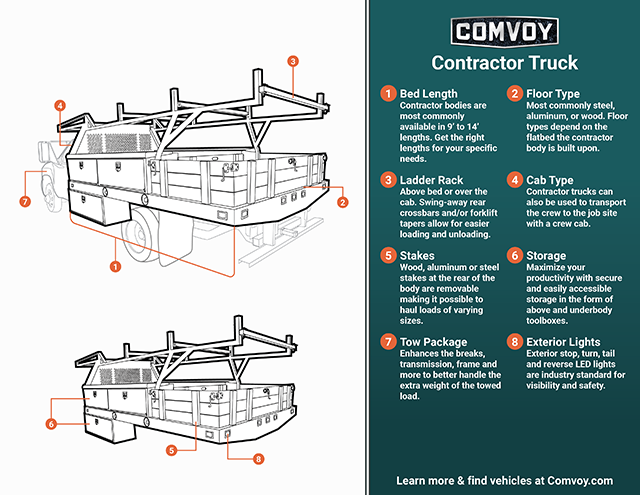 Click Here for More Information
Ladder Rack
The ladder rack features thick, sturdy supporting beams in its steel or aluminum composition. This durable makeup allows your team to toss ladders, planks, and conduit lengths on the rack while keeping your cargo area organized and free of obstruction. It also doesn't hurt to add some aftermarket ratchet straps and/or securements to assure that your gear is always secure.
Cab Type
For pickups and contractor trucks, there are three cab types. These include regular or standard cab, extended cab, and crew or double cabs. The regular or standard cab is the "standard" pickup composition with two doors on either side of the cab and two seats within those doors. In some cases, a bench seat comes with the standard cab variation. Either style is perfect for teams with a focus on the cargo area rather than a cab for large groups.
An extended cab includes another row of seats behind the driver and passenger-side seating, along with two extra doors for easier access. Rear seating arrangements may vary, but they often include two extra pilot seats or a three-seater bench-style arrangement.
Crew cabs are ideal for the comfortable transport of five to six-member groups. The crew cab features extended legroom in its back-row seating, as well as wider seats in both the front and back rows. 
Stakes
While there is an optimizable storage space in contractor trucks, you may need more room for extra equipment required for certain jobs. That's where contractor body stakes come in. 
The contractor body truck provides your team with a spacious loading area surrounded by secure metal, aluminum, or wooden stakes. These stakes remove from or lock into dedicated securing points along the rearmost section of the contractor truck and allow your team to load and unload material with ease. When trailers are unavailable, lean on the contractor body stakes to transport your bulky gear without incident.
Storage
The contractor truck is known as a utility-focused powerhouse, but it's also made to house, weatherproof, and secure all your valuable tools and equipment. Equipped with toolboxes in both under-mounted and side-mounted variations, the contractor truck provides a welcome holding space for an assortment of gear, large and small. The exact dimensions and accessories available in your toolboxes will vary by manufacturer, but it's standard procedure to include weatherproofing seals in combination with a multi-latch lock in each box.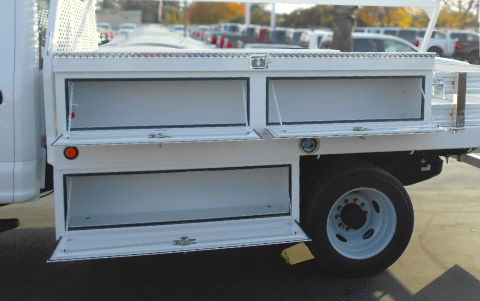 The weatherproofing seals provided by upfitters are like those produced by truck manufacturers. They line all unhinged sides of the toolboxes to keep your gear in working condition. In a combined effort with the weatherproofing seals, a series of three-contact latching locks further bolsters security and prevents the opportunity to thieve valuables. Paired with a remote locking system that sits right on your keyring, your contractor truck becomes a reliable source for security and organization on and off the job site.
Tow Package
Most contractor trucks come with a capable towing package from the manufacturer. Yet, a dedicated towing package provides further towing and hauling capacity. Towing packages will vary by manufacturer but they start with a beefed-up gross combined weight rating resulting from added frame support, a reconfigured axle ratio and transmission, and amplified braking support in improved brake configurations. Anyone in the market for a contractor truck built around towing benefits from a heavy-duty towing package.
Exterior Lights
When you operate in commercial-grade work, you need commercial-grade safety to support your operation. The contractor truck serves commercial operations with a visibility-focused approach in exterior light-emitting diodes (LED). LEDs provide its users with a long operating life with most LED bulbs lasting around 15,000 hours. Lined into the truck's electrical system, and inclusive of all tail, brake, reverse, and turn signal lighting, an LED-equipped contractor truck provides transportation safety without compromising efficiency on the job. 
Published on: January 04, 2019
NEXT ARTICLE
Pickup Trucks: The Commercial Vehicle Powerhouse