A Bakery Owner Speaks about the Pros and Cons of his Delivery Van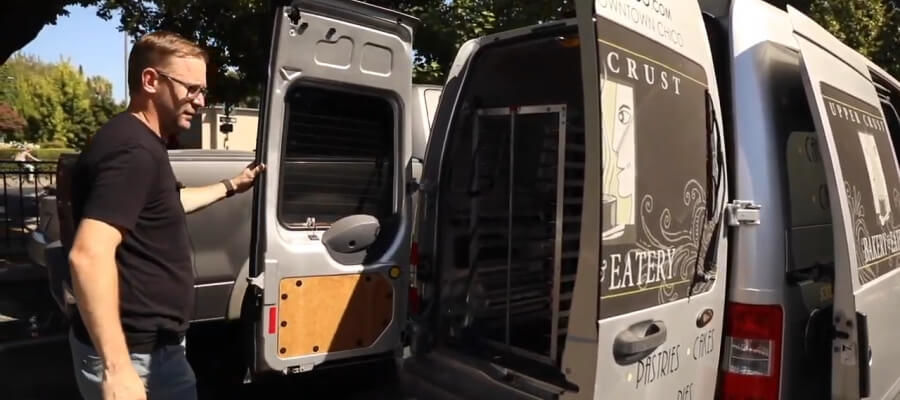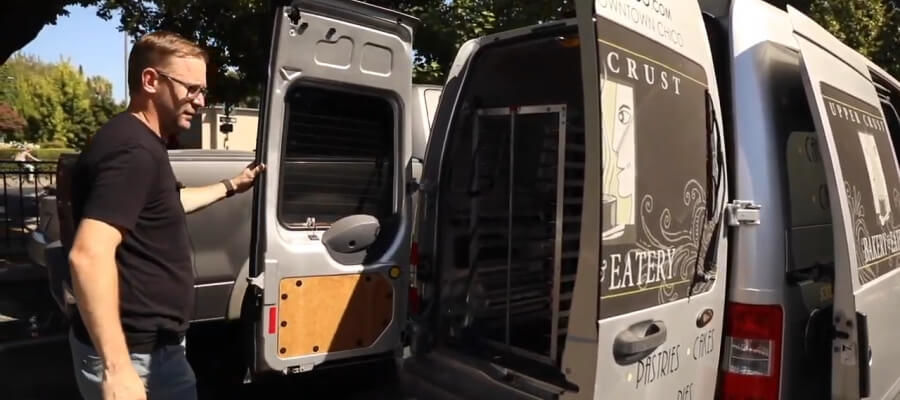 A Bakery Owner Speaks about the Pros and Cons of his Delivery Van
Share
LinkedIn
Facebook
Email
Copy Link
We interview Jeff of Upper Crust Bakery and Cafe about handling the delicious business of delivering baked goods using his van, discussing what's fresh and what might be stale about the particular van.
Jeff drives a Ford Transit Van for deliveries and occasionally supplies.

The seats are removable and are instead used with racks for baked goods of all sizes.

He would like for the van to have more power, but the space it provides works out well.

Side doors and rear doors create convenience for large pickups and deliveries.
Q: What type of van is this and what do you use it for?
A: This is a 2014 Ford Transit van and we use it 2-3 times a day for deliveries, cake deliveries, pickups, anytime we do any shopping that we don't get from a vendor we use the Ford van.
Q: What do you like most about this van?
A: What I like most about this van is the space inside. Obviously, it doesn't have seats, so we can put racks in it. We can fit wedding cakes in there, full sheet cakes, everything.
Q: What do you like least about this van?
A: What I like least about the van is the lack of power. I drive a Ford F150 truck. So, when I get in this you sit low and it saves gas but it has no power.
Q: What do you transport in this van?
A: We mostly carry cakes, full sheets of desserts, also big salads, bowls of salads. We're catering to the university and the hospital places like that. So, it will be full. There's a rack in there that we can put full sheet pans on.
Q: Do you keep your racks in the van?
A: We have them throughout the bakery. We have them in the refrigerators and freezers. This one we just have sitting in the back of the van, and we can put three or four of them in here, but this one's convenient. We just use it and we can bungee it in, but generally, we put salads in there, breakfast sandwiches and everything, big boxes of stuff.
Q: How many deliveries do you do a day?
A: On weekends we do probably anywhere from seven to nine wedding cake deliveries. So the racks aren't really needed, it's more just the back of the van because you're dealing with three or four-tier cakes.
Q: Do you like the doors on this van?
A: We have two side doors and two back doors that open all the way up, it's extremely convenient. I'll go buy a whole pallet of parchment paper from Cash and Carry, and they'll actually load a pallet in here through the back. So, the rack can come out, and then I can fill it all the way up and drive it back to the bakery.
Q: How would you go about buying a new van?
A: If I was getting ready to purchase a new vehicle, a new company vehicle, I would spend probably a month doing research on vans and looking around and finding the right one for us. It would need space, it would need power, air conditioning.
Q: Are you loyal to Ford?
A: I love Ford trucks, but I definitely would be open to getting another brand of a vehicle.
Published on: September 26, 2019
NEXT ARTICLE
5 Things a Catering Business Should Think about when Purchasing a Work Vehicle