8 Factors to Consider When Choosing a Transport Company for Your Commercial Vehicles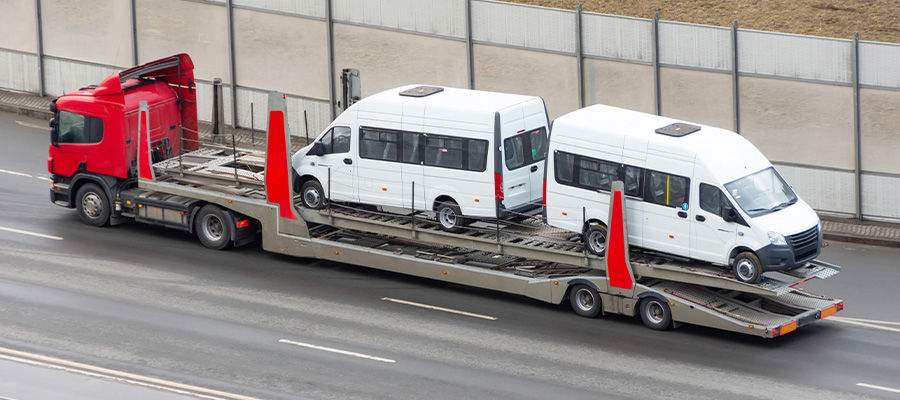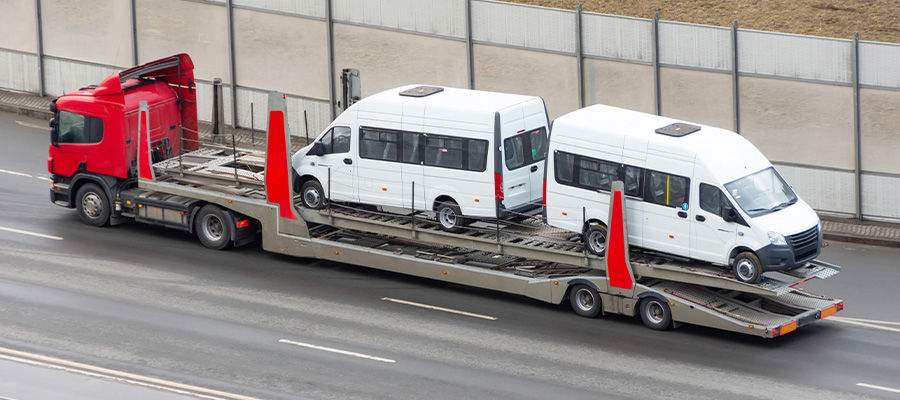 8 Factors to Consider When Choosing a Transport Company for Your Commercial Vehicles
Share
LinkedIn
Facebook
Email
Copy Link
When it comes to transporting commercial vehicles, minor issues can quickly become major problems. Ensuring your equipment arrives on time and undamaged is essential to your bottom line, as delayed vehicles are vehicles that aren't generating revenue. Delays also throw downstream schedules into spiraling chaos, and damaged equipment can be a nightmare to repair/replace if the transport company isn't properly bonded and insured. 
What you need is a transport company that's reliable, experienced, and has the proper equipment to get your commercial vehicles where they need to go, whether that's across town or cross country. Let's take a look at 8 important factors to consider when you are selecting a transport company for your commercial vehicles and work trucks.
1|
Experience with transporting work trucks, commercial vehicles, & upfitted equipment
Transporting regular vehicles is complicated enough, but commercial vehicle transport requires a whole other level of expertise (and equipment!). When researching companies, be sure to look at what experience they have transporting multiple types of commercial vehicles, including: full-size trucks, semi trucks, tanker trucks, dump trucks, cargo vans, dually trucks, heavy duty trucks, utility trucks, and more.
Many cities have specific regulations for transporting large equipment, and often regulations will vary from state to state. An experienced transport company will stay up-to-date with these different regulations and handle all of the logistics for you.
2|
Availability of specialized trailers & equipment
Commercial vehicles and work trucks come in many sizes and weights, which will determine what trailers and equipment are needed to deliver your vehicles safely to their destination. Never trust a one size fits all approach from a transport company.  
Discuss the options available with the representative at the transport company. With a good company, you should expect plenty of questions about exactly what you need. Be prepared to discuss the specifics of your commercial vehicles and any upfitted equipment. The more information you provide, the easier it will be to ensure the company has the appropriate trailers and equipment for your needs.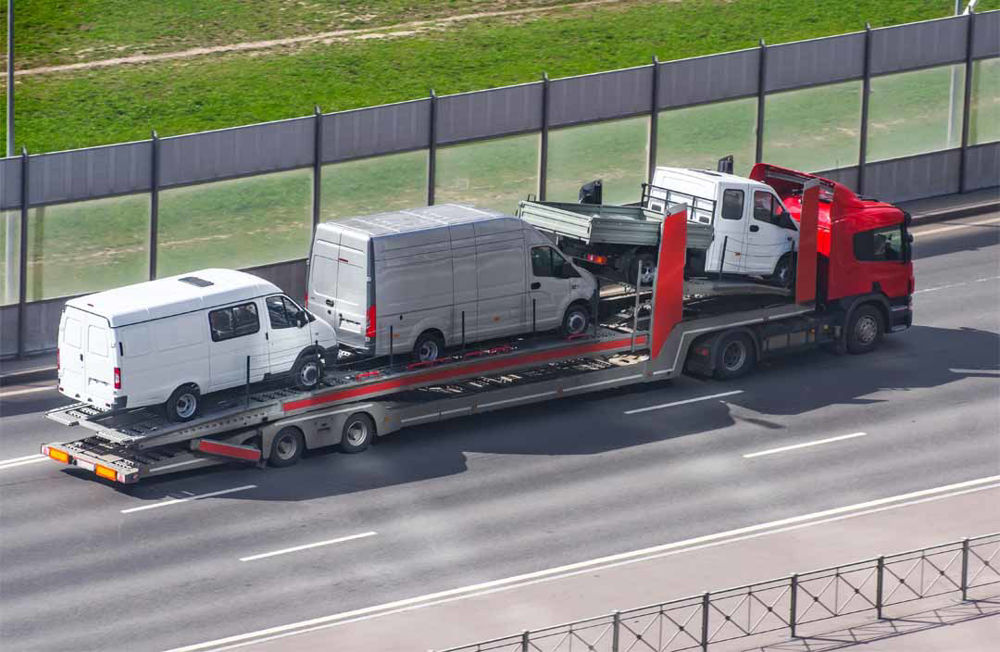 3|
Verify the transporter is insured & bonded
This ensures that if your vehicle is involved in an accident during the transport, you remain covered. It is crucial to know exactly what coverage they provide to your vehicle(s) while in transit. You may be offered supplemental coverage in addition to the standard coverage they provide. You do not want to find out after the fact that their coverage is insufficient.
4|
Check the company's reviews & ratings
When researching a company's online reviews and ratings, be sure to always look for critical comments in the reviews section; such comments will give you a better idea about the company and the kind of experience customers had with them. Good reviews are great to see, but how a company handles issues that arise is a vital part of the selection process when you're looking to transport your commercial vehicles.
5|
Payment processes & procedures should be both safe & convenient
Legitimate and reliable transport companies will provide you with an invoice, a copy of the signed Bill of Lading, and should only ask for payments through credit card or check. If the company demands wire transfers or cash, be very wary. 
Always read everything you're asked to sign before signing. Payment procedures and paperwork should be clear and transparent when it comes to exactly what you are being charged. A trustworthy representative will be happy to review anything you have questions about, and they will help you through all of the steps of the process.
6|
Registered with the Department of Transportation
Ensure the company is properly registered with the Department of Transportation. Ask for their DOT number, and confirm its authenticity before investing your trust in that company. Also, registered transportation companies have a Motor Carrier Number. By entering the number on the FMCSA website, you can review a transport company's safe driving record.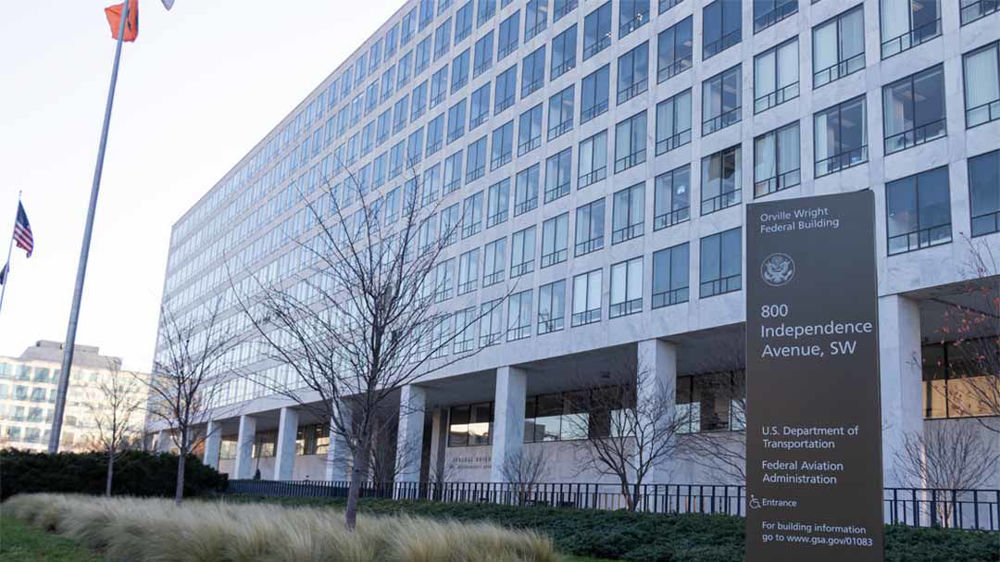 Always verify the transport company is properly registered with the U.S.  Department of Transportation
7|
Verify the shipping cost and check for hidden fees
You might think that lower cost quotes always result in a better deal for you. If so, be ready for surprises in the form of additional charges and low-quality service.  No two commercial vehicle transports are the same, and determining the cost for your delivery will be based on a number of factors. 
DON'T JUST SETTLE FOR THE CHEAP QUOTE. Less than reputable companies will often use a low price as bait to attract customers. There are numerous underlying costs that you may discover eventually, and your final cost can be considerably higher than the initial quote. Look for a company with transparent communication and clearly priced invoices.
There are some rules of thumb you can expect when calculating your shipping cost:
The bulkier the vehicle, the higher the shipping cost.

Generally, the shorter the distance of the trip, the lower the cost. 

If you want time definite services, expect it to cost extra.

Prices should include all necessary services to safely transport your work truck.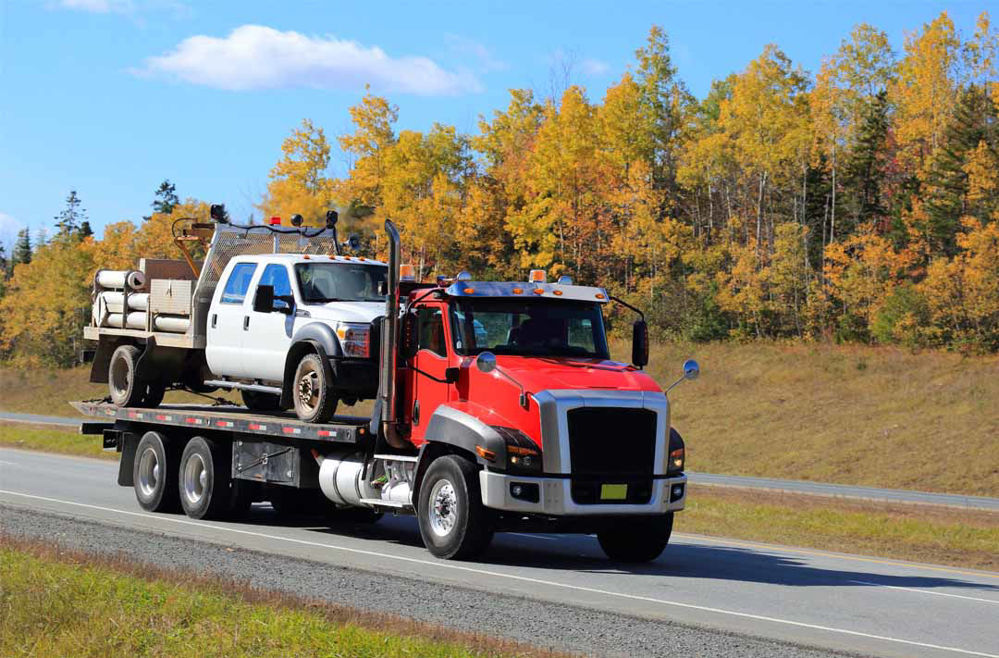 8|
Ask about the cancellation policy 
Things happen. Life is unexpected. You may need to cancel your delivery or reschedule it for another time or location. Some companies will charge you a hefty penalty to cancel or change specifics of your transport. Be sure to ask in advance about their cancellation policy, and either choose a company that will not charge you or be prepared to pay if your plans need to change.
Article contribution from Crestline Auto Transport.
To learn more about Crestline Auto Transport's Commercial Truck Transport Services, visit their site or call 800.994.1208.      
Published on: August 17, 2022
PREVIOUS ARTICLE
Potential Benefits of Section 179 of the US Tax Code to Help Your Bottom Line