5 Things a Catering Business Should Think about when Purchasing a Work Vehicle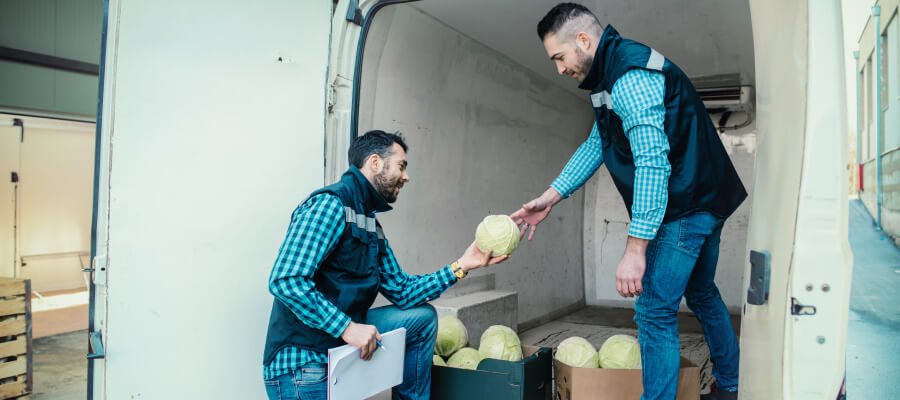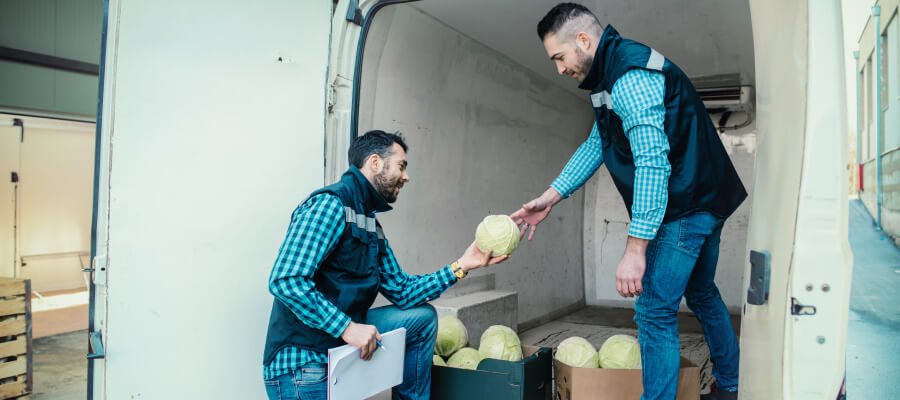 5 Things a Catering Business Should Think about when Purchasing a Work Vehicle
Share
LinkedIn
Facebook
Email
Copy Link
Whether catering a wedding or work events, a work vehicle is more than just transportation. You rely on it to get you to store everything you need to pull off an event--from the food itself to set up equipment and cooking tools. Make the most of your investment and choose the perfect catering van for your needs by considering these five key factors.
Consider the food and what your vehicle needs to safely transport them.

For both convenience and efficiency, consider the door configuration.

Customization and upfitting is essential for making the most of your space.

Towing capability, for additional materials, is well worth considering for large events.

A vehicle wrap can be easier than a paint job and create a strong first-impression for your business.

1. Refrigeration on the Go and Food Safety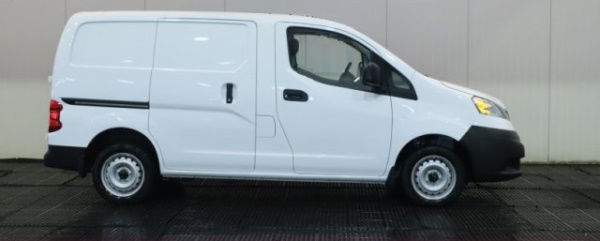 Don't let rotten food spoil your work. As you learned when attaining your food safety certifications, you understand the importance of avoiding this kind of disaster. Invest in a work vehicle that helps you stay in business and keeps your customers safe by maintaining a temperature consistent with your cargo's needs.
Consider a 2019 Nissan NV200. With the help of a simple upfit, this spacious van can suddenly support your temperature-sensitive inventory and guarantee your food arrives fresh. Thermo King's V-320 series refrigeration unit, which gets mounted on the interior roof of the van, creates a refrigerated catering van that can keep your goods safe regardless of how long your job will take or how far away it's located. This particular unit is suited for maintaining appropriate temperatures for both refrigerated and frozen goods.
2. Access and Cargo Capacity
A less obvious point to consider when choosing a catering vehicle is exterior access - the rear and side door configuration. Being able to quickly grab the things you need can make you seem more efficient and professional.
"When you've got such limited space, you have to be efficient with it. Whether you're buying a catering van for the first time or you're looking for a replacement, make sure you do your research." - Shelby Copeland, Caterer
The 2018 Ram ProMaster is a cargo van that provides versatile accessibility. It comes standard with sliding doors on one side of the van. There is also an option to have sliding doors on both sides of the van to make it even easier to reach the things you need. It also boasts the advantage of having rear doors that swing open 260°. They almost fold flat against the van when fully opened. This conserves space and make your loading/unloading process easier. Furthermore, the side doors can open up to 49 inches and the rear door opens to a spacious 60 inches, giving you more than enough room for loading and unloading.
You'll also need to consider how much you can fit in the back of your catering van. Your needs may vary depending on the size of the events your business caters. Bigger vans won't always be better - they may cost more to operate than a smaller van will. This is why the 2018 Ram ProMaster comes in a variety of sizes. You can choose from four different body lengths, ranging from 195 inches to 250 inches, and two different exterior height options: 88.7 inches or 99.4 inches. You'll want to consider the size of the equipment, food storage containers, and your business's future growth when deciding on the perfect sized van.
3. Organizing Food with Limited Space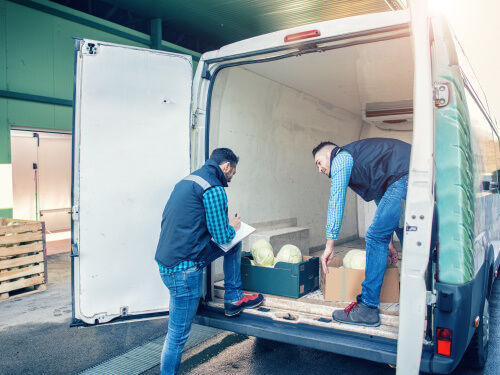 No matter how carefully you drive, there's always the risk of food you've placed in the vehicle shifting during travel. Counteract this potentially expensive issue by installing shelving racks or other organizational inserts.
Consider the way you store things now: is it beneficial to stack your products on the sides of your van? Do you need lots of room for small containers, or large ones? Do you need to be able to change out your organizers for each job? Believe it or not, regardless of your answer, there's a practical van insert for you.
"It's all about the upfits," says Shelby Copeland, an industry guru whose years of experience have taken her to a multitude of restaurants in the southeast. When asked about things to consider when purchasing a catering van, she said: "A professional exterior is important, yes, but the real magic happens on the inside. You'd be amazed how much you can really fit into even a small Ford Transit 150 if you've got the right kind of shelving and storage.When you've got such limited space, you have to be efficient with it. Whether you're buying a catering van for the first time or you're looking for a replacement, make sure you do your research. Most manufacturers offer customizations these days; take advantage of that."
Dejana is one brand that has created a multitude of options to make your work life easier, like their full-width rear Katerack. Its three adjustable shelves mounted on easy-glide rails makes loading and unloading easy. This can fit in the back of cargo vans such as the 2018 Chevy City Express. If you prefer a rack on the side of your van, the 47-inch deep side Katerack will easily fit inside the 2018 Ford Transit Connect and leave the rear area open for larger items.
4. Fitting Non-Food Items in a Van
Food might be the first thing your clients think about when catering comes to mind, but you know better - tools, utensils, linens, chairs and cleaning supplies may all find their way into your van.
With so much to carry, you need to make the most of your space! If you need a lot of extra storage, an insert like those from Kargo Master could provide organization while still leaving plenty of room for food. It provides an array of racks, bins, and drawer cabinets for small and large item storage. Ranger Design offers smaller options like their fold-away shelves - there when you need them, out of the way when you don't.
The amount of customization available for organizational inserts seems endless, but with careful consideration and attention to how you've been using your current van, you may find that a tow trailer would meet your specific needs. When choosing a trailer for your van, you need to be aware of the Gross Combined Weight Rating (GCWR) to be sure you are purchasing a trailer is light enough to safely carry your catering goods and passengers.
5. A Commercial Vehicle with a Professional Appearance
Once you've chosen your van and upfitted the inside, it's time to turn your attention to the outside. In addition to keeping your vehicle clean and well-maintained, you should take advantage of your van as a mobile marketing space.You can do this in a number of ways.
A well-done custom paint job can catch people's attention as you drive by. Be sure to include your company name, logo, contact info, and social media so they know how to contact you. Whether on the road or at an event, your van is easily more visible than many other aspects of the event you're catering.
You can also consider a vehicle wrap. Once again, you should cover all sides of the vehicle that can be seen. If you drive past tall buildings during your travels, be sure to include the roof in your design so your info can be seen from above. Wrapping your vehicle can be a cheaper alternative to custom paint jobs depending on the complexity of your design. It also allows for easier removal and application of a new wrap in the event that you decide to sell the van or change your look or advertising.
Catering should be an exciting endeavor in every aspect--choosing your van should be no different. In a lot of ways, it is the face of your company when you're not around and could be the first impression you make. Leave current and potential clients talking about your service long after you've driven away by selecting the perfect van to suit your needs!
Published on: September 26, 2019
PREVIOUS ARTICLE
A Bakery Owner Speaks about the Pros and Cons of his Delivery Van
NEXT ARTICLE
A Bakery Manager Discusses 2 Work Vans used for Deliveries